The corner advice from coaches who have tried (and failed) to defeat Khabib Nurmagomedov
Mike Brown. John Kavanagh. Ray Longo. Mark Henry. Henri Hooft. Rafael Cordeiro.
Among them, they have produced no less than 17 world champions, have been involved in countless fights on the biggest stages, and have been responsible for developing some of the most impressive and innovative game plans in recent MMA history.
However, despite the wealth of experience, knowledge, and resources at each of their disposal, there is one puzzle none of them have come even remotely close to solving – Khabib Nurmagomedov.
In total, 28 have tried, 12 in the biggest MMA promotion in the world, and it would be difficult to find a single minute, never mind a round, where "The Eagle" has not been victorious. This was perhaps most obvious this past weekend at UFC 242, as Dustin Poirier became the Dagestani's latest victim in a 12-minute mauling that finished via rear-naked choke, the fourth submission in Nurmagomedov's seven-year stint with the UFC.
While the aforementioned coaches have all tried to find answers to the relentless pressure, suffocating wrestling, and unearthly cardio of Nurmagomedov, each attempt has yielded the same outcome – a "smeshing".
But what advice have these coaches given their fighters in order to combat the onslaught of grappling? Pressure Khabib on the feet? Let the Russian tire himself out? Capitalize on shots with submission attempts?
Let's take a look.
"That was his absolute best"
Nurmagomedov's average UFC fight time currently sits at 13 minutes and 46 seconds. He has gone the distance six times in twelve bouts, once in a championship fight. In each of his octagon outings, "The Eagle" has not only shown that he quite simply doesn't get tired, but also that as fights go on, he often becomes more dominant.
It is therefore surprising that several coaches planned for Nurmagomedov to tire and told their fighters to save energy, minimize damage and look for the finish late on.
At UFC 229, after Conor McGregor was dragged to the ground by Nurmagomedov in the opening minute of their fight and controlled for the entire first round, SBG Ireland Head Coach John Kavanagh told McGregor "He's going to get slower as the rounds go on. That was his absolute best there."
Kavanagh appeared on the JRE MMA Show the weekend after the fight and explained the strategy was to survive early rounds and not waste too much energy. The hope was that Nurmagomedov's takedown attempts would wane as the fight progressed, and McGregor could exploit his superior striking chops.
Al Iaquinta employed a similar strategy in the opening rounds of his short-notice championship fight with Nurmagomedov. After the first five minutes, "Ragin Al" returned to his Serra-Longo corner and was told "We know he's strong, but you're moving good and you're minimizing the damage." Iaquinta certainly found his feet as the fight progressed, but sacrificing rounds in an MMA contest never seems like a good strategy, especially against someone as good as Khabib Nurmagomedov.
Henri Hooft has cornered two of Nurmagomedov's previous opponents, Michael Johnson and Abel Trujillo, and the Hard Knocks 365 founder delivered the same advice in both contests: "He spent a lot of energy, he'll break down." "The Eagle" defeated Johnson via kimura in the third-round and Trujillo via an utterly dominant unanimous decision.
At UFC 219, Nurmagomedov faced highlight-reel striker Edson Barboza and picked up his first Performance of the Night award after crushing the Brazilian for three rounds. After the second round, Barboza returned to his corner, led by Mark Henry, and was told "You're coming so close… you can still win this fight, he looks tired." Unfortunately for Barboza, the Russian's relentless pressure never diminished and Nurmagomedov claimed another victim.
Lesson #1 – Don't expect Nurmagomedov to tire; it hasn't happened yet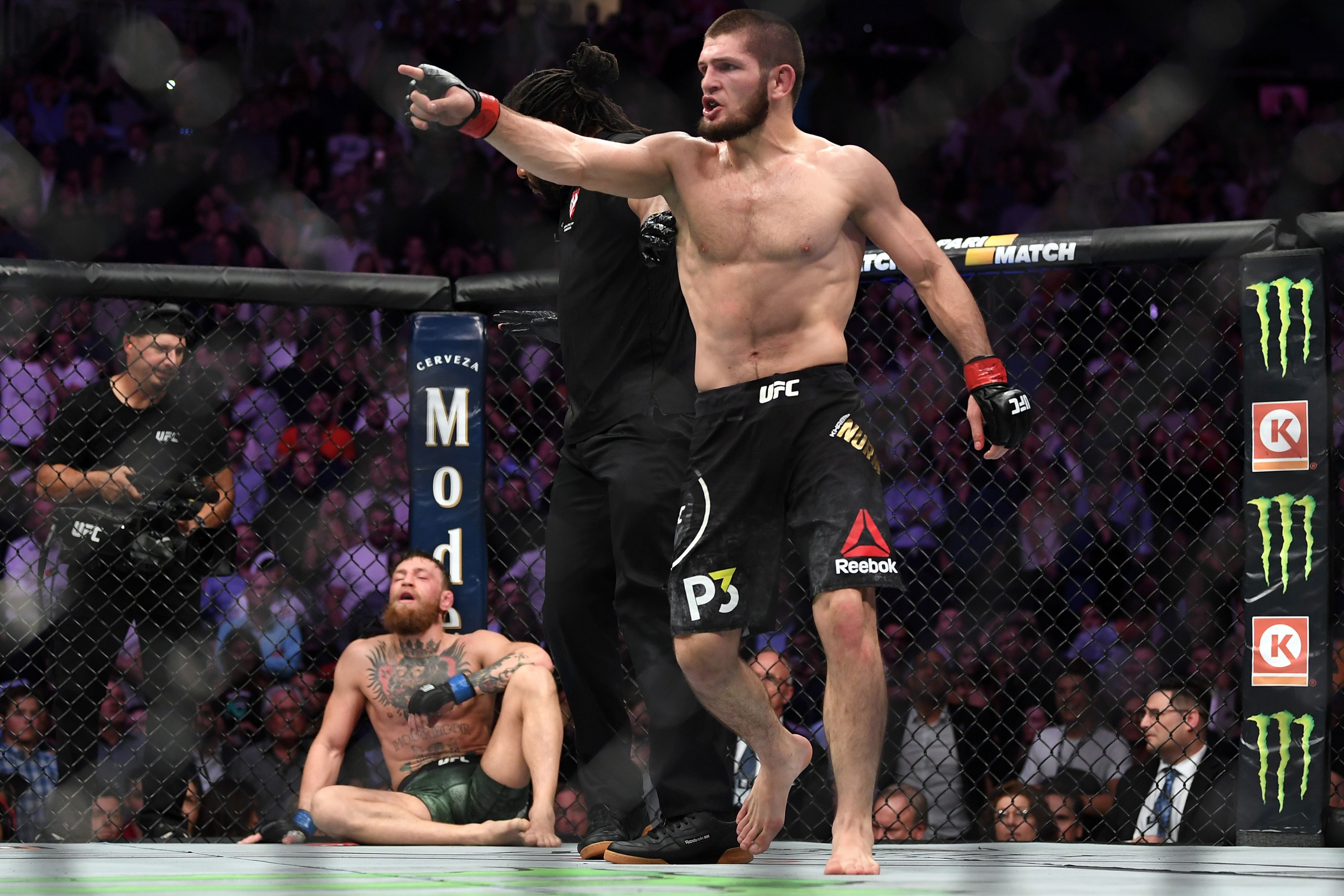 "He doesn't want to stand with you"
While Nurmagomedov's striking has made marked improvements since his promotional debut in 2012, he still largely employs it as a tool for his wrestling which is clearly his bread-and-butter. In comparison with many of his lightweight counterparts, Nurmagomedov's striking is far more basic and the path to defeat "The Eagle" is likely to be on the feet.
In the last few years, Dustin Poirier has ripped through the 155-pound division, defeating Anthony Pettis, Justin Gaethje, Eddie Alvarez, and Max Holloway prior to meeting Nurmagomedov in the octagon. Fans, analysts, and media members alike believed that Poirier had a significant striking advantage and many predicted that "The Diamond" would exploit this advantage and dethrone Nurmagomedov.
However, like so many of Nurmagomedov's previous opponents, Poirier found himself with his back to the cage and fell victim to Nurmagomedov's single-leg just one minute into the fight. After spending the rest of the round underneath the Russian's smothering top control, Poirier returned to American Top Team's Mike Brown, who told his student "He's trying to back you up, but he's not going to walk into your power. We can be a little more offensive now; start letting your hands go."
While this was perhaps sound advice, as Poirier landed some of his best shots of the fight in the opening moments of round two, ultimately the round was largely a repeat of the first. In the third round, Poirier would become Nurmagomedov's 12th UFC victory, this time via rear-naked choke.
The second round of Nurmagomedov vs. McGregor was perhaps the worst round of Conor's illustrious career, not only because the Irish striking savant was dropped by Nurmagomedov's right overhand, but also because he was subsequently controlled for the remaining four minutes of the round. Despite this sheer domination, John Kavanagh told McGregor "You won the stand-up, brilliant. Do not chase him, draw him on to you. You can spend the first minute recovering if you push him back."
Rafael dos Anjos and Abel Trujillo were two of Nurmagomedov's earlier UFC bouts, when 'The Eagle' was still a relatively unknown quantity. With Rafael Cordeiro and Henri Hooft in each of their respective corners, both men entered as an underdog, but the outrageous display of grappling skill that fans witnessed at UFC on FOX 11 and UFC 160 was simply staggering.
Dos Anjos, who went on to become UFC lightweight champion after this loss, returned to his corner after the first round and was told "On top, you're even. Keep the fight standing and control the distance."
At the end of the second round, Trujillo was saved from Nurmagomedov's onslaught by the bell, as so many others have been. In between rounds, a dazed Trujillo was instructed by kickboxing coach Hooft "He doesn't want to stand with you. Don't come to the floor, you need to finish him."
Needless to say, neither man was able to do as their coaches ordered and both wound up on the wrong side of dominant unanimous decisions.
Lesson #2 – Having a striking advantage against Nurmagomedov has meant very little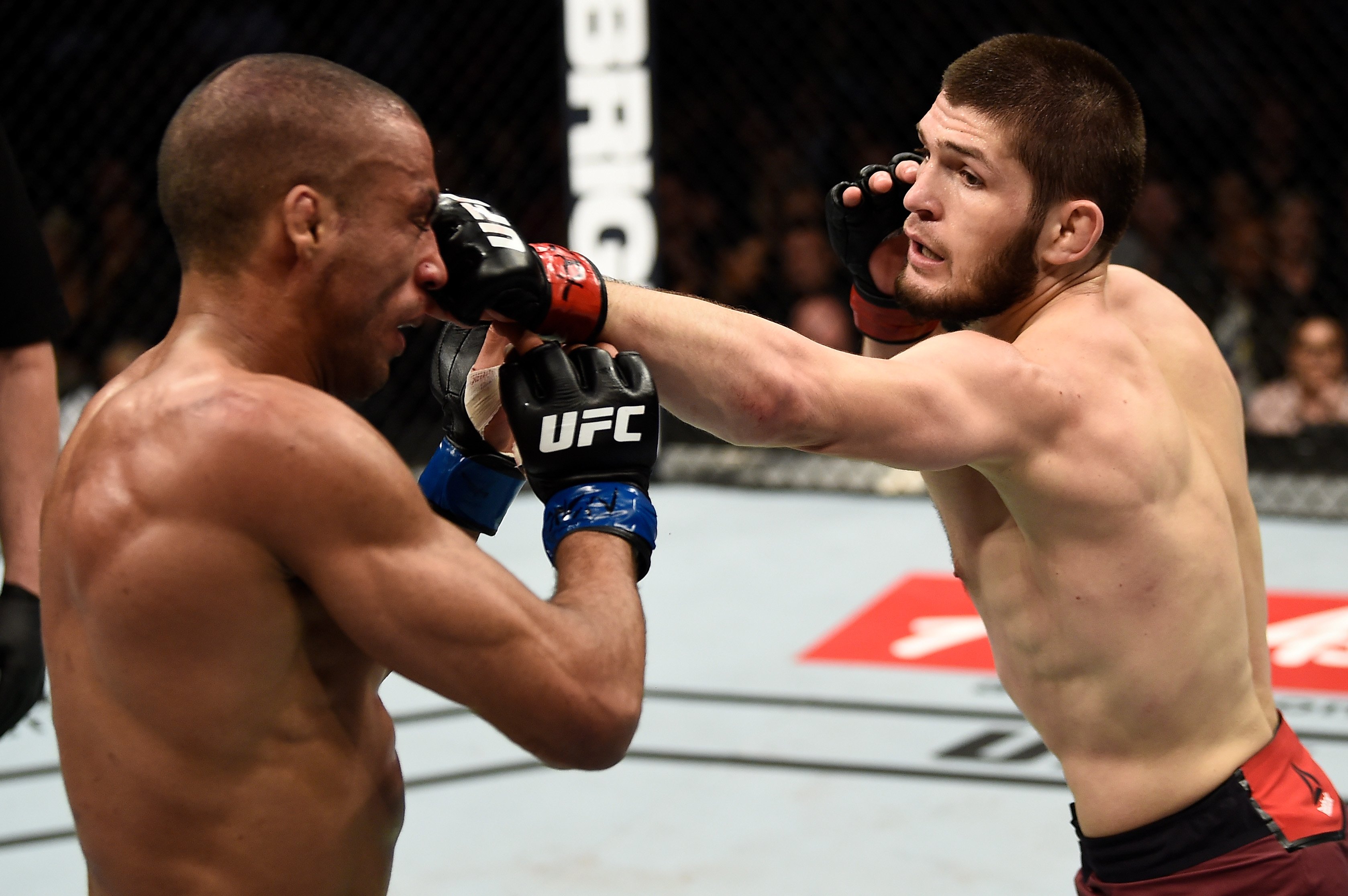 "Don't get near the fence"
Perhaps the most common piece of corner advice provided by the coaches challenged with deciphering the Nurmagomedov code is to take the center and avoid the cage. Khabib has been apprehensive to shoot when on the back foot and has looked uncomfortable when under pressure. It's therefore unsurprising that the majority of coaches instructed their fighter to take the center and refuse to go backward.
Dustin Poirier was perhaps expected to give Nurmagomedov the most problems, given his exceptional ability to take the center and the difficulty his previous opponents have had in forcing him backward. However, Nurmagomedov made it look remarkably easy, as he soaked up Poirier's initial forward pressure, absorbed several naked leg kicks, fired several of his own punches and shot for the takedown. At the end of the first round, Mike Brown told Poirier "You got taken down because you were on the cage. You need to keep the center."
Brown appeared on The Luke Thomas Show days after the event and expanded on the tactical advice he provided Poirier and explained any changes he would make to the game plan in hindsight, "Take the center and do not look backwards at all. You have to fight in the center."
"Whatever happens in the center happens in the center; whether you guys both crack each other, or whether he shoots and somehow takes you down which is probably much more unlikely. You cannot back up… we've got to stay there and fight no matter what."
Mark Henry has been involved in the careers of some of the best wrestlers and counter-wrestlers MMA has seen. From Frankie Edgar to Eddie Alvarez and, more recently Zabit Magomedsharipov and Marlon Moraes, Henry's students have achieved a great deal under his tutelage. Barboza was another who had done some good work against wrestlers, notably against Beneil Dariush, but he was no match for Nurmagomedov.
After the first round, a battered Barboza returned to Henry and was told "Keep it in the middle, keep punching your way to the middle. Don't get near the fence, I need you nowhere near that." While Barboza survived on the feet for a while in the second and third rounds, he was unable to take the center in either and eventually, wilted under the Russian's relentless pressure. In both rounds Nurmagomedov locked-up takedowns, and the exhausted Brazilian had no choice but to endure brutal ground-and-pound for the remainder of the bout.
Prior to facing Nurmagomedov, Rafael dos Anjos was on a five-fight win streak, defeating the likes of Donald Cerrone and Mark Bocek, and had done so employing his own aggressive, high-pressure style. Upon meeting 'The Eagle', however, the hammer became the nail and dos Anjos was forced on the back foot. After the first round, Rafael Cordeiro told his student "Control your actions now. Don't get to the cage, stay in the center and use your reach."
However, dos Anjos suffered the same fate as the Russian's other opponents, unable to take the center and on the wrong side of Nurmagomedov's smothering pressure for the remaining rounds.
Lesson #3 – Take the center early and be prepared to eat some shots
"Decapitate him with that head kick"
Each of Nurmagomedov's 12 UFC opponents entered the fight thinking that their game plan was the one to crack the code and each of them have fallen short.
Whether it's Poirier's pocket-boxing, McGregor's counter-left hand, Barboza's intercepting knee, Johnson's speed, or dos Anjos' strength, none have been able to overcome Nurmagomedov's chain-wrestling. Here are some of the unique details fighters have sought to employ against the 28-0 star.
It's unsurprising that both Poirier and McGregor sought to flex their advantage on the feet, given that they are the two best strikers Nurmagomedov has fought. Mike Brown instructed "The Diamond" to "Stay long, touch him up and fire the jab," as he had done so successfully in previous bouts against Max Holloway and Justin Gaethje. McGregor, as expected, looked to find openings for his left hand and after the first round, John Kavanagh calmly instructed "Let him come to you, your left hand will be there. Sting him, circle him off, and when he's in range, pop him."
More aggressive game plans came from Al Iaquinta, Edson Barboza, and Rafael dos Anjos. Iaquinta, the only man to go a full 25 minutes with Nurmagomedov, looked to keep his distance initially, and hoped to deliver more vicious attacks late on. For the first few rounds, Ray Longo and Matt Serra told Iaquinta "Let's use our angles and movement, throw a couple of quick shots and make him miss." Late on, the animated cornermen called for their student to "Decapitate him with that head kick. Set up the overhand."
Barboza and dos Anjos sought to combat Nurmagomedov's takedown attempts with their own trademark knees and kicks. Rafael Cordeiro instructed dos Anjos to fight "like Lyoto Machida", another of Cordeiro's former students, and fire leg and body kicks to fight the threat of the takedown. Barboza's corner called for a repeat of his spectacular finish of Beneil Dariush, calling for him to "hit him with the knee".
Interestingly, only one corner has instructed their fighter to take Nurmagomedov down. Kamal Shalorus welcomed "The Eagle" to the UFC in 2012, and after a poor first round, returned to his corner and was told "When you see the opportunity, shoot the single. Try and take him down."
Needless to say, this plan didn't go particularly well and Nurmagomedov was victorious via a third-round rear-naked choke.
Lesson #4 – Planning to strike is great, but stopping the takedown is better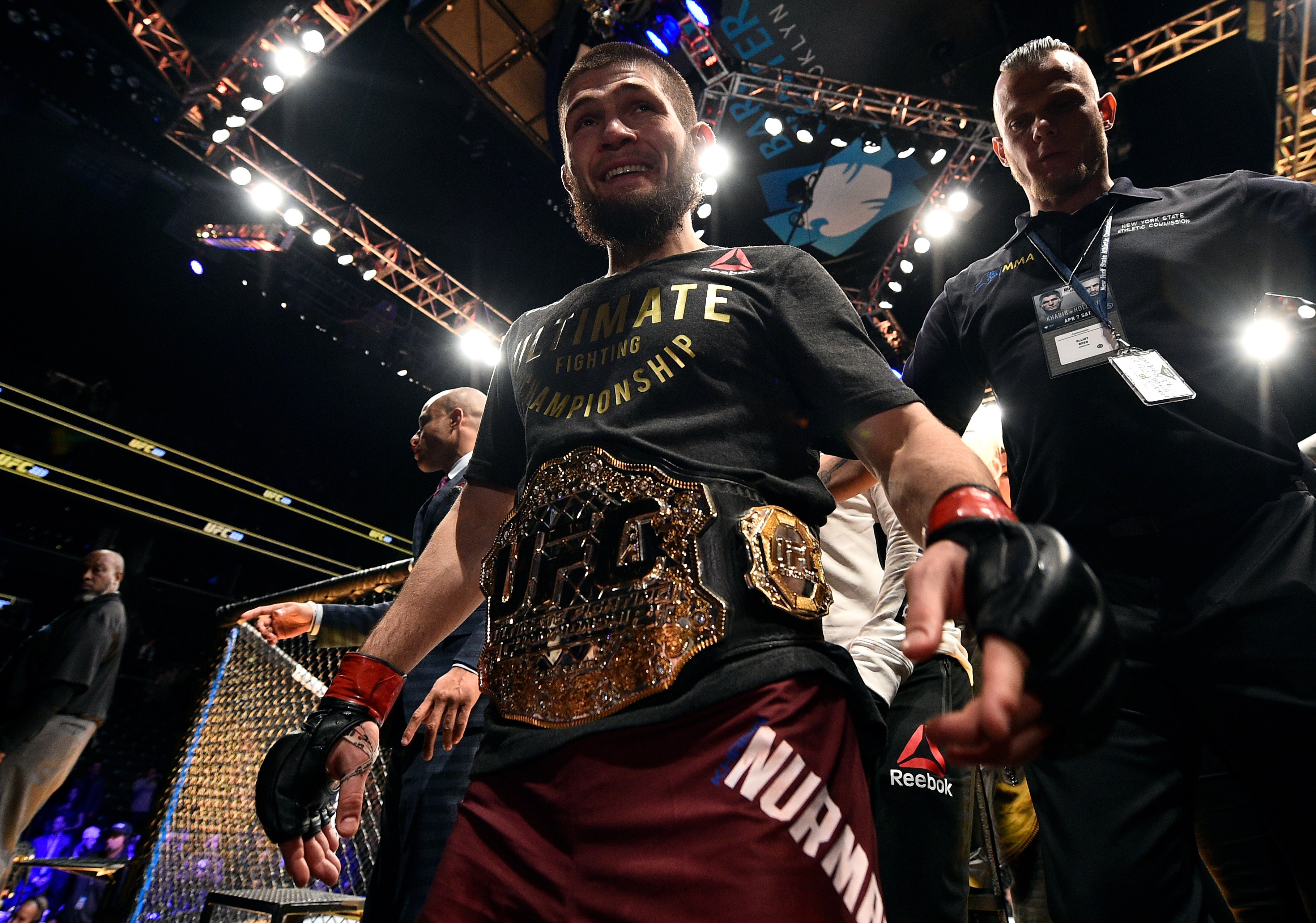 Khabib Nurmagomedov is a generational talent, that much is obvious. He has waltzed his way to 12-0 in the most competitive division in the world's most competitive promotion and has done so in hugely impressive fashion.
Some of MMA's most elite fighters, coaches, and gyms have tried to defeat the Russian, and all have come up with nothing, and with Nurmagomedov already beginning to discuss retirement, time is running out for somebody to take that 0.
But "The Eagle's" toughest challenge still awaits, and that challenge comes in the shape of one Tony Ferguson, the only man who rivals Nurmagomedov's undefeated streak in the UFC. Will "El Cucuy" finally get his shot at the belt and the man who has eluded him for so long and can he be the one to achieve what no one else has even come close to doing? Or is Nurmagomedov on track to become the greatest mixed martial artist ever?