RIZIN 20 is The Body Lock's 2019 Event of the Year
On New Year's Eve, while many combat sports fans (and journalists apparently) were out celebrating the arrival of a new decade, hardcore MMA fans tuned in to RIZIN 20, the Japanese promotion's blockbuster end-of-year card.
A handful of events held by other major promotions throughout the year featured several incredible fights, or a number of excellent finishes, or some special moments. But none delivered all of these as abundantly and spectacularly as RIZIN 20.
For that reason, RIZIN 20 is The Body Lock's 2019 Event of the Year.
The outrageously stacked card, which marked RIZIN's annual New Year's Eve event, featured a total of fifteen bouts, including three title fights and the culmination of RIZIN's Lightweight Grand Prix. It's not an exaggeration to say that, without fail, each and every single one of these bouts delivered.
The event started in spectacular fashion, with the semi-finals of RIZIN's Lightweight Grand Prix producing two of the most violent finishes on the card. Azerbaijan's Tofiq Musaev booked his place in the final first, after crushing former UFC competitor Johnny Case with a wicked counter-right and ground-and-pound midway through the first frame. Immediately after, Patricky "Pitbull" Freire produced the fastest, and perhaps most violent, finish of the night, dropping countryman Luiz Gustavo with a series of overhand rights, and finishing the bout with a soccer kick to his helpless opponent.
Chaos reigns across the Lightweight GP semis, as Patricky "Pitbull" Freire (23-8) unleashes a cavalcade of blows upon Luiz Gustavo in under 30 seconds! Bellator's all-time KO leader extends his win streak to seven. He and Tofiq will be fresh for the finals. #RIZIN20 #RIZINFF pic.twitter.com/DaE3HywJJC

— Kyle Johnson (@VonPreux) December 31, 2019
Four other bouts took place prior to the first of RIZIN's intermissions, and each was excellent in their own right. 45-year-old Miyuu Yamamoto continued to defy age, dominating Suwanan Boonsorn on her way to a unanimous decision victory, and Taiju Shiratori was victorious in his rematch with former K-1 champion Taiga via doctor's stoppage, after a knee from the Team Teppen fighter opened up a huge cut on the forehead of his opponent.
Following this, it was the turn of Bellator standout Patrick Mix to display his talents, and "No Love" produced his fourth consecutive first-round finish, stopping Yuki Motoya via guillotine (the only submission finish of the night). Jake "Honey Bear" Heun then made it two first-round finishes in a row in the only heavyweight bout on the card, stopping former Olympic gold medal winning judoka Satoshi Ishii via TKO.
Following the first intermission, one might've been forgiven for thinking the action would slow down. Instead, Shooto champion Hiromasa Ogikubo and former King of Pancrase Shintaro Ishiwatari collided in a bantamweight clash that could well have headlined any other RIZIN event; and boy did it deliver.
For three rounds, the diminutive Ogikubo and rangy Ishiwatari smacked the living daylights out of one another, with limbs flying everywhere and both men making excellent use of RIZIN's superior ruleset. In a truly wild contest, it was Ogikubo who walked away as the split decision victor, and as confirmed on the broadcast, the 32-year-old will go on to compete for RIZIN's bantamweight throne later this year.
Hope you enjoyed Ogikubo and Ishiwatari brawling their hearts out! #RIZIN20 #RIZINFF pic.twitter.com/LBOm8sIMV7

— Kyle Johnson (@VonPreux) December 31, 2019
Simon Biyong then faced Vitaly Shemetov, and despite going through some early adversity, the Cameroon-native was able to make use of his considerable grappling advantage and delivered vicious ground-and-pound to finish the Russian early on in the second frame. In the second light heavyweight contest of the night, RIZIN 205-pound champion Jiri Prochazka put his title on the line against UFC veteran C.B. Dolloway. In particularly impressive fashion, "Denisa" wasted no time and claimed his third victory via knockout of the year, dispatching Dolloway in the first-round with a sweet left hook that rendered his American foe unconscious.
The final bout of the preliminary card was yet another contest that could've comfortably headlined any other RIZIN card took place, as Musaev and "Pitbull" entered RIZIN's ring for the culmination of the 155-pound grand prix. In a back-and-forth contest, it was the murderous Azerbaijani who joined the likes of Kyoji Horiguchi and Tenshin Nasukawa as RIZIN grand prix champions. Both men had their moments, but ultimately Musaev's relentless pressure on the feet and crafty transitions on the ground left him the deserved victor and concluded a breakout year for the 30-year-old.
Following a spectacular first ten contests, and after yet another of RIZIN's dreaded intermissions, Rena Kubota faced Lindsey VanZandt for the second time this year. For much of the contest, it seemed as though RENA was destined to suffer the same death-by-grappling fate she fell victim to in the first bout. But late on in the final stanza, the Shoot Boxing extraordinaire found herself in mount and after landing countless unanswered strikes, forced VanZandt's corner to throw in the towel; RENA had her revenge.
In the next bout, Mikuru Asakura, the first of the Asakura brothers competing that night, took on Bellator's John "Macapa" Teixeira. In the final "RIZIN vs. Bellator" contest, Asakura was enormously impressive and navigated his battle-hardened opponent expertly. Indeed, while the bout often seemed poised to descend into carnage, Mikuru operated in the pocket soundly; elements of his preference to brawl certainly shone through, but in the end, his skill and natural athleticism allowed him to take home a hard-fought unanimous decision.
It was then the turn of the two best atomweights on the planet, Ayaki Hamasaki and Seo Hee "Hamderlei Silva" Ham, to take the stage. Eight years after Hamasaki's pair of victories over her Korean foe, it would be "Hamderlei's" turn to get one back. In an outrageously good contest that saw the two women bring out the best in each other once again, Ham's excellent boxing and much-improved grappling proved to be just enough, overthrowing Hamasaki as RIZIN's super atomweight queen via split decision and becoming a two-promotion champion in the process.
On a card that had seen a number of tight, back-and-forth contests, what happened next could not have been predicted by many. Rui Ebata was supposed to be kickboxing sensation Tenshin Nasukawa's toughest test to date. Instead, Nasukawa utterly dominated the King of Knock Out champion, dropping his countryman three times in the opening round and forcing the stoppage. Nasukawa's much-celebrated kicking game was certainly on display, as RIZIN's biggest star landed a perfectly executed tornado kick in between the first and second knockdowns.
But what made the performance even more impressive were the improvements that Nasukawa has made with his hands, with all three knockdowns coming through some combination of straight punches and vicious hooks. The hardest fight of Tenshin's kickboxing career, they said. A total beatdown is what they witnessed.
In the main event, RIZIN's breakout fighter of the year Kai Asakura took on Manel "Prodigio" Kape in their highly anticipated rematch. While many expected this to be the moment Asakura finally took RIZIN's bantamweight throne, following his extraordinary underdog victory against Kyoji Horiguchi in their non-title bout earlier this year, Kape had other plans.
After a closely fought opening frame, Kape uncorked a vicious right hook in the second round which dropped his Japanese foe, and while Asakura did everything in his power to survive the onslaught of ground-and-pound that followed, it simply wasn't enough. RIZIN's bantamweight division had been upset again.
A spectacular night of fights (even with the brutal intermissions), and an event more than worthy of The Body Lock's 2019 Event of the Year.
---
Honorable Mentions
UFC 236
As main card's go, it's tough to do better than UFC 236.
Ignoring the main and co-main events, Nikita Krylov exacted his revenge over Ovince Saint-Preux, submitting the perennial gatekeeper via rear-naked choke, while Khalil Rountree Jr. produced the performance of his career in a brutal annihilation of Eryk Anders and Dwight Grant eked out a tightly contested split decision over Alan Jouban.
In the co-main event, The Body Lock's Fight of the Year took place between now-middleweight king Israel Adesanya and Kelvin Gastelum. Following an outrageously tight first four rounds, where both men did significant damage to one another, "The Last Stylebender" showed, quite simply, that there are levels to this fighting game. Adesanya dropped Gastelum three times and all-but finished the Cordeiro prospect in an incredible show of mettle by Izzy and toughness by Kelvin.
How could the main event follow that? Max Holloway and Dustin Poirier demonstrated exactly how. In a rematch between the two former featherweight prospects, 145-pound king Holloway stepped up to face Dustin Poirier, who had found a new home at 155-pounds. With the interim lightweight title on the line, two of MMA's premier boxers engaged in a back-and-forth, five-round war that, quite simply, had to be seen to be believed.
In the end, it was "The Diamond" who finally had a UFC belt strapped around his waist, and while his tenure as interim lightweight champion was short-lived, Poirier and Holloway provided an all-time classic that met every expectation and more.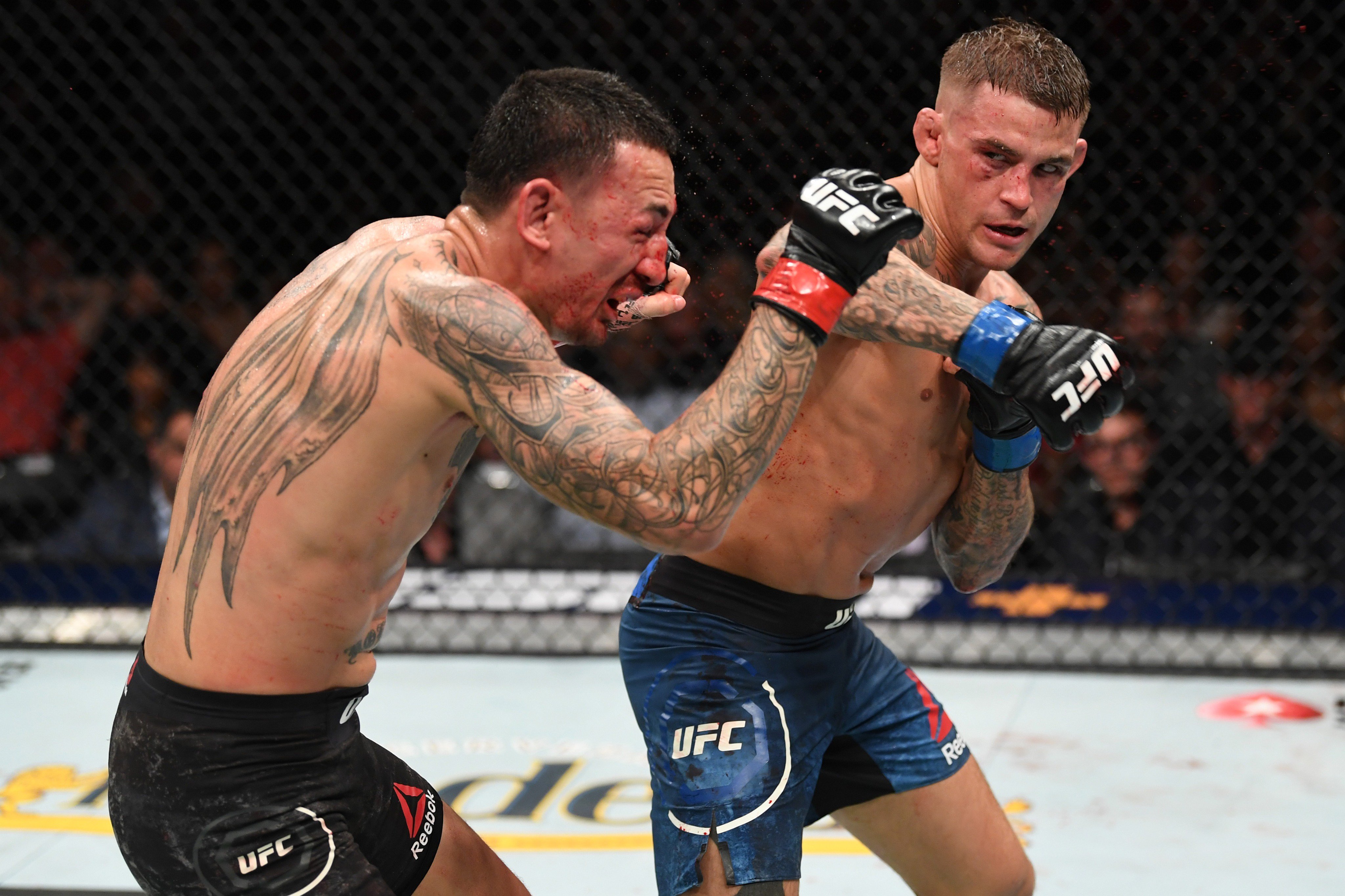 UFC 241
With a main card featuring Stipe Miocic, Daniel Cormier, Nate Diaz, Anthony Pettis, Paulo Costa, and Yoel Romero, UFC 241 was always going to be good. Throw in a Cory Sandhagen coming-out party and the biggest underdog victory in the UFC this year, Khama Worthy's first-round finish of Devonte Smith, and it's no wonder that UFC 241 is considered among the very best events MMA had to offer this year.
Costa and Romero engaged in a Fight of the Night contest that saw both men hit the canvas in the opening round and beat each other up for the remaining two frames. While Romero was the rightful victor according to some, it was "Borrachinha" who picked up the unanimous decision nod and booked a date with Israel Adesanya to come sometime later this year.
In the co-main event, Nate Diaz returned to UFC competition after nearly three years away from the sport, and against long-time rival Anthony Pettis, the Stockton native produced a stellar performance to earn the unanimous decision victory.
In the main event, Daniel Cormier and Stipe Miocic entered the octagon with one another once again. While there was no first-round knockout this time, for the opening three frames, the story was largely the same: Cormier beating Miocic. However, in the fourth round, Miocic stumbled into a tactic he probably should've been employing far earlier and started digging wicked left-hooks to the body of "DC". It was almost immediately clear that Cormier had no answer for these attacks, and sensing this was his opportunity, Miocic went in for the kill and reclaimed his heavyweight strap.
UFC 244
While the previously discussed UFC events were more top-heavy cards, UFC 244, which took place at Madison Square Garden, was excellent from start to finish. Jairzinho Rozenstruik, Edmen Shahbazyan, and Corey Anderson smashed through Andrei Arlovski, Brad Tavares and Johnny Walker in one round each, while Shange Burgos overcame early difficulties against Makwan Amirkhani to finish the exhausted SBG product late in the third round.
The main card started with a bang, as Kevin Lee produced the most devastating knock out of his career, finishing Gregor Gillespie with a wicked head kick that marked "The Motown Phenom's" return to winning ways. Stephen "Wonderboy" Thompson also returned to winning form, outclassing welterweights bogeyman Vicente Luque on his way to a unanimous decision victory that was sandwiched in between split decision victories for Derrick Lewis and Darren Till.
In the main event, Jorge Masvidal and Nate Diaz competed for the UFC's newly created "BMF Title". While the contest was largely a one-sided beatdown, with Masvidal's excellent boxing and body-kicking proving too much for Diaz, the controversial doctor's stoppage that concluded the fight, along with Diaz' adverse drug test finding just nine days prior to the bout, created some extraordinary theatre and undoubtedly one of the biggest fights of the year.
On top of all of this, UFC 244 was also the first mixed martial arts event attended by a sitting US president. Surely that earns a spot on this list.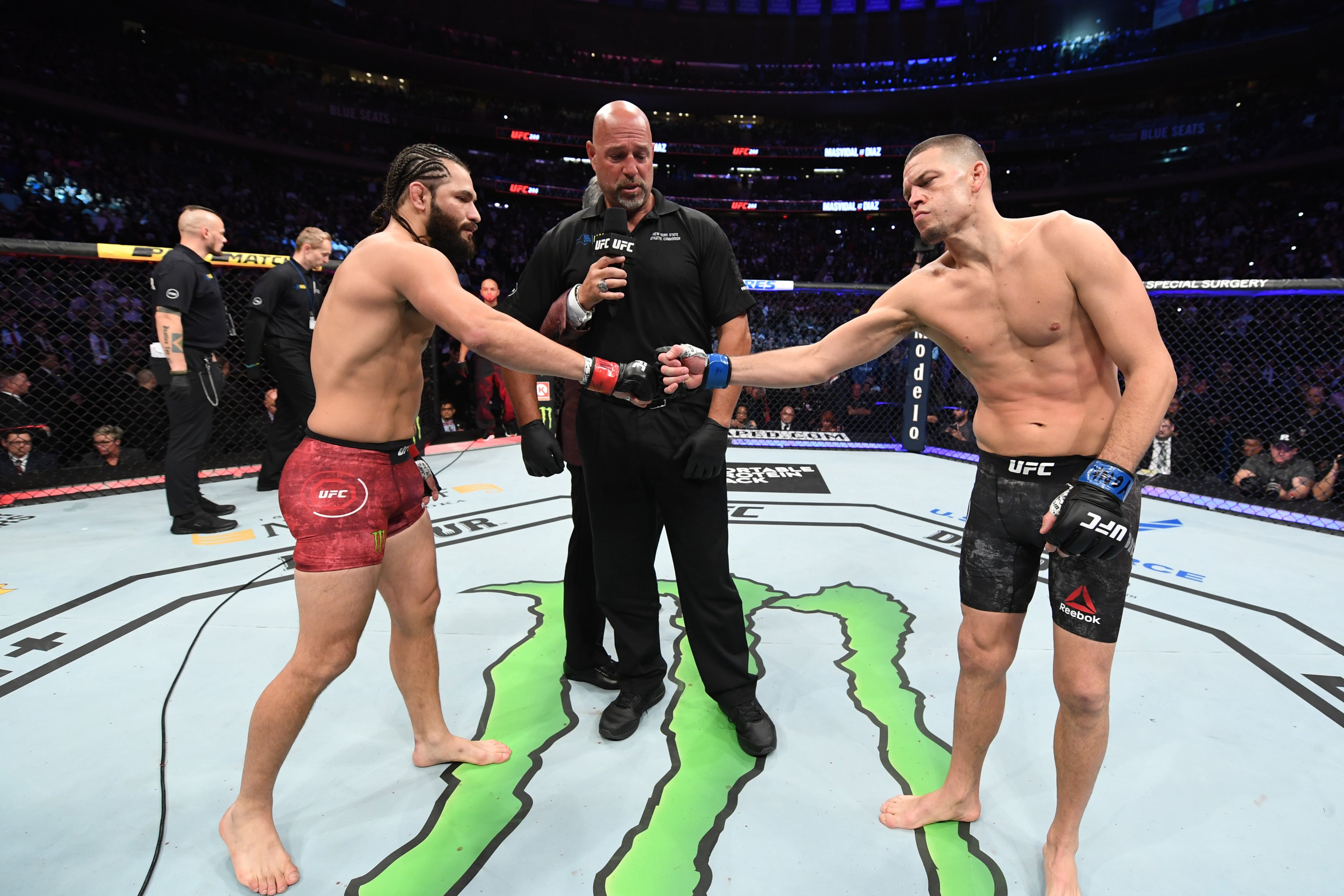 Cage Warriors 106: Night of Champions
With a total of six title fights on the card, Cage Warriors 106 is perhaps the biggest event in the European promotion's history.
Modestas Bukasuskas finished Marthin Nielsen for the vacant light heavyweight title, and Samir Faiddine came from behind to knock out Sam Creasey for the flyweight strap. James Webb and Nathias Frederick then competed for Webb's middleweight title, and in a particularly controversial five-round affair, the fight concluded in a draw after Frederick was deducted a point in the fifth round for spiking Webb on his head; the teammate of Leon and Fabian Edwards would've been victorious had it not been for the point deduction.
Next, Dean Trueman looked to defend his featherweight title against UFC veteran Mads Burnell. While Trueman rode an impressive three-fight winning streak, it became clear early on that the Englishman was out of his depth. In a two-round masterclass, Burnell proved why many consider him to be Cage Warriors' best fighter, dominating on the feet and sinking in a Japanese Necktie (the fourth of his career) midway through the second frame. Jai Herbert then took on Jack Grant in a battle for the vacant lightweight strap. Grant started well, but Herbert's exceptional striking, and in particular his straight punches, proved to be way too much for Grant and the Birmingham native joined the likes of Conor McGregor and Stevie Ray, becoming Cage Warriors 155-pound champion.
In the main event, Ross Houston defended his welterweight title against UFC veteran Nicholas Dalby. While many expected this to be an absolute barnburner, what happened was unprecedented. Dalby and Houston put on one of the bloodiest fights in recent MMA history; so bloody in fact, that by the third frame the two 170-pounders were slipping and sliding around the Cage Warriors octagon, forcing referee Marc Goddard to step in and rule the bout a No Contest. With Dalby since re-signing with the UFC, it's unlikely a rematch will happen any time soon, but what a fight it was.
---
Voting Results for Event of the Year
RIZIN 20 (17)
UFC 236 (6)
UFC 241 (5)
UFC 244 (3)
Cage Warriors 106: Night of Champions (1)