UFC 278 Results: Lucie Pudilova earns TKO win over Wu Yanan
Wu Yanan vs. Lucie Pudilova is the second fight on tonight's UFC 278 PPV main card in Salt Lake City, Utah.
The UFC 278 PPV will feature Kamaru Usman vs. Leon Edwards 2 as the main event. The full fight card will stream live only on ESPN+ in the United States. Order UFC 278 here to watch this fight and all others live or on replay.
We'll be bringing you live play-by-play updates for every main card fight, including Wu Yanan vs. Lucie Pudilova right now.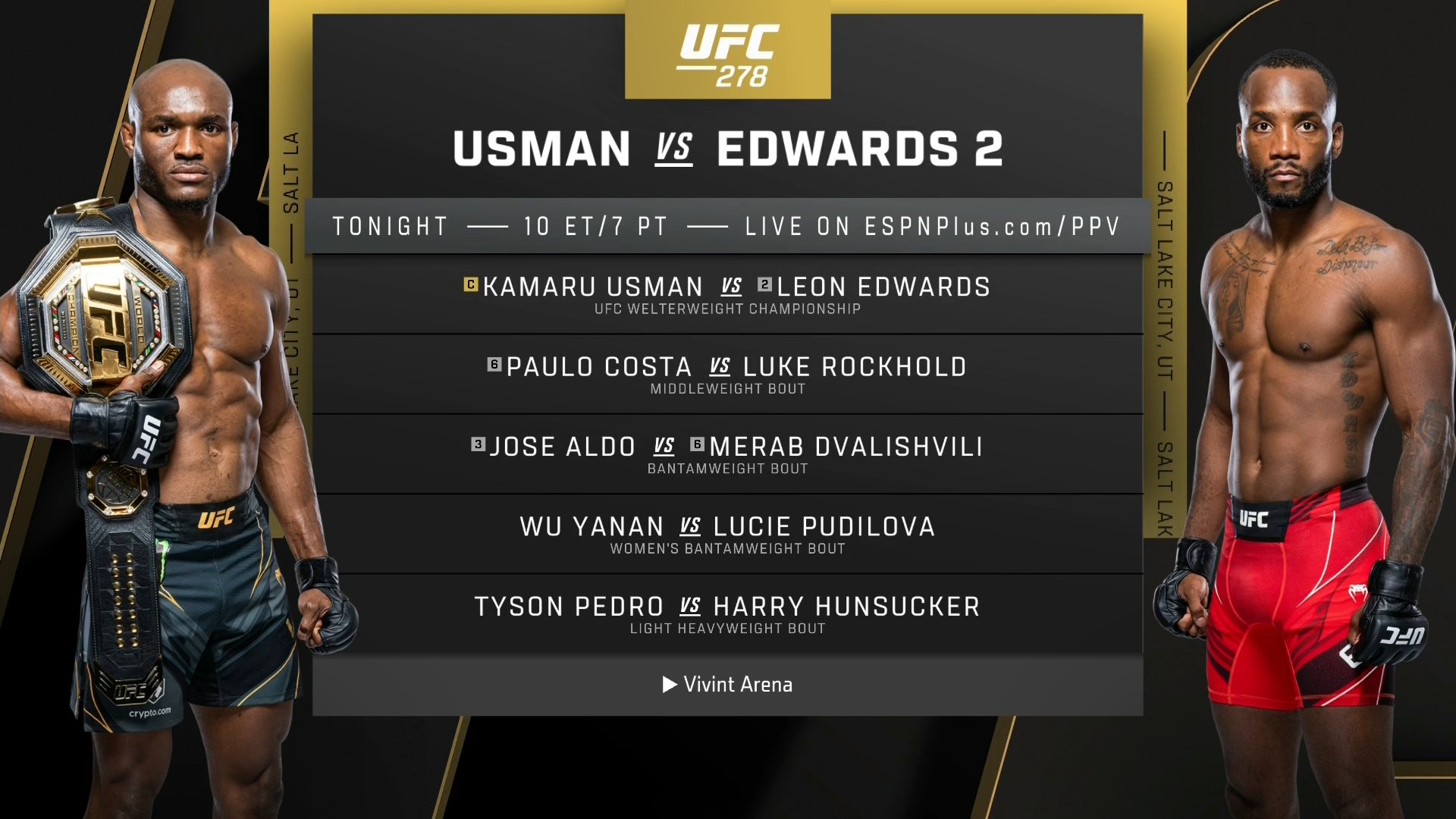 Wu Yanan vs. Lucie Pudilova full fight play-by-play
Watch the full fight live now on ESPN+ PPV or view the full fight replay on ESPN+.
Round one
Fight starts. Wu opens with a body kick, but Pudilova closes the distance and smothers her, pushing her back to the cage with a takedown attempt. Wu shows her strength by turning Pudilova momentarily. Wu lands an elbow as they break and reset. Nice jab from Wu lands. A hard leg kick by Wu now. Pudilova advancing, but Wu fighting well off the back foot at this stage. Another great jab from Wu, but Pudilova closes the distance again and, this time, secures a takedown and ends up on top. She's in Wu's half guard now.
Pudilova slides through the side control. Heavy top pressure from Pudilova. She's controlling the position well but having no impact at this point. Two minutes remain. Pudilova still controlling the position and potentially looking for a submission. Wu has been patient but also unable to switch her hips back toward Pudilova and create space. Wu turns and gives up her back with 30 seconds remaining. Pudilova climbs on and attempts to dig in her hooks but Wu moves back to the cage and they clinch. Great top pressure from Pudilova but not a ton of impact. Likely enough to still win the round.
Round one: 10-9 Pudilova
Round two
Both fighters trade strikes to start round two. Wu clearly more wary of the takedown following that first round. Wu working the legs of Pudilova. Wu advances and this time tries a combination of punches, but it doesn't have any significant impact. Pudilova advances, now stalking Wu as she circles the cage. Now she rushes forward and closes the distance, but Wu is able to separate and get back to the center quick.
Pudilova also working the legs in round two. They clinch again, and Pudilova goes straight for a throw. Head and arm control now as Wu crashes to the mat. Wu rushes out of the position and gives up her back once more. Pudilova is fast to latch onto the position and this time gets her hooks in. Wu escapes after a desperate 10-15 seconds, and now Pudilova is on top once more. She's controlling Wu again with 90 seconds remaining. Impressive top control here again, and now she's beginning to open up with heavy elbows and strikes from the top. She continues to rain down heavy strikes to the head of Pudilova, who is attempting to defend herself. Wu has no answer for Pudilov's strikes, however, and this sees referee Herb Dean call an end to the fight.
Official Result: Lucie Pudilova def. Wu Yanan via TKO (ground and pound) – R2, 4:04