UFC 277 Prelims: Full fight play-by-play, live results
The UFC 277 early prelims have now concluded, meaning it's now time for the preliminary portion of the UFC 277 fight card in Dallas, Texas. Fight fans can now watch all of the action live on ESPN+.
Follow along for our live UFC 277 results, play-by-play live blog, and video highlights for each of the preliminary bouts listed below.
Prelims – 8:00 pm ET / 5:00 pm PT on ESPN+
Alex Morono vs. Matthew Semelsberger
Drew Dober vs. Rafael Alves
Hamdy Abdelwahab vs. Don'Tale Mayes
Drakkar Klose vs. Rafa Garcia
The UFC PPV main card will commence shortly after at 10:00 pm ET exclusively on ESPN+ (watch here).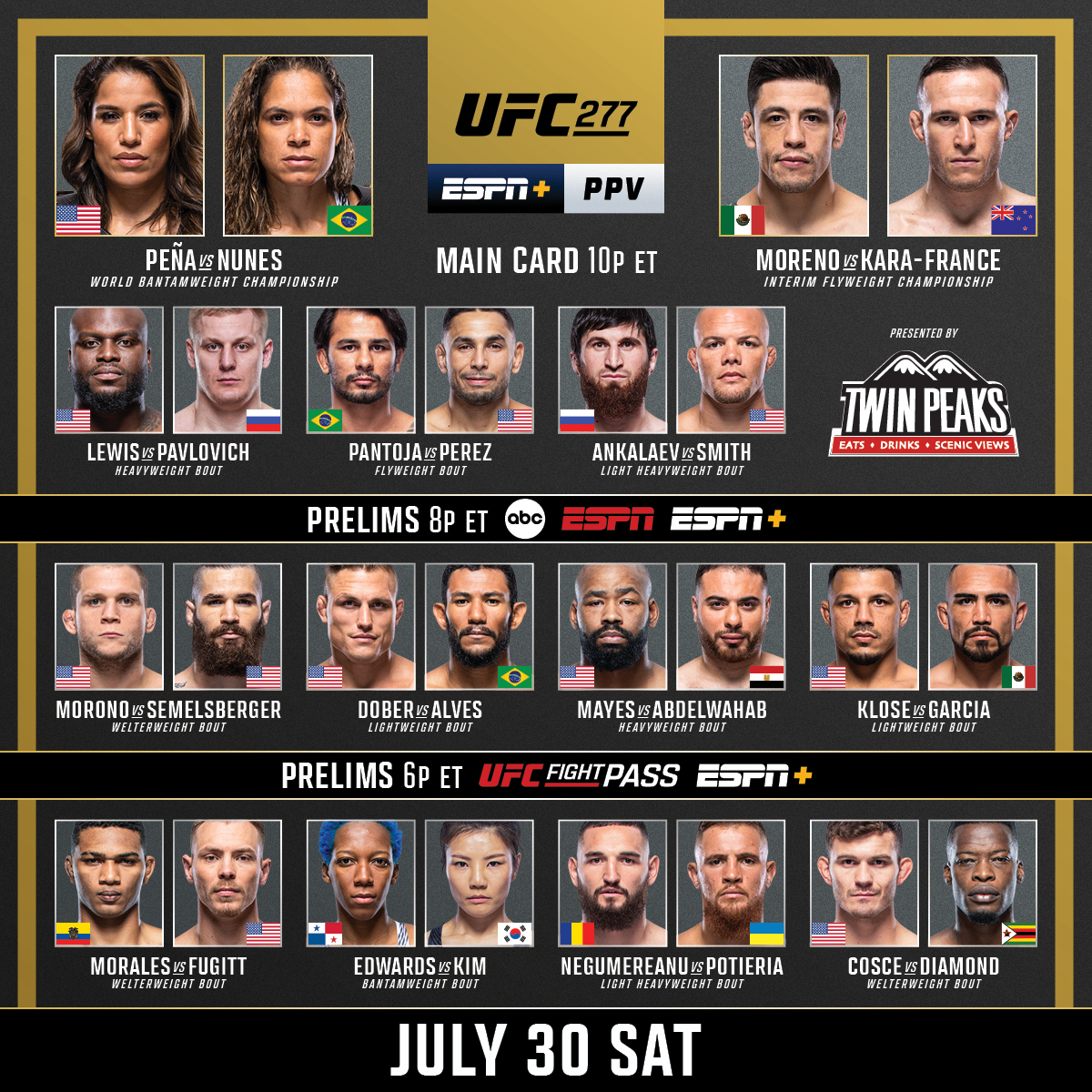 Watch UFC 277 Fight Card
Date: Saturday, July 30
Time: PPV Main Card starts at 10 pm ET, Prelims start at 6 pm ET
Watch: ESPN+ PPV (order here)
UFC 277 is a PPV event, meaning fans must order UFC 277 on the ESPN+ website to watch every main card fight live, including the Pena vs. Nunes rematch. After ordering, fans can stream every UFC 277 fight to a preferred device, including TVs, mobiles, computers, laptops, tablets, and more.

UFC 277 Results
Main Card – 10:00 pm ET / 7:00 pm PT only on ESPN+ PPV (order here)
Julianna Pena vs. Amanda Nunes (title fight)
Brandon Moreno vs. Kai Kara-France
Derrick Lewis vs. Sergei Pavlovich
Alexandre Pantoja vs. Alex Perez
Magomed Ankalaev vs. Anthony Smith
Prelims – 8:00 pm ET / 5:00 pm PT on ESPN+
Alex Morono def. Matthew Semelsberger via unanimous decision (29-28, 29-28, 30-27)
Drew Dober def. Rafael Alves via KO (body punch) – R3, 1:30
Hamdy Abdelwahab def. Don'Tale Mayes via split decision (29-28, 28-29, 29-28)
Drakkar Klose def. Rafa Garcia via unanimous decision (29-28, 29-28, 29-28)
Early Prelims– 6:00 pm ET / 3:00 pm PT on ESPN+
Michael Morales def. Adam Fugitt via TKO (punches) – R3, 1:09
Joselyne Edwards def. Ji Yeon Kim via split decision (28-29, 29-28, 30-27)
Nicolae Negumereanu def. Ihor Potieria via TKO (strikes) – R2, 3:33
Orion Cosce def. Blood Diamond via unanimous decision (29-28, 29-28, 29-28)

UFC 277 prelims play-by-play
Find all of our UFC prelims live results and play-by-play coverage for UFC 277 below.
Drakkar Klose vs. Rafa Garcia
The first fight on the UFC 277 prelims is a lightweight bout between Drakkar Klose and Rafa Garcia.
Round one
We're underway. Klose advancing. Klose left body kick and right leg kick. Garcia catches the leg kick and follows through for a takedown attempt. Nothing happening there. Klose clinches but Garcia circles out. Nice leg kick from Garcia lands to the outside. Klose with a strong combination before stepping into the clinch. Klose is still in the center, with Garcia circling around him now. Garcia has been chopping at the legs. They're clinching again now, and Garcia comes over the top with an elbow. They break from the clinch. Klose closes in on a single-leg attempt, but there's nothing there for him, but during a later clinch, he turns to the back and takes Garcia down. Garcia came back to his feet for a moment before being dragged down again. Klose tying up a leg of Garcia while he stands against the cage. Now he's controlling Garcia on the mat. Garcia turtles, and Klose slams some heavy punches into his head.
Score: 10-9 for Drakkar Klose
Round two
Klose coming out and applying that same pressure as the first five minutes. Forward pressure and now clinching against the cage. His takedown attempt fails for him now, and they return to the center. Garcia advancing and now it's Klose circling. Fairly inactive start to the round. Garcia with a leg kick now. Garcia takedown attempt is successful, and he lands on top in Klose's full guard. Strikes from the top, and now he's moved into half guard. They're near the center of the cage, and Garcia has Klose flat on the mat. Not a lot of action, and the referee stands them up quickly. Garcia did have top control in half guard, though, so it's a strange decision to stand them up. Now Klose is advancing and pressuring Garcia. Klose winds up a big uppercut and it connects.
Score: 10-9 for Rafa Garcia
Round three
Garcia dives in with a takedown attempt and fails. But not long after, he goes straight for another one, and this one is much better. Klose is down but doesn't take long to return to his feet. Garcia hasn't been able to control Klose on the mat so far during this round after two big attempts. Klose pressuring on the feet now but just advancing with footwork and not throwing many strikes. Now they clinch, and Klose lands a good knee and some hooks to the body. Good jab from Klose, and he's still moving forward and pressuring Garcia. Garcia fails on another takedown attempt — great takedown defense from Klose so far in this fight.
Score: 10-9 for Drakkar Klose
Official Result: Drakkar Klose def. Rafa Garcia via unanimous decision (29-28, 29-28, 29-28)
Hamdy Abdelwahab vs. Don'Tale Mayes
A heavyweight fight featuring Hamdy Abdelwahab and Don'Tale Mayes is the second fight on tonight's UFC 277 preliminary card.
Round one
This is a fight between two very large heavyweight fighters. Mayes working his jab and feinting. Abdelwahab walking forward. Mayes lands a nice left hand. Abdelwahab advances with a jab and right hand, the right hand doesn't sneak through Mayes' guard, but it still somehow manages to knock him off balance. It's clear that there's some big power in Abdelwahab's strikes. Now he crushes Mayes with another strike, and Mayes falls. A takedown/throw from Abdelwahab, and now he's controlling him against the cage. Abdelwahab looks like a real force and is showing signs of great experience and self-control despite his relative inexperience inside the cage. Mayes was in a bad position, trying to stand up from against the cage, but the referee pauses the action and resets in the center. Mayes lands a big punch now and then comes around with a high kick that misses. They're trading at the end of the round. Two big guys throwing very big punches.
Score: 10-9 for Hamdy Abdelwahab
Round two
Just seconds into the next round and Abdelwahab is landing his punches. Mayes cracks Abdelwahab with a left hand and Abdelwahab looks hurt. Mayes is all over him now. Abdelwahab looks dazed and confused. Mayes is patient but pressuring him and waiting to land the finishing blow. Abdelwahab is slowly recovering, but his eye is a mess. Both fighters have shown impressive composure. Abdelwahab has slowed down significantly. Mayes looks fresh and is picking him apart now. Good leg kicks from Mayes throws some wild hooks but Abdelwahab counters. Mayes misses with a wild head kick. Now he rushes in and dives for a takedown but ends up on the bottom as Abdelwahab just falls on top of him. A terrible decision from Mayes there as he is now stuck underneath Abdelwahab. Abdelwahab throwing elbows from the top.
Score: 10-9 for Don'Tale Mayes
Round three
Abdelwahab starts round three with an immediate takedown attempt. He's got Mayes stuck on the bottom against the cage now in a half guard position. He's controlling Mayes with ease and basically just smothering him with his size. Abdelwahab isn't super active from the top position but is still managing to control him. The referee is inching closer and is clearly tempted to stand them back up. Abdelwahab is looking for a way to work, but Mayes is defending pretty well so far, despite making no real effort to get back to his feet. Referee steps in now and stands them up. They reset in the center. Mayes advances and goes for a flying knee attempt. Misses. Abdelwahab is exhausted. Mayes has a big chance now to crack him. Mayes is going after him. Lands some powerful shots and finishes the round well. Abdelwahab had a good three or so minutes of control but didn't have a huge impact. After the referee stood them up, Mayes went after him and landed big shots. Could definitely see someone scoring this round for Mayes, considering the impact at the end. If it is, then he can thank the referee for gifting him a way back to his feet.
Score: 10-9 for Hamdy Abdelwahab
Official Result: Hamdy Abdelwahab def. Don'Tale Mayes via split decision (29-28, 28-29, 29-28)
🗣 BY UNANIMOUS DECISION!@DrakkarKlose makes it 5 wins in his last 6 fights 👊

[ #UFC277 | Prelims are LIVE on @ABCNetwork ] pic.twitter.com/fno3HZoohN

— UFC (@ufc) July 31, 2022
Drew Dober vs. Rafael Alves
A lightweight clash between Drew Dober and Rafael Alves is next up on the UFC 277 prelims.
Round one
Alves with a body kick to start the fight. Capoeira-style kick now from Alves, and although it looked so smooth and impressive, Dober evaded with ease. Alves moves forward behind a slicing elbow up the middle and basically runs Dober over and ends up on top. Alves has a butterfly hook. Alves stacking now and is raised up on his feet, driving pressure into Dober's chest and neck. Alves working from the top with occasional punches. Dober surviving so far despite looking pretty uncomfortable due to an elbow to the neck. Alves stands back up, but Dober is still grounded. Alves slams some kicks into his legs. Dober back up now. Dober advances but misses with his punches. Alves cracks him with a right hand, and a flying knee just misses. Dober trying to box Alves up against the cage, but Alves is moving his head nicely and evading all the incoming strikes — great head movement. That's the end of the first round.
Score: 10-9 for Rafael Alves
Round two
Dober looking good to start round two. Pressuring Alves and lands a heavy body kick. Now Dober is attacking the body with punches. Alves moving his head still against the cage, but Dober recognizes this and targets the body. Alves looking tired during this round. Dober pressuring. This round has mostly just been Dober walking Alves down and backing him up to the cage. Alves does seem comfortable defending against strikes near the cage, considering his decent head movement. An eye poke causes a pause in the action. The timeout lasts about 90 seconds, and now we're back. Alves got the rest that he needed. Dober goes for a high kick but slips. Alves waving his finger and taunting Dober. Dober opens up with a combination of punches, but Alves' head movement is superb as he dodges and weaves. He's looking like Floyd Mayweather in there — but just with a lot less counter-attacking or offense of any sort.
Score: 10-9 for Drew Dober
Round three
Alves lands a right hand and then shoots for a takedown. A high-energy attempt from Alves fails and now he's retreating after Dober stuffed it successfully. Dober back to pressuring, advancing with Alves circling around the sides of the cage. He's still targeting the body just like during the second round. This time he connects with a perfect left hook to the body. It connects to the ribs of Alves, and Alves drops instantly. That's it. That's the fight.
Official Result: Drew Dober def. Rafael Alves via KO (body punch) – R3, 1:30
That finish was NASTY 💢

[ @DrewDober | #UFC277 Prelims LIVE on @ABCNetwork ] pic.twitter.com/JJlSrVSH65

— UFC (@ufc) July 31, 2022
Alex Morono vs. Matthew Semelsberger play-by-play
The featured prelim of tonight's UFC 277 fight card is a battle between Alex Morono and Matthew Semelsberger.
Round one
Semelsberger comes out throwing. Morono is light on his feet and moving well. Semelsberger tags his lead leg with a leg kick. Morono working his jab and tries to sneak in a right overhand around the guard. Morono's jab working well. Semelsberger slams a leg kick into Morono's lead leg again. Spinning back kick from Morono misses. Semelsberger lands a couple of short punches. Now a right hand. He's finding his rhythm. Morono with a 1-2 down the middle. Good clean boxing from both fighters so far. And, of course, now an eye poke interrupts the action. Just a short 15-second break, and Morono says he's good to go again. Semelsberger's eye is closing up after Morono's punches are causing swelling under his left eye.
Score: 10-9 for Alex Morono
Round two
Morono controlling this fight so far. He's the superior striker and is controlling the range well and using his entire bag of strikes to keep Semelsberger guessing. Morono has started the second round well with his jab again. Jab, circle, and then occasionally a big right hand has been the key for Morono so far. Semelsberger is athletic and has strong kicks but just isn't throwing nearly enough or being accurate enough to concern Morono. Morono is winning this fight with his jab alone. At one stage, halfway through this round, he landed three or four consecutive jabs. Not only is it marking Semelsberger's face, but it's discouraging him from closing the distance or opening up with his own strikes. Morono is making Semelsberger look like an amateur here on the feet. Semelsberger advances with a three-punch combo, but they're not even close to landing. But now there's a chance for Semelsberger as he ends up on top after a takedown. Morono pivots and looks for an armbar but Semelsberger postures up and starts raining down heavy strikes.
Score: 10-9 for Alex Morono
Round three
The fight looks in doubt after the doctor is called in before round three to assess Semelsberger's eye. It's basically closed but the fight continues. Semelsberger rushes out and goes after Morono straight away. He drops him and is now on top in Morono's full guard. Morono escapes and gets back to his feet, but after he took several hard strikes on the way out. Semelsberger clinching with Morono's back to the cage. They move back to the center now. Semelsberger is a tough lad and is still coming forward despite wearing a badly swollen eye and some blood now, too. Morono is slower in round three and is seemingly more careful. Morono uses his jab to keep Semelsberger away. Morono looking tired now as well. Two minutes to go. Nice right hand from Semelsberger. Morono looking sloppy with his strikes, but a right hand connects. A minute to go, and there's no guarantee it makes it the distance. They clinch, grapple, and exchange strikes but no one takes the edge here in the final minute. That's Semelsberger's round.
Score: 10-9 for Matthew Semelsberger
Official Result: Alex Morono def. Matthew Semelsberger via unanimous decision (29-28, 29-28, 30-27)