UFC 277: Brandon Moreno vs. Kai Kara-France 2 results
Brandon Moreno vs. Kai Kara-France is a UFC Interim Flyweight Championship bout on tonight's UFC 277 fight card in Dallas, Texas.
The UFC 277 PPV main card consists of five bouts, including two title fights, and is only available to watch on ESPN+ in the United States. Order UFC 277 here to watch this fight and all others live or on replay.
Former champion Brandon Moreno makes his return to face Kai Kara-France in what could be one of the best fights of the night. Moreno steps back into the Octagon following his unanimous decision defeat against Deiveson Figueiredo in January. With that defeat, Moreno lost the title he had won in 2021 and will now look to get back on track with a win against #2 ranked contender Kara-France this weekend.
Kara-France has emerged as a top challenger after three consecutive wins against Askar Askarov, Cody Garbrandt, and Rogerio Bontorin. After losing to Moreno by unanimous decision in 2019, this co-main event clash at UFC 277 represents a massive opportunity for the City Kickboxing fighter.
Read on for our full fight play-by-play updates, live blog, results, and video highlights during the Brandon Moreno vs. Kai Kara-France rematch on the UFC 277 PPV main card.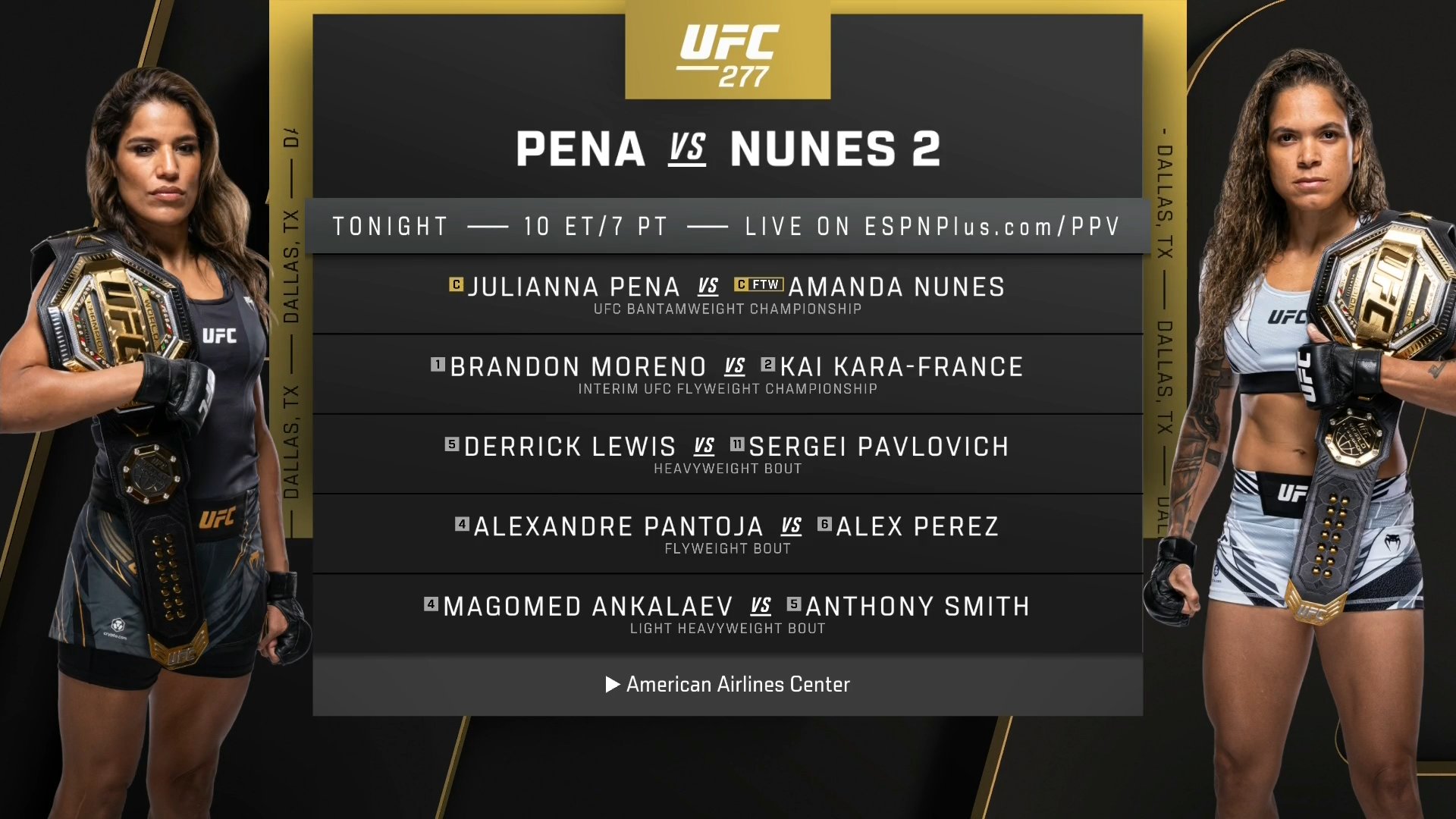 Brandon Moreno vs. Kai Kara-France full fight play-by-play
Watch the fight live now or catch the full replay only on ESPN+ PPV.
Touch gloves & away we go 🤜🤛

[ #UFC277 | Main Card LIVE on ESPN+ PPV: https://t.co/U0Pbshxhuo ] pic.twitter.com/9IZmPyf97X

— UFC (@ufc) July 31, 2022
Round one
Kara-France rushes to the middle. Moreno circling and testing Kara-France's guard. Kara-France winds up with a big leg kick but misses. Lots of feints from both fighters so far as they test each other's defenses. A low blow from Kara-France causes a pause in the action. Moreno takes a break.
They're back at it now. More patience from each fighter, but now it's Moreno controlling the center as he makes Kara-France circle. Kara-France comes forward with his renowned overhand right, and it connects but we end up in a position where Moreno is clinching and could potentially take him down. Kara-France escapes, circles out, and we're back at kickboxing range. Moreno countering Kara-France's low kicks with a left hand over the top. Another right hand from Kara-France. Moreno stalking Kara-France now. A high kick from him is blocked. A body kick lands for Moreno, and that's the end of round one.
Score: 10-9 for Brandon Moreno
Round 2 ✅

[ #UFC277 | Main Card LIVE on ESPN+ PPV: https://t.co/U0Pbshxhuo ] pic.twitter.com/P1APdSWwlF

— UFC (@ufc) July 31, 2022
Round two
First five-round fight for Kara-France, and that may be a reason why we're seeing a relatively slow start in this one as each fighter paces themselves for the full distance. Moreno rushes in and clinches with Kara-France after Kara-France misses with a head kick. They're against the cage now. Kara-France escapes from the position and resets. Moreno is a little more active so far in this round as he tests Kara-France's guard with a 1-1-2.
Kara-France tries to set up his right hand, but Moreno beats him to it and lands a right hand over the top of Kara-France's jab. Moreno has done well so far to evade the biggest of Kara-France's power shots. A leg kick from Moreno causes Kara-France to stumble for a moment. Kara-France isn't comfortable at boxing range in this fight so far. Moreno's high kicks are keeping Kara-France's right hand busy guarding his head rather than leaving it to attack. Moreno pressuring now. He's stepping it up in round two just like he did in the first fight.
Score: 10-9 for Brandon Moreno
Round three
Moreno attempts a leg kick, but Kara-France catches it, and now Moreno is on his back. Kara-France is postured over him and striking. Moreno has full guard. Kara-France falls into the guard now and goes down to his knees. Moreno's cut now and there's blood leaking from around his right eye. Kara-France landing some big shots now as Moreno tries to stand back up. A good start to this round for Kara-France after two close rounds to open the bout.
Replay shows that an elbow opened up the cut on Moreno. Kara-France steps in with a jab and uppercut. Kara-France landing clean now. He's looking more confident. A heavy leg kick now too. Moreno is being overwhelmed in round three. Kara-France is settling into the fight — he's tagging Moreno and moving back out of range before the counters arrive.
Moreno jabbing now. He's regaining his composure. Moreno misses with a high kick. Under a minute to go in the round now. Kara-France shoots, Moreno stuffs, and moves out. Moreno body kick to the liver, and Kara-France goes down. Moreno swarms him and rains down punches from above to cause referee Herb Dean to step in and stop the fight. That's it. Moreno wins by a body kick in round three.
Official Result: Brandon Moreno def. Kai Kara-France via TKO (body kick) – R3, 4:34
HE DID IT!!! @THEASSASSINBABY IS YOUR INTERIM FLYWEIGHT CHAMPION!!!!! 👑 #UFC277 pic.twitter.com/r09TD4acId

— UFC (@ufc) July 31, 2022
BRANDON MORENO IS THE INTERIM FLYWEIGHT CHAMPION 🏆🇲🇽 #UFC277 pic.twitter.com/IB2bdIs8Sk

— ESPN MMA (@espnmma) July 31, 2022
Beautiful show of respect between these two warriors 🤝 #UFC277 pic.twitter.com/IJluu5jJln

— UFC (@ufc) July 31, 2022
UFC fighters react to Brandon Moreno's win
Deiveson Figueiredo vs Brandon Moreno IV: The Quadrilogy #UFC277

— Henry Cejudo (@HenryCejudo) July 31, 2022
Mannnnn that body work!!!

— Belal Muhammad (@bullyb170) July 31, 2022
Man that sound!!

— Belal Muhammad (@bullyb170) July 31, 2022
Respectful young men ! 👏🏾👏🏾👏🏾 #UFC277

— Derek Brunson (@DerekBrunson) July 31, 2022