UFC 276 Prelims: Full fight play-by-play, live results
The UFC 276 prelims are underway and that means fans can now watch all of the action live on ESPN+ PPV.
Follow along for our live UFC 276 results and play-by-play for each of the preliminary fights listed below.
Prelims – 8:00 pm ET / 5:00 pm PT on ESPN+, ABC, and ESPN
Brad Riddell vs. Jalin Turner
Ian Garry vs. Gabriel Green
Jim Miller vs. Donald Cerrone
Brad Tavares vs. Dricus Du Plessis
The UFC PPV main card will commence shortly after at 10:00 pm ET exclusively on ESPN+ (watch here).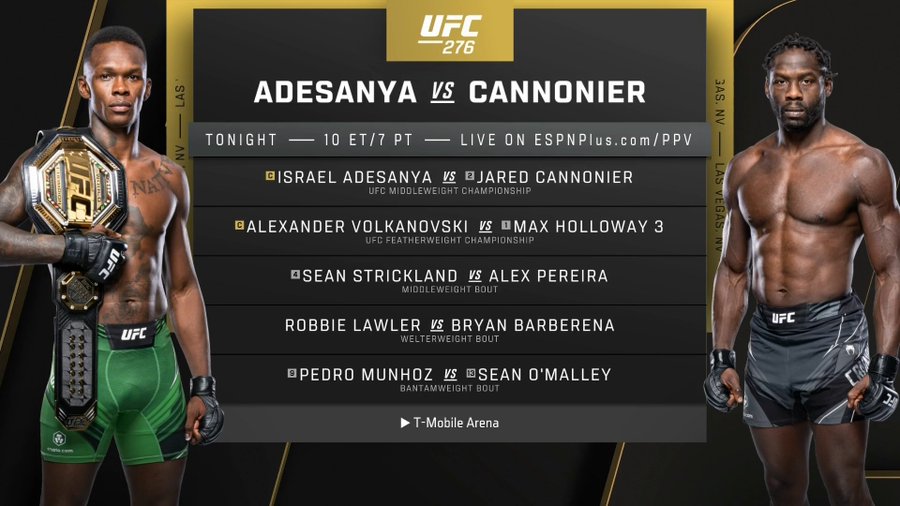 Read our UFC full fight play-by-play updates and live results for every other UFC 276 main card fight here.
UFC 276 prelims play-by-play
Find all of our UFC live results and play-by-play coverage for UFC 276 below.
Brad Tavares vs. Dricus Du Plessis
Round one
A touch of gloves and we're underway. A slow start to the fight as both fighters continue to feint and wait for the right moment to engage. Du Plessis is first and misses with a wild three-punch combo. He enters again, misses again, but this time follows through with a takedown attempt and pushes Tavares to the cage. He backs him up with two underhooks and then attempts to throw Tavares but it ends with Tavares on top.
Tavares has landed on top in half guard. Tavares lands a couple of strikes to the head before Du Plessis postures up enough to retreat to the cage but with Tavares still on top. An escape attempt fails for Du Plessis. He tries again and this time is successful in rising to his feet but the grappling continues against the cage. Another scramble. Du Plessis pushes Tavares to the cage again with underhooks. Du Plessis breaks and misses with a spinning back fist. Tavares's high kick is blocked. Du Plessis with another wild blitz and this time Tavares catches him coming in with a right hand. That one seems to have hurt Du Plessis who falls and then rises in time to push Tavares back to the cage again. Tavares looks in control of this one so far and is the far more composed fighter. Tavares turns Du Plessis against the cage now and has two underhooks. Kness to the thigh from each fighter. Du Plessis breaks.
Tavares 10-9
Round two
Du Plessis throwing to start round two. Nothing but powerful strikes and Tavares wears a couple. Du Plessis' forward blitz seems to be working in this round so far. Tavares is bleeding now but it's not clear what caused that and where the cut is at this stage. Nice body kick for Tavares. We've got a fight on our hands now. Tavares ducks under Du Plessis' punches and lands a body strike. Spinning back fist for Du Plessis. Low kick from Tavares and yet another forward blitz from Du Plessis. Tavares' defense is getting lazy now. He's moving back in a straight line and enabling this forward blitz. Leg kick lands for Tavares. Body kick misses. Du Plessis goes high with a kick and it seems to narrowly miss. Huge punch from Du Plessis just misses — he's throwing with maximum power. Tavares engages in the clinch now but Du Plessis backs out easily.
Du Plessis' approach to only throwing power shots could mean that he starts to fatigue soon and the action starts to slow with 90 seconds left in the round. Tavares lands his best punch of the round as Du Plessis blitzes in. Tavares checks a leg kick. They're exchanging kicks now but nothing with too much power. Du Plessis lands a heavy strike to end the round — he chases after Tavares who is clearly hurt but time runs out.
Du Plessis 10-9
Round three
Wild exchanges to begin round three. High kick connects for Du Plessis. Everything is maximum power but Tavares is connecting with more shots at this point of the round. Straight punches only just miss from Du Plessis. Tavares working the legs. Strong right hand and left hook from Du Plessis now. Another forward blitz falls short and Tavares returns a left hook. Another strong leg kick from Tavares and then he blocks Du Plessis' return attack. Du Plessis digs a left hook into the body. Tough round for both fighters so far as no one has really emerged as the dominant fighter. Du Plessis connects with a 1-2 and then a body kick. He's landing more often now and is leading the significant strikes count with 90 seconds to go in the round. Tavares needs to step it up here as Du Plessis is outworking him to close out the round and the fight. Another strong right hand from Du Plessis and Tavares misses with his counter shot. Tavares finally lands a good right hand in return. A powerful right hand connects for Du Plessis. That's it.
Du Plessis 10-9
Official Result: Dricus Du Plessis def. Brad Tavares by unanimous decision (29-28, 29-28, 29-28)
Ian Garry vs. Gabriel Green
Round one
Green advancing behind his southpaw jab. Garry circling, bouncing, and checking the leg kicks that are coming his way. Green is pressuring Garry and has him all the way back behind the black line and almost touching the cage. Green feinting to keep Garry guessing and is clearly trying to work the legs of his opponent. Garry lands the harder leg kick in return though. A quick exchange of punches but nothing significant lands. Garry has been under pressure since the opening seconds. Superman punch connects for Green but Garry returns fire and resets the action to the center of the cage. Now he's planting his feet and trying to stay here. Green advances though and we're back to Garry circling around the outside. Strong left-hand connects for Green but it's Garry who lands the bigger punches in this instance as he returns fire with two straight punches to the head. Garry is connecting with hard punches now and a cut opens up under Green's left eye. The range is presenting difficulties for Green so far who is struggling with Garry's height and length. Left hand lands for Green and then he lands two right leg kicks. A brilliant combination from Garry as he lands two straight punches and then comes high with a kick. He landed the harder shots that round.
Garry 10-9
Round two
Garry lands a nice low kick and Green stumbles for a moment. Green has been cutting the cage well and pressuring well, too, but hasn't landed anything of major significance yet. Garry looks fast and accurate, particularly with his straight punches. An eye poke from Garry pauses the action.
We restart and it's an outside leg kick from Garry to begin. Green clinches now against the cage. Garry attempts to turn him but is circled through back to the cage. A beautiful trip from Garry results in him on top. Green seems to be giving up his back easily but actually escapes and now Garry in his control with a body lock. Garry's trying to return to a standing position and eventually does so. Excellent punches from Garry as he lands 3-4 unanswered blows to the head. Green advancing now but can't land. Jab and a overhand right from Garry. Green working now and trying to lift his pace. Garry body kick. Green has him backed up and lands some leg kicks. A nice left hand to end the round from Green.
Garry 10-9
Round three
Round three commences and it's Green advancing behind leg kicks again. But Garry connects with a big shot and drops Green. He goes to the ground with him but Green gets back to his feet quickly and clinches. Green trips Garry but can't keep him down. He attempts a throw but can't finish it. He hasn't been able to execute on his takedown sequences in this fight. Garry working the jab now after they separate. Green continues with the leg kicks. Garry right hand lands. He's handled the forward pressure of Green very well in this fight. More leg kicks from Green. Flying knee attempt from Garry and it almost connects. Nice 1-2 from Garry now and then a right uppercut attempts to sneak through the guard. Green is still advancing and keeping pressure on Garry but Garry is managing the pace well, picking the right moments to return fire. Knee up the middle from Garry now. Green throwing lots of strikes in the final 60 seconds but there's no real impact.
Garry 10-9
Official Result: Ian Garry def. Gabriel Green by unanimous decision (30-27, 30-27, 30-27)
Jim Miller vs. Donald Cerrone
Round one
Donald Cerrone storms to the center of the cage and opens up with a 1-2 combination. Leg kick now and a front body kick from "Cowboy." Miller blitzes forward with a combination of punches but nothing seems to break through the guard of Cerrone. Cerrone is controlling the range with kicks. Cerrone misses a leg kick and Miller lands a series of counter punches. Fairly patient start from both fighters. Another blitz from Miller and Cerrone counters. Cerrone lands the biggest punch of the first two minutes as a strong right hand breaks through Miller's guard. Cerrone attempts a left body kick but Miller catches it and follows him to the ground. Cowboy armbar attempt but Miller escapes and falls into full guard. Elbow from Miller. He postures up and lands more punches. He's got Cowboy stuck now and landing more punches to the head. They reverse positions and now it's Cowboy stuck in Miller's full guard. Cowboy burys his head for a quick breather before starting to posture up and stack Miller's guard. Cowboy postures up and escapes the full guard before attempting a kneebar. That's the end of the round.
Round two
Miller advances. Cowboy front body kick has been working well. Nice elbow from in close by Miller. Great, technical fight so far between these two veterans. Cerrone goes high with a kick and it connects but he is countered, and lands in Miller's guillotine attempt. Cerrone taps and Miller submits Cerrone in round two. It's all over and Miller now has the most wins in UFC history (24).
Official Result: Jim Miller def. Donald Cerrone via submission (guillotine choke) – R2, 1:32
The last ride of an iconic career. Thank you @CowboyCerrone 👏🤠 pic.twitter.com/LEF6Lnea6i

— UFC (@ufc) July 3, 2022
Brad Riddell vs. Jalin Turner
Round one
Riddell opens with a leg kick but falls short. Turner advancing. Nasty right hand connects and hurts Riddell — it was the first punch of the fight. He jumps on Riddell now, mounts him, and submits him with a guillotine choke. Turner is for real and he made it look easy.
Official Result: Jalin Turner def. Brad Riddell via submission (guillotine choke) – R1, 0:45
Read our UFC full fight play-by-play updates and live results for every other UFC 276 main card fight here.
OHHHH MYYYYY @JALINTURNER!!!!!! 😳

[ #UFC276 | Prelims LIVE on @ABCNetwork ] pic.twitter.com/rxt6y7UK4U

— UFC (@ufc) July 3, 2022
UFC 276 Results
Main Card – 10:00 pm ET / 7:00 pm PT only on ESPN+ PPV (order here)
Israel Adesanya vs. Jared Cannonier (title fight)
Alexander Volkanovski vs. Max Holloway (title fight)
Sean Strickland vs. Alex Pereira
Robbie Lawler vs. Bryan Barberena
Pedro Munhoz vs. Sean O'Malley
Prelims – 8:00 pm ET / 5:00 pm PT on ESPN+, ABC, and ESPN
Jalin Turner def. Brad Riddell via submission (guillotine choke) – R1, 0:45
Jim Miller def. Donald Cerrone via submission (guillotine choke) – R2, 1:32
Ian Garry def. Gabriel Green via unanimous decision (30-27, 30-27, 30-27)
Dricus Du Plessis def. Brad Tavares via unanimous decision (29-28, 29-28, 29-28)
Early Prelims– 6:00 pm ET / 3:00 pm PT
Andre Muniz def. Uriah Hall via unanimous decision (30-27, 30-27, 30-27)
Maycee Barber def. Jessica Eye via unanimous decision (29-28, 29-28, 30-27)
Julija Stoliarenko def. Jessica-Rose Clark via submission (armbar) – R1, 0:42