UFC 276 Main Card: Play-by-play, live results, full fight highlights
The Body Lock is here to bring you live results, play-by-play updates, and video highlights of all of the action taking place right now at the T-Mobile Arena in Las Vegas, Nevada.
The UFC 276 PPV main card commences at 10:00 pm ET and will air exclusively on ESPN+ in the United States (watch live here).
The fight card features the Israel Adesanya vs. Jared Cannonier middleweight title fight as the main event. Alexander Volkanovski and Max Holloway will battle for the third time when they face each other in a UFC Featherweight Championship clash in the co-main event.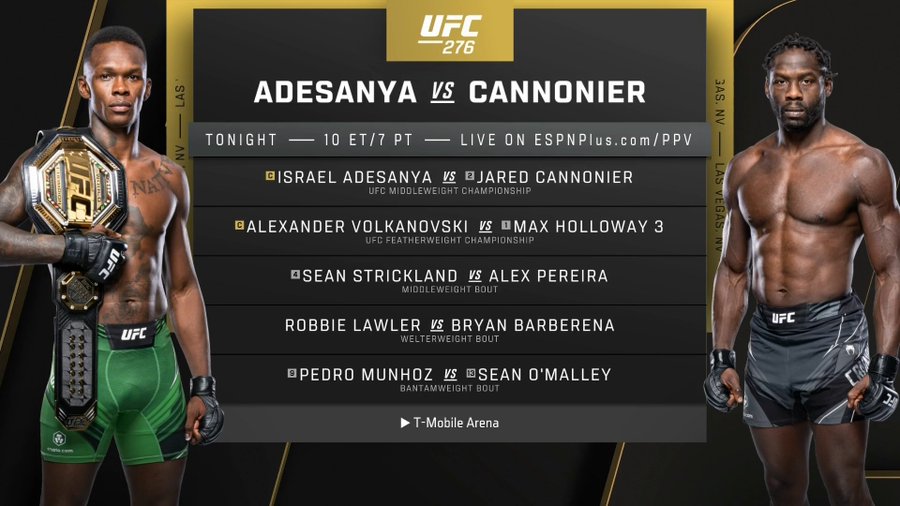 UFC 276 Fight Results
Main Card – 10:00 pm ET / 7:00 pm PT only on ESPN+ PPV (order here)
Israel Adesanya vs. Jared Cannonier (title fight)
Alexander Volkanovski def. Max Holloway via unanimous decision (50-45, 50-45, 50-45)
Alex Pereira def. Sean Strickland via knockout (left hook) – R1, 2:36
Bryan Barberena def. Robbie Lawler via technical knockout (punches) – R2, 4:47
Pedro Munhoz vs. Sean O'Malley ends in no contest (unintentional eye poke)
Prelims – 8:00 pm ET / 5:00 pm PT on ESPN+, ABC, and ESPN
Jalin Turner def. Brad Riddell via submission (guillotine choke) – R1, 0:45
Jim Miller def. Donald Cerrone via submission (guillotine choke) – R2, 1:32
Ian Garry def. Gabriel Green via unanimous decision (30-27, 30-27, 30-27)
Dricus Du Plessis def. Brad Tavares via unanimous decision (29-28, 29-28, 29-28)
Early Prelims– 6:00 pm ET / 3:00 pm PT
Andre Muniz def. Uriah Hall via unanimous decision (30-27, 30-27, 30-27)
Maycee Barber def. Jessica Eye via unanimous decision (29-28, 29-28, 30-27)
Julija Stoliarenko def. Jessica-Rose Clark via submission (armbar) – R1, 0:42
UFC 276 Play-by-Play Live Updates
Read on for all of our play-by-play updates, live results, and highlights from every UFC 276 main card fight.
Pedro Munhoz vs. Sean O'Malley play-by-play
Watch the full replay only on ESPN+ PPV.
Round One
They trade leg kicks to start the fight. Munhoz is already going after O'Malley's legs. O'Malley keeping just outside kicking range so far — he hasn't entered boxing range. Lots of feints from O'Malley as is usual. Another calf kick from Munhoz. He's landed more than a couple already. Front body kick from O'Malley is caught but then he comes in with a right hand that is blocked. Munhoz really working the legs. We'll soon see if O'Malley's legs can hold up.
Relatively patient start from O'Malley who clearly respects Munhoz's abilities. Spinning back kick from O'Malley falls short. Munhoz returns with leg kicks. Another one. And another one. O'Malley crashes a right hand into Munhoz's head — his best strike so far. Low blow from O'Malley causes a break with less than two minutes remaining.
O'Malley now jabbing to keep Munhoz away, who has been advancing after the reset. More leg kicks from Munhoz — he's been targeting the calves of O'Malley. O'Malley advances now but doesn't open up. He's been patient but then lands a spinning back kick to the body of Munhoz. Another good strike but there haven't been too many of them in this opening round. A good start from Munhoz who has been targeting O'Malley's legs.
10-9 Munhoz
Round two
Munhoz goes straight back to the leg kicks but then comes high with a kick afterward. O'Malley hasn't looked too comfortable yet in this fight — at least not compared to how he normally settles into fights. That changes rather quickly, though, as he attempts another spinning back kick and narrowly misses. Munhoz body kick now and he is still advancing. O'Malley's trying to create his openings with feints and patience. He lands two good punches and then separates. Another right hand from O'Malley but then Munhoz fires back a leg kick.
We're now halfway through the second round. It's up for grabs as neither fighter has taken control yet. O'Malley starting to land more of his punches now as a jab sneaks through Munhoz's guard. An eye poke from O'Malley causes a break in the action. Referee Jason Herzog brings in a doctor to look at Munhoz's eye. The doctor isn't satisfied. Munhoz is unable to see. Herzog calls the fight off and this one will go down as a 'no contest.'
Official Result: Fight ends in 'No Contest' (unintentional eye poke)
Robbie Lawler vs. Bryan Barberena play-by-play
Watch the full replay only on ESPN+ PPV.
Round one
A touch of gloves and we're on. Low kicks from Barberena to start. Another one lands. Lawler has the center of the cage and Barberena is on the outside. Two heavy body punches land for Lawler. He's digging deep into Barberena's body with these punches. Now he goes high but just misses. Strong left hand by Lawler but Barberena stands his ground and lands a few in return.
Heavy left hand from Barberena and then a counter punch from Lawler. Lawler goes after him and just misses with a 1-2. Heavy hooks from Lawler now. Goes back to the body. He's all over Barberena but Barberena is still very dangerous despite his back to the cage. Now it's Barberena opening up with shots to the body and head.
Barberena touching up Lawler now in the same way that Nick Diaz did last — lots of volume with light punches. Lawler adjusting his guard to defend these strikes but he's being overwhelmed by high-volume, relatively low-impact strikes. It seems to be working well for Barberena and Lawler ends up eating a couple of heavy shots in-between.
Now it's Lawler returning fire and Barberena pivots out. Nice uppercut from Lawler. Great fight so far and it's almost exclusively a boxing match with both fighters going after the head and body. Barberena with more volume so far but it's Lawler who has landed the heavier punches. That's the end of round one.
10-9 Lawler
Round two
Barberena opens with a low kick and jab. His plan so far seems to be to overwhelm Lawler with strikes and keep him busy with defense rather than offense. Every time Lawler comes forward Barberena just continues throwing light strikes to the head and body, forcing Lawler to use his high guard to defend. A stiff jab lands for Lawler now and then a prolonged exchange of punches between the two.
Halfway through the round now and it's a slower pace than round one. Lawler misses with a 1-2 and Barberena backs away. Great counter striking from both fighters so far and they both take some heavy punches to the head in another exchange. Lawler again lands the heavier shots.
Big punch from Barberena connects. Lawler is retreating now and Barberena keeps advancing. Lawler looks in trouble now. Barberena keeps raining punches. Lawler is a little wobbly now but still fighting back. Nasty elbow from Barberena now and then Lawler gives one back. Lawler's looking tired. Barberena keeps on coming. Huge right hand from Barberena. Lawler covers up. Barberena continues the attack and a few more heavy hooks sneak past Lawler's guard. He loses his balance and that's enough for the referee to call this one off. Barberena wins by TKO.
Official Result: Bryan Barberena def. Robbie Lawler via technical knockout (punches) – R2, 4:47
Sean Strickland vs. Alex Pereira play-by-play
Watch the full replay only on ESPN+ PPV.
Round one
We're underway. Low kick from Pereira. Body kick. Jab. He's starting this one with volume. He looks calm as Strickland slowly marches toward him. Strickland looks like he's trying to kickbox with Pereira. Nice jab from Pereira and Strickland returns one of his own. Strickland advancing but Pereira looks comfortable so far, mixing up punches to the head and body. Strickland's jabs are starting to land now as he looks to be finding his range. Right hand touches the chin of Strickland. Low kicks from Pereira now.
A powerful left hook connects and sends Strickland flying. Tons of power in that one and Strickland tries to get back to his feet but is met with another stiff right hand from Pereira. Referee Jason Herzog calls an end to it before Pereira gets a chance to follow through with more punches. That's another win for Pereira in the books.
Official Result: Alex Pereira def. Sean Strickland via knockout (left hook) – R1, 2:36
Alexander Volkanovski vs. Max Holloway play-by-play
Watch the fight live or the full replay only on ESPN+ PPV.
Round one
They touch gloves and then it's Holloway immediately pressuring Volkanovski. Both fighters testing the range with low kicks so far. Holloway front body kick and then a high kick but both don't get through. Volkanovski already going to the legs of Holloway. Holloway comes in with a punch, misses, then ducks to evade a powerful combination from Volkanovski in return. They trade body kicks now. Volkanovski moves forward with a jab and then a right hand behind it. Volkanovski opening up with punches now but nothing lands. But now he lands a heavy punch to the head of Holloway. Holloway attempts to return fire but misses.
When Holloway comes forward, Volkanovski is ready to unload powerful hooks and stand his ground. They're yet to connect, though, but that's clearly the plan of Volkanovskik who wants to punish Holloway for pressuring him. Holloway's high kick is blocked. Nice jab from Volkanovski and then he comes forward into the clinch. He's clearly confident so far in this fight. Holloway is yet to settle into the fight. Volkanovski lands a strong left hand. Holloway still advancing, though, but hasn't been able to open his offense in the way that he'd like.
They've momentarily clinched a few times during the round but no fighter has been able to take advantage of the situation. Now they're trading at close range. Holloway lands some good punches as Volkanovski retreats. Spinning back fist from Holloway is blocked at the end of the round. Good first round from Volkanovski who managed the distance well.
10-9 Volkanovski
Round two
Volkanovski was feeling it in the first round so expect Holloway to come out and disrupt his flow here in the second. Holloway comes forward with some punches but Volkanovski stands his ground again and returns punches. That's been the key so far. Volkanovski has accepted the position of circling and being on the outside but he's not giving up ground as Holloway comes forward. Strong right hand connects from the champion. Holloway didn't have an answer there.
Now Holloway mixes it up and goes to the body of Volkanovski with punches. He's throwing the jab now to keep Volkanovski busy. He comes forward and clinches with Volkanovski but the champion turns him and pushes him back to the cage. A nice elbow from the champion lands. Holloway turns and Volkanovski lands another elbow. Holloway throws a combination to the body and head. Another one but Volkanovski evades the right hand to land one of his own. A cut has opened up on Holloway's face now. A jab from Volkanovski seems to wobble Holloway for a moment. Holloway misses with a straight punch to the body. Now he goes back to his kicks. Volkanovski evades.
Calf kick from Volkanovski and then Holloway lands one of his own. Holloway lands some straight punches and then only just misses with a high kick. Volkanovski's head movement has been critical as Holloway comes forward with blitzes. Holloway's long straight punches are just falling short as Volkanovski moves back now. Strong left hand from Volkanovski lands. Flying knee attempt by Holloway. Volkanovski has been in control of this round and that's two in the books for the champion.
10-9 Volkanovski
Round three
In-between rounds they showed Holloway's corner working on his cut above his eye. It's a deep, nastier cut than expected. They come back out for round three now. Volkanovski lands a right hand down the middle. He's punishing Max for moving forward and he's looked faster than Holloway so far. Holloway's still dangerous though, of course.
They trade leg kicks and they're fighting at a much closer range now in round three. Volkanovski has been able to evade most of Holloway's attacks so far. A nice jab lands for Holloway. Now Volkanovski is throwing his straight punches and two connect. Now he goes to hooks as Holloway steps in and another lands. Holloway throws a combination and most strikes are defended. A nice jab from Holloway sends Volkanovski's head back. More strong punches land for Volkanovski. Holloway's chin is being tested now. They clinch now and it's Volkanovski pushing Holloway to the cage. A spinning back fist just misses Holloway on the exit. Another strong right hand from the champion. The cut above Holloway's eye is now bleeding again and it could be enough to put an end to the fight if it opens up any more.
Holloway connects with one of his best strikes of the fight so far and it's a knee as Volkanovski comes in. Now there's a cut on Volkanovski's forehead.  Holloway lands some punches to finish the round. He definitely improved in the last minute there.
10-9 Volkanovski
Round four
Holloway high kick misses. Now they're clinching against the cage. Volkanovski breaks and lands some heavy hooks. Back to the clinch. Double underhooks for Volkanovski. He disengages and Holloway's cut has opened again. Body kick from Holloway lands. Nice 1-2 from the champion and then he bounces out of range before Holloway can respond. Nice spinning back kick from Holloway. Pace has slowed in round four. Holloway ducks under a combination from Volkanovski. Holloway now advances behind his jab. Volkanovski catches a body kick but lets it go. Now the champion crashes two hard punches into Holloway's head.
Holloway has still been advancing and an opportunity presents itself when Volkanovski slips. Holloway latches onto him but they're far too slippery and end up clinching against the cage. A high kick from Holloway misses. More hard punches from Volkanovski. And again as Holloway advances, Volkanovski is able to duck underneath and then land two hooks. Nice body kick from Holloway now. But it's still the champion in control of this one. He's back to his jab and working Holloway's face. Holloway spinning back kick to the body just misses. High kick nearly lands for Holloway. Volkanovski has evaded those much better in this fight.
10-9 Volkanovski
Round five
Volkanovski's made it look easy so far. He's outworking the former champion and it's likely a shutout on all scorecards at this point. Holloway needs to change something up here to have a chance. He clinches with Volkanovski and pushes him back to the cage but Volkanovski reverses position and now they reset in the center. More leg kicks from Volkanovski land now. The pace has slowed again. It hasn't been a repeat of the highly-competitive battles in the first two fights but instead, we're seeing a one-sided display from the champion.
Holloway takedown attempt but Volkanovski keeps his balance and then clinches against the cage. They reset. Volkanovski doesn't seem to be in any real danger here and fans are likely just counting down the seconds. Holloway's face is covered in blood and Volkanovski lands a strong right hand. High kick from Holloway is blocked. Not a lot of action in the last round and we have less than a minute remaining now. Volkanovski jabbing. Holloway calls for him to throw down but Volkanovski raises his hand. It's over.
Incredible performance from Volkanovski. Beat Holloway in every aspect of the fight tonight and had him shooting takedowns in the final stages of the fight. Holloway had no answers for the champion.
10-9 Volkanovski
Official Result: Alexander Volkanovski def. Max Holloway via unanimous decision (50-45, 50-45, 50-45)
Israel Adesanya vs. Jared Cannonier play-by-play
Watch the fight live or the full replay only on ESPN+ PPV.
Round one
We're underway. Cannonier's leg kick misses. Adesanya lands one of his own. Cannonier advancing to start the fight. Adesanya patient as always but lands his second good leg kick. Now a front body kick lands for the champ. Cannonier lands a leg kick now. Cannonier's plan seems to be to attack the legs of Adesanya. He's connected with a few good kicks now.
Adesanya feinting and looking for openings. Nice 1-2 combination from Adesanya. Another leg kick from Cannonier. Adesanya's high kicks have all been blocked so far. Cannonier said that he wouldn't be frozen in front of Adesanya like his previous opponents, but it's sure looking that way. He's falling into the trap of a slow-paced, technical counter fight with Adesanya. The leg kicks are still working for him, however. And again. Adesanya high kick, Cannonier ducks to evade. Adesanya is landing all of his leg kicks so far. A nice right hand touches Cannonier on the chin. Slow first round.
10-9 Adesanya
Round two
Adesanya advancing now and he has Cannonier circling. They trade leg kicks. Slow start to round two and it looks much the same. Adesanya body kick then a leg kick. Straight left hand lands, too. Comfortable fight for Adesanya so far. Nice leg kick from Adesanya as Cannonier tries to counter with a strong left hand but misses. A flash of power from the challenger, however.
Halfway through the round and Adesanya's in control. The UFC broadcast shows Alex Pereira on-screen as he's sitting cageside watching the fight following his victory earlier in the night. Not a lot of is happening inside the cage, so the UFC decides to show what's happening outside.
Adesanya lifts his pace temporarily. He lands some strong punches but then an eye poke from Adesanya causes a break in the action. Adesanya has been warned several times already for keeping his fingers extended.
Cannonier body kick and Adesanya counters with a kick of his own. Now he's working Cannonier's legs. Cannonier returns a leg kick. Another one from the challenger. Adesanya lands a left straight and backs Cannonier up. A 1-2 to end the round and then a bit of banter between the two before they head back to the corner.
10-9 Adesanya
Round three
Adesanya more active to start round three. Just misses with a strong front kick to the head. Cannonier is flat-footed and Adesanya is working his legs now. The champion has had control of the range so far in this fight. Cannonier attempts a takedown and rushes Adesanya back to the cage but Adesanya escapes the attempt and moves back to the center.
Good to see something a little different from Cannonier — even if it was unsuccessful. He tries something new again and this time he closes the distance and lands several hooks to the head of Adesanya while almost at clinch range. Then they clinch, he lands more, and Adesanya escapes and circles. Cannonier is finally trying to do something that could help him win the fight and we've crossed just a little past halfway through the fight now.
The challenger is looking better now as he's less hesitant with his strikes and starting to open up more. Adesanya still looks in control as he sticks and moves. Cannonier now backs the champion to the cage. He clinches with an underhook and starts striking the thigh of Adesanya with his knee. Tougher round to score. Cannonier did a bit more that round and it's possible that he won it.
10-9 Cannonier
Round four
Adesanya jabbing to start round four. Front body kick now and an outside leg kick from the champion. Slow pace during the fight. Adesanya picking and choosing his shots. Landing occasionally with some body kicks now. Occasional straight punch sneaks through but not a lot of action. Cannonier now attempts a takedown. He has an underhook and marches Adesanya back to the cage. Not much happening for him there.
They reset. Adesanya keeping his distance and moving well. It's a good display of defense but there hasn't been a lot of offense at this point. Cannonier attempts an elbow in the clinch but it just misses. No fighter has had a real significant impact during the fight.
Not much of a fight. Think Adesanya won that round.
10-9 Adesanya
Round five
Cannonier comes out and lands a right overhand. Where has this been all night? He's showing signs of aggression and moves forward, landing a body kick. Slows down almost immediately though and we're back to the slow pace from before.
The crowd starts to boo as Cannonier clinches with Adesanya against the cage. It's been tough to do play-by-play for this one, honestly. Adesanya is a masterful striker but there hasn't been a lot of action to comment on so far.
And suddenly Cannonier lands two good punches with less than two minutes remaining. He's pressuring the champion now and taking risks. Far too late though.
10-9 Adesanya
Official Result: Israel Adesanya def. Jared Cannonier via unanimous decision (49-46, 49-46, 50-45)