Loma Lookboonmee 'stronger and more powerful' after gaining 9 pounds from strength training
Headlined by Demian Maia vs. Ben Askren, UFC Singapore was certainly one of the more understated events of 2019. However, aside from the main-event battle between one of MMA's greatest ever specialists and one of its most underwhelming, the UFC's third trip to Kallang shed some much-needed spotlight on some of the promotion's more intriguing newcomers.
Heavyweight kickboxer Ciryl Gane heel hooked Don'Tale Mayes with all the ease of a seasoned black belt, Mosvar Evloev and Rafael Fiziev both gave decent accounts of themselves, and Sanda great Muslim Salikhov picked up his third UFC victory in convincing fashion.
However, the most interesting performance came in the women's strawweight division, as fans were introduced to Loma Lookboonmee, perhaps the best female Nak Muay in the world. At the age of 24, Lookboonmee has over 300 career Muay Thai fights and is the first Thai to compete in the UFC. For three rounds, Lookboonmee effortlessly incorporated a range of Muay Thai tactics into her MMA arsenal and despite being awarded just a split decision (two 30-27's vs. one 27-28) Lookboonmee's dominance, particularly in the clinch, was impressive.
In a recent interview with John Hyon Ko, Lookboonmee discussed her debut performance and admitted that while she felt nervous pre-fight, as soon as the contest began, she was at ease.
"I was so excited to make my UFC debut in Singapore," Lookboonmee said. "When I was at the cage, I wanted to go home though. I felt like I wasn't ready. But I knew that if I got through it, I could pass anything."
Throughout the opening round of the contest, it became immediately apparent that Lookboonmee's opponent, Alexandra Albu, was drowning in the Thai's clinch prowess (check out Ryan Wagner of The Fight Site's article on Loma's performance for far better analysis than I can provide). As a result, Albu resorted to grabbing Lookboonmee's shirt, shorts and anything else she could get a hold of. While other fighters might've reacted less courteously (Israel Adesanya's irate reaction to Derek Brunson grabbing his shorts comes to mind), Lookboonmee remained calm, removed her baggy overshirt following the first-round and totally controlled Albu for the remaining two frames.
"I didn't feel angry or anything. She can pull my shirt, but I won the fight anyway. I still elbowed her and kneed her. I don't know how one judge thought I lost the fight; I don't understand that at all. I won that fight 100%."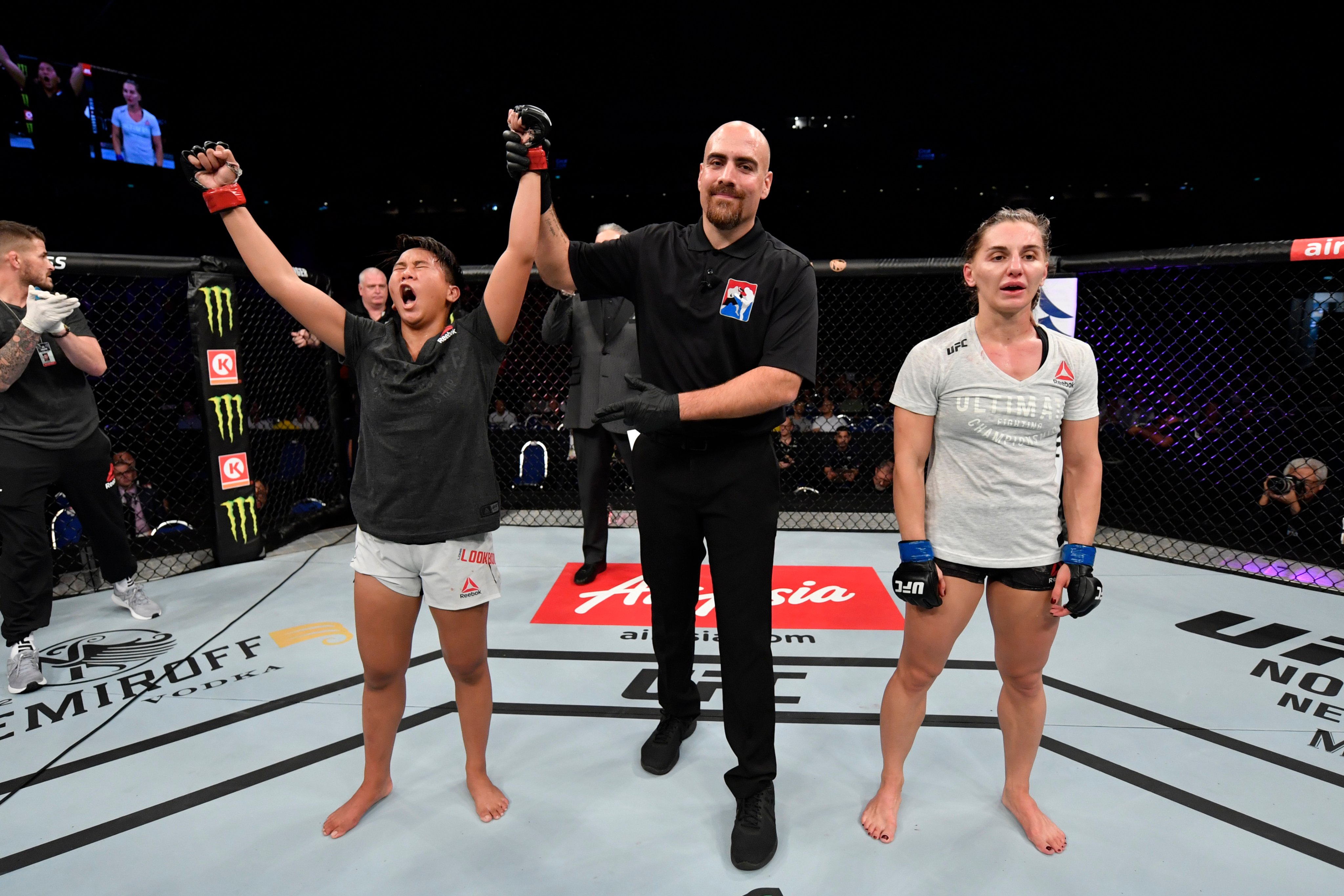 Putting on power
Having previously competed at atomweight, Lookboonmee is among the smallest athletes in the UFC's strawweight division. While this was not particularly apparent during her manhandling of Aleksandra Albu on debut, it is something that might be an issue if Loma is to face the upper echelon of the division with the likes of Weili Zhang and Jessica Andrade possessing far larger physiques.
Because of this, recently Lookboonmee has devoted a significant amount of time to putting on weight, muscle and, as a result, power.
"I'm really focusing on strength and conditioning. Like four times a week at least I train with Woody. I think I've changed a lot and gained a lot of weight. A lot of people have told me I walk like a man now because I've gained so much muscle. I've gained 4 KG's. I want to stop eating because I think I'm gaining too much. My coach tells me to keep going so I can gain more muscle!"
While there is absolutely such a thing as too much muscle in MMA, increased power and strength will surely only benefit Lookboonmee; indeed, the prospect of the Tiger Muay Thai athlete's aggressive clinch warfare becoming even more effective is a mouth-watering prospect for fans and a daunting one for the UFC's strawweight roster.
"I definitely feel stronger and more powerful. They tell me I have way more power. Now I can train with bigger guys which I prefer because I can actually punch. I don't have to be like 'Oh that's a girl', I don't have to be careful. I train with everyone, but my main partners are Casey, Topnoi and "Killer Bee"."
UFC Auckland
In her second UFC contest, Lookboonmee will face Contender Series alumni Hannah Goldy at UFC Fight Night: Felder vs. Hooker. Goldy is currently 0-1 in the UFC, after an unsuccessful debut against Miranda Granger. Against Granger, Goldy showed a tendency to stay at kicking-range and flail wild punches as soon as her opponent pressured. She also showed some fairly poor clinch wrestling, something Lookboonmee will obviously look to exploit.
Despite these shortcomings, Loma refuses to overlook Goldy and is prepared for whatever happens, come February 23.
"When I watch video of her with my coaches, we think she's well-rounded and not great at anything particularly. She does whatever her coaches tell her to do."
"I can do anything to my opponents. If I want it on the feet, we can strike. If I want to wrestle, we can wrestle. I will walk her down, and maybe she'll run away!"
Where other fighters may study every aspect of their opponent and adapt their own approach accordingly, Lookboonmee is well aware of her gameplan. At UFC Auckland, Goldy's previous opponents and contests don't matter to Loma, and so she chooses to only watch them once. From that, Lookboonmee and her team can take whatever information they need; after, the focus is solely on Loma.
"Whenever I have an MMA fight, my coach will come to me and we watch my opponent's fights just one time. I don't like to watch them more than that.
"I think that if I study them too much, I'll focus on them and not me; I'll try and change my style and I don't want to do that. We watch them once and I'll ask my coach about them, and then that's it. Done."
A victory over Goldy will continue Lookboonmee's great start to the beginning of her UFC career. Tiger Muay Thai fighters had an outstanding 2019, and a win for Lookboonmee would continue this success into the new decade. Provided Loma is successful in Auckland, a 2-0 start to UFC life would surely warrant a ranked opponent next and that is exactly what she believes.
"I just talked to my manager and I said that if I win this fight, I want to fight a girl in the rankings. I want to keep going up the rankings an improving."
Stylistically, Lookboonmee is a conundrum for every fighter at strawweight, possessing a set of skills that have largely been unseen in the UFC. Indeed, in 2019, Loma possessed the fifth-highest striking accuracy (with a minimum of 100 strikes) in the UFC at 65.6%, demonstrating both her outstanding precision but also her impressive volume, given this was achieved in just one fight/three rounds/fifteen minutes (fighters above such as Jon Jones and Alistair Overeem racked up far more cage minutes). For now, UFC Auckland and a bout against Hannah Goldy await, but with a win on February 23, Lookboonmee's case as one of the most exciting and intriguing prospects in MMA will certainly strengthen.
UFC Auckland takes place on February 23 at the Spark Arena in New Zealand. Despite the card's lack of name power, there are some excellent fights taking place. In the main event, Dan Hooker and Paul Felder will meet in a bout of real importance at lightweight, while the co-main event features Jimmy Crute and Michal Oleksiejczuk in light heavyweight action.
Magomed Mustafaev and Brad Riddell will face-off also at 155-pounds, following their excellent respective victories last year, and Kai Kara-France and Tyson Nam will meet at flyweight. The card also features the return of Zubaira Tukhugov, Jake Matthews, Jalin Turner, and Karolina Kowalkiewicz.