Bellator 233: The prospects to keep an eye on
Despite being one of the promotion's quieter events of the year, Bellator 233 is an event not to be slept-on. A clash between middleweight's John Salter and Costello van Steenis will take place in the main event this Friday in Oklahoma, and the co-main event will be contested between Muhammad "King Mo" Lawal and Andrew Kapal.
In addition, scattered across the card are some of the promotion's brightest prospects. Hard Knocks 365's Logan Storley will look to continue his unbeaten run against EJ Brooks, light heavyweights Grant Neal and Jimmy Lugo will face off on the prelims and Christian Edwards will be hoping to grab another quick finish against Cesar Bennett.
Three other prospects featuring on the prelims are perhaps even more exciting than those previously mentioned: Featherweight Lucas Brennan, welterweight Kyle Crutchmer and light heavyweight Jordan Young. Let's take a look.
Kyle Crutchmer
The name Kyle Crutchmer is likely a familiar one for many.
Before joining famed wrestling team American Kickboxing Academy, Crutchmer was a decorated wrestler at Oklahoma State, becoming a two-time All-American and two-time Big 12 champion. When he made the transition to MMA, following in the footsteps of mentors like Daniel Cormier and Shawn Bunch, Crutchmer was already relatively well-known, and while his reputation made it difficult to find fights, whenever he entered the cage, he impressed.
Crutchmer made his debut in June 2018 with Oklahoma-based promotion Xtreme Fight Night, formerly home to fellow Oklahoma State graduate Johnny Hendricks, as well as Anthony "Rumble" Johnson. In a 9-month stint with the promotion, Crutchmer competed four times and was hugely impressive, with three wins via stoppage and a unanimous decision victory in his final XFN bout.
Stylistically, Crutchmer's strengths and weaknesses should come as no surprise. At 5'9'', Crutchmer, like many of AKA's fighters, is undersized for his division but packs legitimate power and explosiveness. On the feet, Crutchmer has a limited set of weapons, with his favorites being the outside leg kick and overhand right. These largely serve as tools to close distance, and once Crutchmer is able to take his bouts to the canvas, he shows his strength with active, punishing ground-and-pound.
On Friday, Crutchmer will meet his toughest test yet, against Dana White's Contender Series veteran Antonio Jones. Currently 7-3, Jones featured on the second series of DWCS at middleweight and was knocked-out by uber-prospect Edmen Shahbazyan. While this is a difficult challenge (especially because of several short-notice opponent changes), if Crutchmer is to ascend Bellator's rankings as quickly as expected, a win here is a necessity.
The Oklahoma twister #finisher @WWE @Fgbrisco @cainmma pic.twitter.com/iKbjnpmyRp

— Kyle Crutchmer (@KyleCrutchmer) August 27, 2019
Jordan Young
Is Jordan Young still a prospect?
At 24 years of age, Young currently boasts an 11-0 record (6-0 in Bellator), with nine submission finishes, eight in the first round, and has risen through Bellator's light heavyweight division in particularly impressive fashion over the last few years. Coupled with a slightly brash and cocky personality, this makes Young one to watch in the next few years.
Training out of American Top Team, Young has been on up-and-up for some time. Since making his major promotion debut at Bellator 171 in January 2017, initially at middleweight, the 6'4'' American has looked impressive in the cage. Unfortunately, several of these performances have been marred by issues making weight; this included not only missing weight for his middleweight and Bellator debut but also missing a 195-pound catchweight for his bout against Alec Hooben. The same issues have evaporated following a much-needed move to light heavyweight, and since, Young is 3-0.
For a light heavyweight, Young's striking is pleasant to watch. His jab is becoming more educated as his career progresses, and while he isn't packing as much one-shot-power as some of his contemporaries, he is accurate. Young isn't overly good defensively and can be lazy against takedown attempts, but given that he is a legitimate submission threat, he can likely afford this laziness. This was shown most recently against Joel Bauman, who easily reversed one of Young's grappling entries, but wound up in a triangle choke.
Following his impressive run of five first-round submission victories, Young will face Contender Series veteran and Bellator debutant Julius Anglickas this Friday. Anglickas actually won his DWCS bout, but was not offered a contract, and will now be hoping to make his name in Bellator, at the expense of Young.
If Young can continue his undefeated streak and pick-up another emphatic finish on Friday, hopefully, a bout against one of the division's top competitors will be in the not-so-distant future. For now, be prepared for another submission.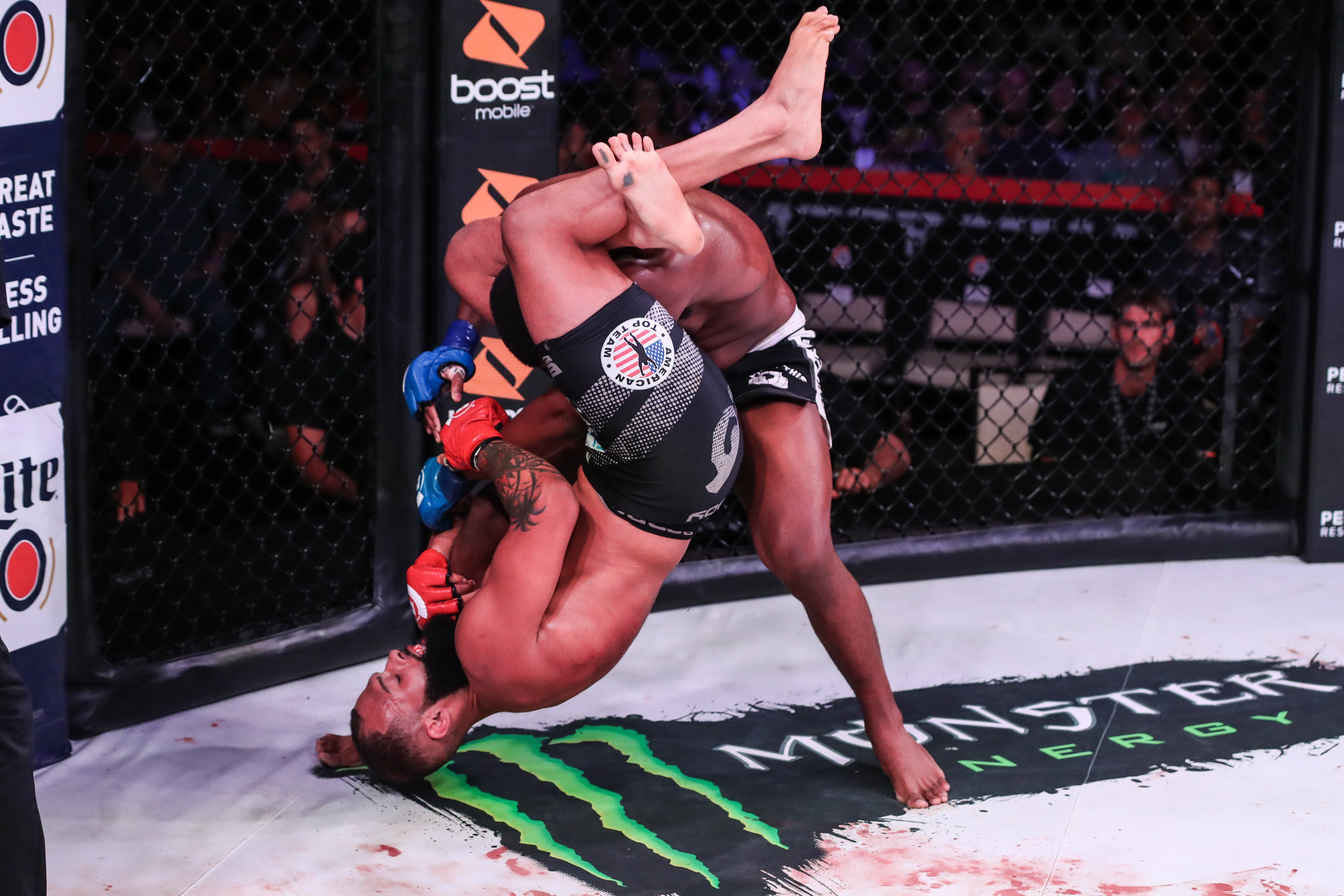 Lucas Brennan
While it remains incredibly early in the career of Lucas Brennan, son of former UFC welterweight Chris Brennan, many are already incredibly excited about the 19-year-old, and it's clear to see why.
Brennan made his amateur debut in August 2017 at Xtreme Knockout 37, and at the age of just 17, "Skywalker" dominated and finished Christopher Williams via third-round rear-naked choke. In his next two bouts, Brennan rag-dolled opponents in LFA and Tuff-N-Uff with a patient, grapple-heavy style demonstrating skill beyond his years.
After three amateur fights, Brennan was picked-up by Bellator to make his professional debut in July of this year. In what was admittedly a 'gimme' fight, the Texan submitted Thomas Lopez in the first round by way of rear-naked choke, starting his professional career off in style.
Brennan is far from the finished product. On the feet, his striking remains rudimentary and he is still incredibly hittable, while on the canvas, his takedown entries in the open can be relatively sloppy. With that being said, there's a lot to like about "Skywalker"; on the feet, Brennan has shown glimpses of a jab, and blends his hands with his entries against the cage well. Once he has his hands on his opponents, Brennan excels at taking the back and combined with a black belt in Brazilian jiu-jitsu, the prospect is a submission threat from everywhere.
With plenty of talent, a good team around him, and the support of a promotion that is clearly willing to bide its time, Brennan has an exciting future ahead of him. Provided he can move to 2-0 this Friday, it may not be long before "Skywalker" is ascending the ranks of Patricio Freire's division. Watch out.
Bellator 233 takes place at the WinStar World Casino in Oklahoma on November 11, 2019.