The intriguing inner workings of modern-day bare-knuckle boxing
The sport of bare-knuckle boxing has been around for so long that there have been far more years where it hasn't been a "sport" opposed to it being one. Hell, there will never be a time where your typical number of street fights are being outnumbered by professional BKB matches. And one could very well argue… isn't a street fight just a sloppy, unofficial, BKB match?
However, a sporting aspect to it has been developed over the years. And in the modern-day, a lot more is going in than purely just blood and bone.
When it comes to America, the sport of BKB is still very new as the legalization of the gloveless combat was made official in March of last year. That being only for the state of Wyoming. Shortly after, Mississippi and New Hamshire would join in on the ever-unique festivities. Florida and North Dakota have also since made it legal and more are expected to do the same as time goes on.
As mentioned, bare-knuckle boxing is something that has been taking place around the world in some form or another for decades now. It just wasn't until the start of 2017 that the place which made it famous, the United Kingdom, would be the first to get a proper organization going.
And what's a more fitting name than just calling it what it is?
In the still very young history of modernized bare-knuckle boxing, the UK's BKB promotion – known as BKB – has so far been the one with the least amount of controversy surrounding it when compared to its emerging American counterparts.
To get some proper insight on what makes things so different between seas, The Body Lock reached out to BKB staff writer and former World Bare-Knuckle Fighting Federation (WBKFF) employee, Adam LeBarr.
"I've now worked for the biggest bare-knuckle boxing promotions around, and from my experience, yes, there is a difference," LeBarr shared. "The major thing I noticed was the communication, which is everything when you're working with a promotion, trying to paint a picture and tell a story.
"I don't want to talk poorly about anyone, because everything I've done has been a learning experience, and I can't thank everyone I've been involved with enough for providing that to me. All I ever hope for, especially from the sport of BKB, is that everyone gets what they're owed for fighting, everyone remains in good health following their fight, and the fights are good. There will always be a difference from promotion to promotion, and hopefully, those are all positives moving forward."
With the history of the sport being so ingrained in a place like the UK, one could assume it comes down to integrity vs capitalization. Sometimes you have to strike while the iron is hot, and that's exactly what American promoters have started to do.
The first and most notable of the small sample size is David Feldman who currently runs the Bare-Knuckle Fighting Championship (BKFC).
Feldman, a man with a boxing background, discovered his passion for the bare-knuckle variant of the sport when first working alongside Bobby Gunn as he told Forbes in April.
June 2, 2018, would mark the BKFC's inaugural event.
BKFC 1 featured many notable names from the MMA world such as Tony Lopez, former Bellator veteran, Eric Prindle, former Bellator and UFC veterans, Johnny Bedford, and Joey Beltran, former UFC veterans, Bec Rawlings, Estevan Payan, and even former UFC heavyweight champion, Ricco Rodriguez. And those wouldn't be the last for BKFC… as well as others.
The dark side
In the latter half of 2018, another American BKB promotion would come along known as the previously mentioned WBKFF.
As interested in gathering up MMA fighters to compete for them as these promotions were, the fighters had the interest in reciprocating. Unfortunately for those goaded into competing under the WBKFF banner, things didn't pan out as well as they should have.
WBKFF would go one and done with their events as once things were all wrapped up following the first show, none of the fighters would end up receiving their compensation and still haven't.
In result, WBKFF Founder, Tomasz Stankiewicz, was charged with five felonies by Natrona County prosecutors. Last year he pleaded guilty in a separate case to wire fraud where he was "responsible for financial institutions losing an estimated $1.98 million" per the plea agreement. He was sentenced to a year in prison which was to begin on April 22.
On top of the reported $60,000 payouts that he was offering according to multiple fighters, Stankiewicz just didn't end up paying anyone surrounding the situation what so ever – including the hotels he booked $3,700 worth of for the event.
What could have possibly been WBKFF's big plan all along?
"Tough question," LeBarr started. "I mean, I'd like to think intentions were good with the promotion, but with what happened, you just never know.
"For months I was e-mailing the owner's wife asking about pay for the fighters and myself and there just wasn't ever a clear answer. It even got to the point I'd be informed my pay was sent out, weeks would pass, and then after I questioned it, a new story was made about why the pay wasn't actually sent. This was the case for me, the fighters, and everyone behind the scenes who worked for the promotion. This was my first real gig as a sports writer, so I wasn't sure if some of these problems were normal, or this was actually just a giant shit show and I was blind to it.
"I've spoken with [WBKFF President] Bas [Rutten], many times actually, and I've been made aware of conversations he has had with Tom, the owner, and he always makes it sound like there's good intention and everything to square up is a work in progress," he continued. "I became very close with a lot of the fighters from that show, and it hurt to see the struggle they went through following them not being paid for all their dedication and not to mention putting their health on the line. I don't know what happens from here, but I hope if there's ever any news about the WBKFF again, it's somehow positive and the fighters get what they deserve."
The secret
Obviously, there is an enticement and allure to the spectacle of bare-knuckle boxing. Whether it be to the fighters or promoters running the shows. It's something new, challenging, violent, and just different. It sounds a bit similar to how MMA began, huh?
For MMA fighters that have always just looked to throw down and go to war on the feet, it's practically perfect. In the minds of the ones that didn't always like the sound of that, it presents a phenomenal task to overcome. Accompanying that desire to put fists in faces without padding, for whatever reason, the pay appears to be quite good… when the promises are kept.
To look at BKFC's fifth event as a good example, former UFC featherweights Artem Lobov and Jason Knight fought in the evening's main event. To put it bluntly, they beat the absolute hell out of each other to a face morphing degree. The punishment sustained was unlike anything ever seen in the UFC Octagon. Yet this was between two fighters that never truly even sniffed the top of their division on MMA's ultimate stage.
For Mississippi's Knight, his last UFC contest came at UFC 230 where he received a reported payout of $36,000. Ahead of his bout with Lobov, without mentioning a specific number, Knight said that he would be making more than his last UFC fight… "if everything goes the way it should." He also claimed that Lobov was supposedly making $50,000 for their fight which was more than his last UFC purse of $22,000 as well.
Fast forward to BKFC 6 and the biggest fight in the short history of the promotion would take place between Lobov and former boxing world champion, Paulie Malignaggi. So with the rough idea of how much money is being handed out, it's enough to attract names like Malignaggi.
Interestingly enough, the payouts for that event would not and have not been revealed.
Just FYI — the Florida Commission will not be releasing salaries for BKFC 6 this past weekend. I asked but they informed me that BKFC requested the salaries not be released so that's that.

— Damon Martin (@DamonMartin) June 24, 2019
As the shows are pay-per-views, it could be safe to assume that the extra incentive could be there in the form of pay-per-view points. Which was potentially hinted at by Knight.
Unfortunately for Feldman, his ambitious prediction of 200,000 buys for BKFC 6's price of $29.99 would not be met. 200,000 buys are more than three events that the UFC held last year. An admitted low for UFC pay-per-views, however, BKFC 6 only wound up doing 18,000 buys which are still significantly less than Tito Ortiz and Chuck Liddell's trilogy bout that did 40,000.
While no stable numbers are floating around out there, all visible evidence leads to bare-knuckle boxing being a more beneficial sport for a name fighter's wallet. Just how much do they have to offer though? In regards to the BKFC, The Body Lock has confirmed with sources that last year a very notable legend of the sport was offered a one-fight contract for $500,000.
If it makes you wonder why older fighters sometimes stick around for longer than they perhaps should, the grass is always greener… That single fight contract would have paid more than any of the fighter's previous UFC fights. And for comparison, Phil "CM Punk" Brooks made that amount for both of his fights in the organization. Another example, despite it being MMA, would be the aforementioned Liddell vs Ortiz trilogy bout where they pocketed a combined $450,000 (Liddell with $250,000, Ortiz with $200,000).
"No. There's opportunity and money to be made, so seeing these big names transition isn't that shocking," LeBarr responded when asked if he's surprised to see notable MMA names in BKB. "In addition to the money, it's now something these guys can test themselves in. It's one of the purest forms of combat sports, going bare-knuckle to bare-knuckle. This may be a bad example, but in it's started in stages, and for the promotions very first event, you saw WBKFF bring on Chris Leben, Phil Baroni, Johny Hendricks, the list goes on and on, and though nobody knew of the shit show that was to come following the event, you had all these high level, big-name guys want to test themselves in something new. I'm not surprised to see well-known athletes make the transition, and I believe a lot more will."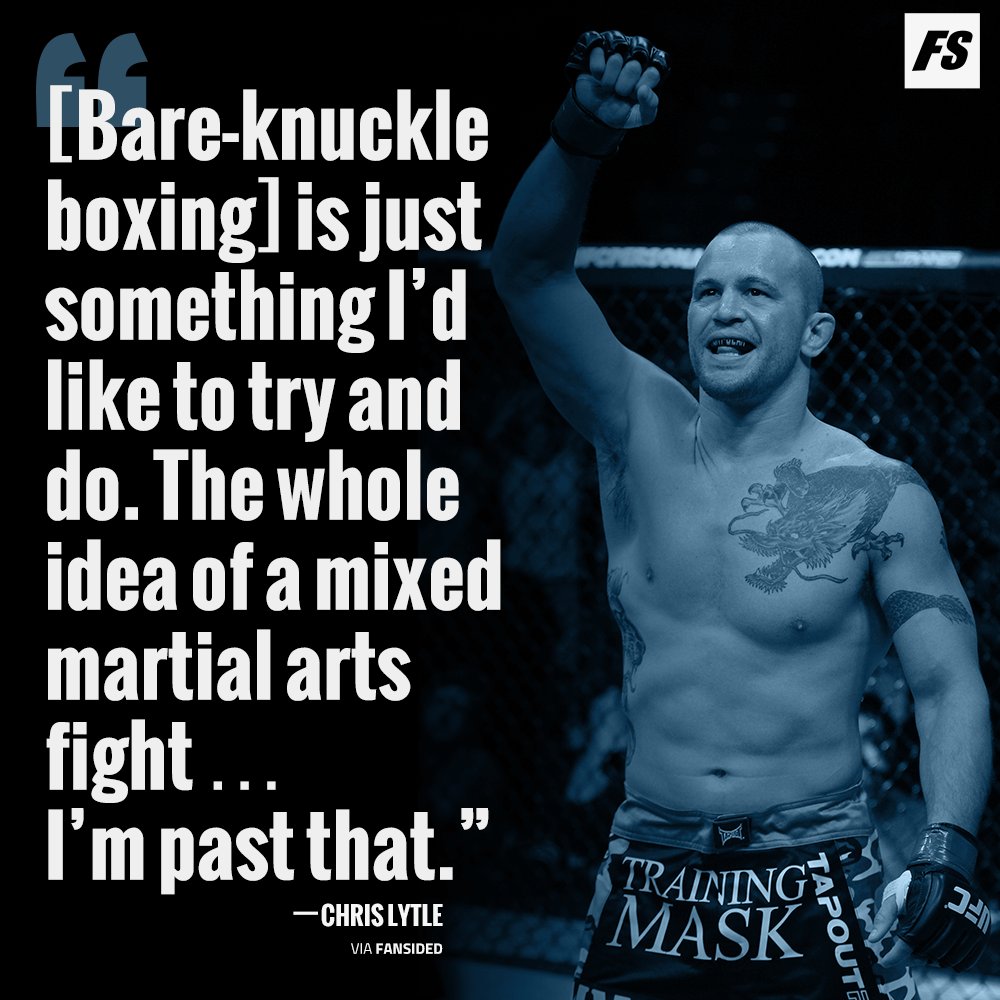 LeBarr's initial sentiment is essentially completely in line with Chris Lytle's reasons for returning in 2018 as he told FanSided. Even this coming weekend, on September 21, MMA pioneer, Ken Shamrock, will host his debut event for Valor Bare Knuckle.
There is no shortage of interested parties in this budding concept of fisticuffs. Fellow legend to Shamrock keeping their eyes on the attraction is Wanderlei Silva who is going to attend the next BKFC event on October 19. Silva announced to PVT earlier this year that he's beginning to experience multiple CTE-like symptoms.
Meanwhile, more controversial figures like the convicted domestic abuser and former UFC heavyweight, Lavar Johnson will be fighting on the inaugural Valor event.
Even the next BKFC event will feature some of their biggest names yet as they've managed to bring in Antonio "Bigfoot" Silva to face the semi-retired Gabriel Gonzaga.
"I think there's interest towards the sport, as a fighter, promoter or fan because it's something new," LeBarr explained. "A lot of people always tune into fights in hopes of bloody wars, and in a lot of cases, that's what you get in BKB. This past year has been wild, and with everything, from the ups and downs, there's a story being told by every organization. People that are watching now, should the sport continue to progress and live on, will be able to say they were around watching the beginning of the newly legalized sport of bare-knuckle boxing, which is always a fun thought."
A chance
Regardless of one's thoughts on BKB, no sport comes without its imperfections. And as long as recognizable faces… for the time being… continue to band together and support the sweet science's much more violent brother, it has a fighting chance.
"The 'vibe' [working within the sport] is interesting, to say the least," LeBarr expressed. "With bare-knuckle boxing being so old, yet so new in how it's being done as a legal sport, everything I do, or anyone else does is a first.
"When I first offered my services to WBKFF around this time last year, no bare-knuckle promotion had dedicated a dollar amount to coverage of the sport, their announcements, fights, etc. I was the person making announcements, doing photo work, interviewing fighters, and things way beyond what my job title was. With every day being something new, the vibe, as i said, is interesting, but brings an amazing feeling knowing I can help share the story of these guys/girls who are responsible for the rebirth of BKB."