UFC 277 Results: Amanda Nunes defeats Julianna Pena in rematch
Julianna Pena vs. Amanda Nunes is a UFC Women's Bantamweight Championship bout and tonight's main event at UFC 277 fight card in Dallas, Texas.
The UFC 277 PPV main card consists of five bouts, including two title fights, and is only available to watch on ESPN+ in the United States. Order UFC 277 here to watch this fight and all others live or on replay.
Pena stunned fans when she secured a second-round submission victory against then-double champion Amanda Nunes at UFC 269 in December. Although she entered as a massive underdog on the night, Pena managed to walk through many of Nunes' best shots. In round two, she ended up trading heavy strikes with the champion before eventually submitting her with a rear-naked choke.
It was a stunning end for Nunes' reign as bantamweight champion but she'll get a chance to reclaim her title tonight at UFC 277.
Read on for our full fight play-by-play updates, live blog, results, and video highlights during the Julianna Pena vs. Amanda Nunes rematch on the UFC 277 PPV main card.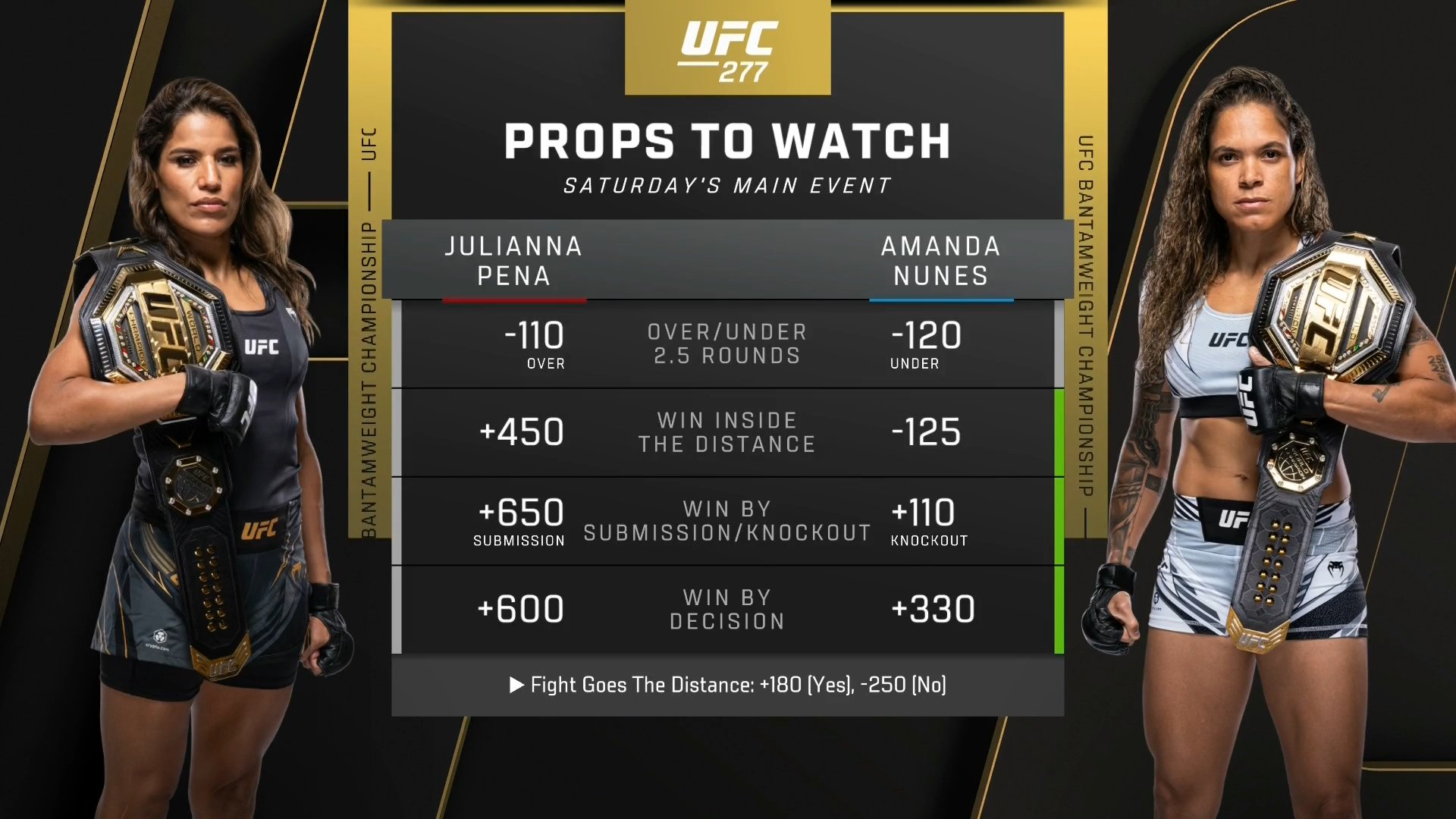 Julianna Pena vs. Amanda Nunes full fight play-by-play
Watch the fight live now or catch the full replay only on ESPN+ PPV.
Round one
Here we go. They touch gloves to start round one. Pena orthodox and Nunes in southpaw. Nunes switching stances now. Slower start to this fight. Nunes patient. She's giving Pena different looks. A minute in, and nothing of significance has landed. Pena comes forward and tags Nunes with a right hand. Pena misses with a high kick. Pena looks comfortable, but Nunes goes to her legs with a heavy kick. Nunes patient and circling. Neither fighter has been accurate with their strikes, as both are defensively sound so far.
Nunes's right hand clips Pena, and she loses her balance and falls forward. Again. The same punch. Every time Pena comes forward with a blitz she gets dropped by Nunes' sharp right hook. It's a real tight hook and it doesn't loop the same way that Nunes typically does with her strikes. She's sharpened up for this fight and it's apparent. But a lazy body kick from Nunes leads Pena to come over the top right a nice right hand. Pena is adjusting now. Pena's jab makes an appearance. That was key in the first fight. Nunes shoots for a single-leg and nearly runs into a knee from Pena. Pena tags her now. They're starting to trade heavy shots and it's Nunes who gains the upper hand as she connects with a stiff right hand that sends Pena back to the cage.
Nunes has made some nice adjustments here and has some good tools ready to stop Pena's aggression. Shaping up to be a great fight.
Score: 10-9 for Amanda Nunes
Round two
Nunes still switching stances. Pena's corner calls for her to be a little bit more aggressive with grappling while Nunes is southpaw. Pena comes forward, and Nunes clips her again. The lead right hook does it again and sends Pena to the mat. Pena really needs to be careful of that lead right hook. Pena rushes forward with a wild series of punches, but this time Nunes steps out and drops her with a perfect counter. Nunes is being patient and making Pena look sloppy.
Pena lands now and moves Nunes back. Pena has a great chin — most others would have already been done at this point, but she's still in it. If she can tire Nunes in the same way she did at UFC 269, then the odds will surely move in her favor. But until this point, it's been Nunes controlling the fight with great evasive movement and counter punches. Nunes stuns Pena with another punch. Pena's taking a ton of damage. She gets dropped again. This time she's wobbly when she returns. Nunes hasn't followed her to the mat at any time. She keeps letting her stand back up to retain the advantage in striking that is apparent through the first two rounds.
Pena is struggling with Nunes' stance switching and the lead right hand. Nunes in control of this one so far.
Score: 10-8 for Amanda Nunes
🦁 @Amanda_Leoa just became the first woman in UFC history score three knockdowns in a single fight! #UFC277 pic.twitter.com/YVnWxLdkFW

— UFC (@ufc) July 31, 2022
Round three
Jon Anik reveals that Nunes has broken a record for three knockdowns in a single fight. She's looked impressive tonight, and Pena doesn't have the answers at this point. A spinning back fist lands for Nunes to start round three. Pena's corner is asking for the clinch. She rushes forward and gets underhooks, but Nunes turns her and puts her back to the cage. Nunes escapes the clinch and now resets to the center. Pena is advancing and running right into Nunes' power strikes. Pena moves forward into the clinch. Nunes takedown. She's on top and moving into half guard.
Nunes falls into full guard now. She's on top of Pena, but her posture is being controlled. Nunes needs to be careful of submission attempts here as Pena is throwing up triangle choke attempts and is hunting for an armbar too. Nunes elbowing from top position now. The last of three split Pena open, and now there's blood running from Pena's forehead. Pena grabs Nunes' arm now, and there's a possibility for a submission, but Nunes turns, escapes, and then ends up on top in half guard.
Score: 10-9 for Amanda Nunes
To the championship rounds we go 🍿

[ #UFC277 | Main Card LIVE on ESPN+ PPV: https://t.co/U0Pbshxhuo ] pic.twitter.com/0387055NUM

— UFC (@ufc) July 31, 2022
Round four
Nunes starts the round with a takedown following the success in round three on the mat. She's landing heavy shots on Pena. But Pena is still going for submission attempts. That's two times now she's grabbed an arm and attempted an omoplata but Nunes has escaped with ease. More ground and pound from Nunes, and then Pena grabs the arm again, and this time goes for an armbar. It looks tight. This is a chance for Pena, but the position isn't ideal. She's cranking on Nunes' arm, but Nunes survives, escapes, and gets back up into Pena's full guard.
Pena shows that she's still dangerous on her back, and Nunes clearly has to respect her submission abilities. More ground and pound from Nunes and then another armbar attempt. They're back up. Pena is bloodied up badly now. Her face is basically all red. Nunes dives in for a takedown and finishes it. On top in full guard again. Constant submission attempts from Pena but Nunes is still happy to get on top and try to control her. They stand back up now after a reset, and Pena's moving forward. Pena looks to land a good shot, but then Nunes takes her down again. Pena still bleeding badly.
Score: 10-9 for Amanda Nunes
What. A. Fight. 👏 #UFC277 pic.twitter.com/yTxqP6aXPN

— UFC (@ufc) July 31, 2022
Round five
Pretty much the same story to start round five. Another takedown, and it's Pena hunting for submissions. This time it's a triangle choke attempt from the champion. Nunes escapes and then looks for a choke. They get back up, and it doesn't take long for Nunes to throw Pena to the mat once again. She's on top in side control this time, which should be a more comfortable position for her.
Nunes has Pena's back now. Can't do much with it before Pena turns and ends up on her back again. Nunes half guard and now rains down some elbows. Butterfly guard for Pena. Now full guard. Pace has slowed with 90 seconds to go in the fight. More elbows from the top. Pena flat on her back and Nunes stands above her. She comes down with a huge right hand that lands. Nunes transitions to side control and tries to move into the crucifix position but Pena defends. Nunes has the back now. Hooks are in, and she has a neck crank locked in. Pena survives and rolls to her back. Ten seconds to go. Nunes stands and does a little dance, knowing that she's now just seconds away from reclaiming her title.
Amazing performance from Nunes. A shutout, countless knockdowns, and a badly bloodied opponent.
Score: 10-9 for Amanda Nunes
Official Result: Amanda Nunes def. Julianna Pena via unanimous decision (50-45, 50-44, 50-43)
Fighters react to Amanda Nunes' win at UFC 277
Looks like Amanda decide to fully copy my stand up game 🤔
Great fight both ladies! 💪🏻 #UFC277

— Valentina Shevchenko (@BulletValentina) July 31, 2022
Holy Moly what an amazing fight! #UFC277

— Tatiana Suarez (@tatianaufc) July 31, 2022
What a war! Both these ladies delivered, respect 👏 @VenezuelanVixen @Amanda_Leoa #UFC277

— Henry Cejudo (@HenryCejudo) July 31, 2022
Wow 🤩 @Amanda_Leoa is the woman Goat #ufc277

— GILBERT BURNS DURINHO (@GilbertDurinho) July 31, 2022
How good is Amanda Nunes…. She's a beast!!! #UFC277

— Renato Moicano UFC (@moicanoufc) July 31, 2022
Julianna Peña is tough as nails! #ufc277

— Francis Ngannou (@francis_ngannou) July 31, 2022
Julianna Pena is tough as shit, wow! #UFC277

— Henry Cejudo (@HenryCejudo) July 31, 2022
Pena is showing heart of a champion let's gooo one round to finish

— Belal Muhammad (@bullyb170) July 31, 2022