The team behind Robert Whittaker's rise to middleweight greatness
This weekend, Robert Whittaker will look to solidify his position as one of the world's best pound-for-pound fighters as he takes on striking sensation Israel Adesanya to unify the UFC Middleweight Championship.
Since joining the 185-pound division in 2014 after a two-year stint at welterweight, Whittaker has proven himself to be one of the most well-rounded fighters to ever compete in the storied division. "The Reaper" combines an array of offensive tools with resilient defense and extraordinary athleticism, a skill set that has seen him go on one of the most impressive runs in UFC history.
After making his way up the middleweight ladder with wins over the likes of Brad Tavares, Derek Brunson, and Uriah Hall, Whittaker fought, and dismantled, the two bogeymen of the division. First came Ronaldo "Jacare" Souza, who had lost just once in six years and had conquered every other UFC opponent. Whittaker out-jabbed, out-moved, and out-wrestled the two-time ADCC champion, before finishing the Brazilian via a right head-kick.
Whittaker would then face Yoel Romero, a former Pan American, Olympic, and World Champion in freestyle wrestling, who had smashed his way through the division. In a pair of staggeringly good fights, Whittaker overcame injuries to his lead leg and rear hand and, through a combination of technical brilliance and sheer heart, picked up two decision victories.
While Whittaker's ascent to the 185-pound throne is one of the most impressive in the history of the sport, the team that surround "The Reaper" remain relatively unheralded, especially when compared to 'Superteam' coaches like Greg Jackson, Henri Hooft, and Rafael Cordeiro. So, who are the men at least partly responsible for Whittaker's transformation from a middling welterweight to one of the greatest middleweights of all time?
Fabricio Itte
During his seven-year tenure in the UFC, Whittaker has been cornered by a number of different coaches. While he was training at Tristar Gym in Canada, coaches including Firas Zahabi and Conrad Pla featured in his corner, and against Brad Tavares, Whittaker's father, Jack, was also involved.
However, despite such change, two men have remained fairly permanent features in Whittaker's coaching staff. The first of these is Fabricio Itte.
Itte and Whittaker met roughly six years ago and very quickly developed a relationship with one another. As Whittaker's tenure at 170-pounds came to an end, following losses to Court McGee and Stephen Thompson, the Australian began working with Itte more closely, and Whittaker's trips to Canada became fewer and fewer. Itte would corner Whittaker for the first time in a 2014 bout against Clint Hester, also marking "The Reaper's" first bout at 185-pounds, and he has remained a permanent fixture since.
Itte's role in the team is twofold. Firstly, he is one of Whittaker's main wrestling coaches, having previously coached Australia's Olympic freestyle wrestling team. Itte's wrestling expertise has clearly proved invaluable, with Whittaker now widely regarded as one of the best defensive wrestlers in mixed martial arts. However, the coach has arguably had a more significant role as "The Reaper's" high-performance coach, a position that has combined Itte's backgrounds in combat sport and education.
In a recent interview on the Talking with TK podcast, Whittaker stated that in his early MMA career, he had "got pretty far based on my own athletic gifts," but once Itte entered the picture, technical gaps were examined, taken apart, and steadily and completely rebuilt. Whittaker's jab improved immensely, as demonstrated against Jacare, and his kicking-game became a staggeringly impressive offensive tool.
Further, where weaknesses were found, specialists would be introduced, allowing Whittaker to learn from the very best; Polaris star Craig Jones was brought in for jiu-jitsu development, while Muay Thai coach Charlie Bechwaty was introduced for striking tweaks.
Itte's meticulous approach has extended to all aspects of Whittaker's training regime. Throughout the last six years, Whittaker's calorie intake, weight, resting heart rate, and training volume (among many others) have all been recorded with the aim of allowing peak-performance all year round. This has benefitted Whittaker's athleticism, which was already a key aspect of his game, and improvements made to his endurance, speed, and strength have turned him into one of the UFC's premier five-round fighters.
It is no shock that Robert Whittaker made marked improvements after beginning his work with Itte. Where Whittaker had slight technical faults, Itte methodically evaluated and restructured them in a way very few coaches could, and in doing so, helped develop one of the world's best fighters.
In a recent interview, another of Whittaker's coaches was and asked about those involved in Whittaker's rise. He answered simply, "Fab [Itte], he's the one. If I were to tell you anything else, I'd be lying."
Alex Prates
The second half of Whittaker's current head-coach duo is Brazilian jiu-jitsu coach, Alex Prates, who has been in Whittaker's corner since the Jacare bout in 2017.
Despite the relative infancy of Prates' relationship with Whittaker, the Brazilian has been a regular on the jiu-jitsu scene for some time, picking up his black belt under Rolker and Royler Gracie. Throughout his career, he has also trained closely with some of the early-greats of jiu-jitsu, notably Sergio Penha, as well as Mario Sperry and Carlson Gracie.
What makes Prates slightly different from other jiu-jitsu coaches is his own personal focus on MMA. Training under the likes of Sperry and Carlson Gracie provided Prates with an education from two of the early innovators of jiu-jitsu in MMA. In a recent appearance on Whittaker's podcast Grange TV, Prates explained that throughout his career, he saw many jiu-jitsu competitors enter MMA and over-grapple. In contrast, under Sperry and Walter Matos, Prates was taught "position, strike, position, strike. Submissions will come."
This focus on MMA-based coaching runs throughout Whittaker's training camp. While other fighters might spend time training just boxing, or just submission-based jiu-jitsu, everything "The Reaper" does in training has one focus: to make Whittaker the best, and most effective, MMA fighter he can be.
While Prates is a relatively new member of the Whittaker team, it is obvious that he is a great fit. Itte and Whittaker have regularly stated that while experience and knowledge are clearly vital for any coach, the team comes first, and coaches will only be introduced if they connect with Whittaker, Itte, and the rest.
Prates does just that and has done for several years. While his jiu-jitsu knowledge may not be as valuable this weekend, his experience and composure will likely be vital if Whittaker is to retain his title, and that is what makes Prates such an important part of Team Whittaker.
Justin Fitzgerald
A common theme among Robert Whittaker's fight team is that while his coaches are not exactly 'big names' in the world of combat sports, they are hugely experienced in their respective disciplines and study fighting with common sense that is not often seen in MMA.
Justin Fitzgerald, Whittaker's boxing coach, is another who fits this mold. While Fitzgerald is not known for an incredible boxing career, nor for coaching dozens of elite fighters, he remains one of the more experienced boxing trainers in MMA.
Throughout his youth, Fitzgerald studied under Jeff Fenech, one of Australia's greatest boxers, and worked alongside former champions including Danny Green and Vic Darchinyan. After an undefeated amateur career, Fitzgerald's career progressed into coaching and he would become a more established cornerman, notably training Sakio Bika for the later portion of his career.
In 2015, Fitzgerald and Whittaker would be introduced, prior to Whittaker's bout against Brad Tavares. In an episode of Grange TV, "The Reaper" explained that he instantly took to Fitzgerald because "the first thing he said to me was 'I don't want to change your style'. That was a big tick."  Instead of trying to turn a Karate and Hapkido fighter into a traditional boxer, Fitzgerald simply tweaked elements of Whittaker's game including head movement and footwork. When asked how important Fitzgerald had been, Whittaker explained "All those little things combined together made a massive difference. Across the board, he's been instrumental to a lot of my wins."
Fitzgerald would first corner Whittaker in his rematch with Yoel Romero at UFC 225, the finest showing to date of Whittaker's immense technical skill. Throughout the bout, the impact of Fitzgerald's coaching became apparent, as Whittaker jabbed effectively and was defensively impeccable.
Similarly to Whittaker's other coaches, Fitzgerald's approach is both simple and flexible; if technical issues arise, Fitzgerald will allow his fighter to adapt first, before tinkering the results himself. While other coaches might find this difficult, the friendship, trust, and constant dialogue shared between Whittaker and his coach means training, and evolving, is easier.
Henry Perez
While Henry Perez appears to no longer work with Robert Whittaker, it would be impossible to profile the men responsible for Whittaker's rise without mentioning the man who started it all.
When examining Whittaker's background in combat sports, many would be surprised by his education and black belts in Hapkido and Goju-Ryu Karate. After examining the career of Henry Perez, Whittaker's first MMA coach, it becomes far less surprising.
A former Australian Army soldier, Perez has black belts in countless martial arts, most notably in Taekwondo, Judo and Hapkido. Between 2004-2017, Perez and Whittaker worked closely to develop a system combing traditional martial arts with modern styles of striking and grappling, and as Whittaker embarked on his professional career, Perez was a permanent fixture as head coach. Obvious examples of Whittaker's traditional background include his explosive, blitzing style, wide stance, and polished kicking game, however, these have been supplemented by developments in wrestling and boxing.
As Whittaker rose through the professional ranks and made his way into the UFC, Perez remained in his corner and even when Whittaker was training at Tristar, Perez was head coach. This ended at UFC 225 when Whittaker fought Yoel Romero for the second time, and instead, Itte and Prates became co-head coaches.
While it is unclear why this change was made, and also if Whittaker still trains with Perez, what is clear is the impact Henry Perez had on Whittaker's entire career. Without Perez, much of the style that has propelled "The Reaper" to middleweight greatness would be non-existent, and while Itte, Prates, and Fitzgerald have led Whittaker to become the champion he is, Perez allowed Whittaker to become the fighter he is.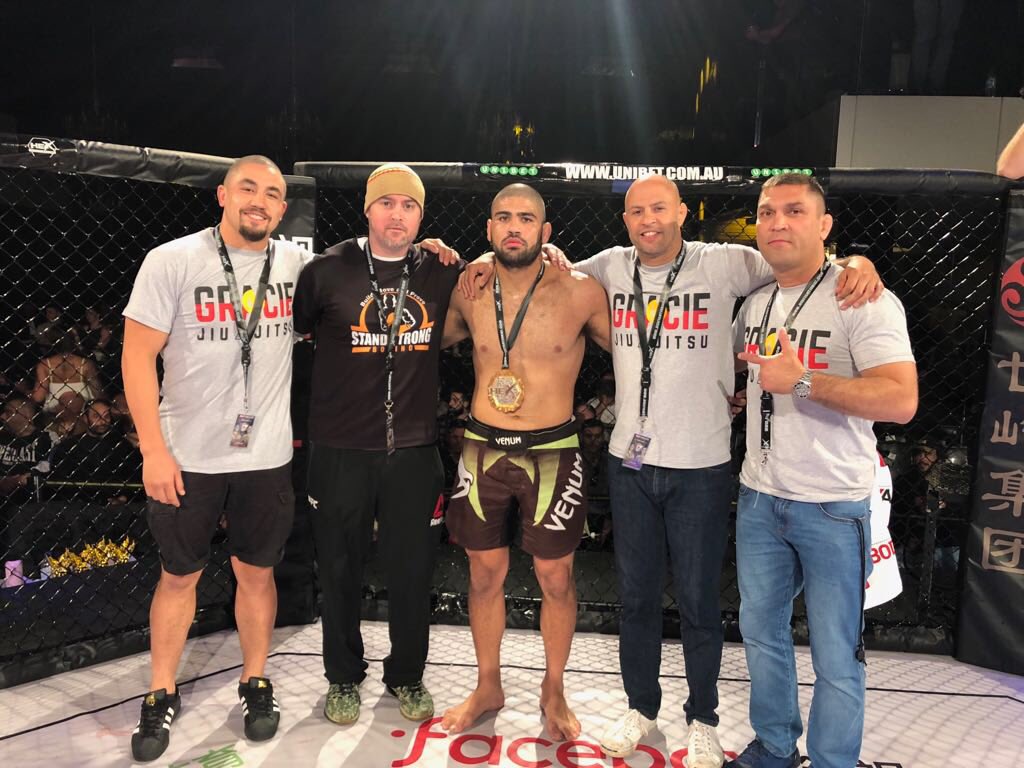 What makes Team Whittaker?
In a 2018 episode of Grange TV, Robert Whittaker was asked what makes his current fight team so good. His reply was telling – "I think a massive part of my success is that my coaches and my training has all been tailored to me. And if you have a programmed tailored to you, the relationship you have with your coaches has to be on point."
This quote captures the two things that make Robert Whittaker's fight team so outstanding.
Firstly, Whittaker is the focus. While he was training at Tristar, Whittaker was vying for attention with numerous other talented fighters and was lumped in with other, similar competitors. This may work for some, but for Whittaker, returning to Australia and forming a team around him was a significantly better system and allowed constant attention across each element of his game.
Secondly, Whittaker is surrounded by friends. One only has to scroll down Whittaker's Instagram feed or watch an episode of his podcast, and it becomes clear that Itte, Prates, and Fitzgerald aren't just "The Reaper's" coaches – they are also his friends. With such a strong team around him, Whittaker remains calm, regardless of circumstance and even under the brightest lights in the UFC, each fight is just another fight.
As he has risen up the division, Robert Whittaker's development as a fighter has been tremendous, and while a great deal of that is clearly down to his own hard work and innate talent, his team also deserves some credit. Between fights against Jacare and Romero, Whittaker and his team have deciphered and taken down two middleweight powerhouses. This weekend, they will have an opportunity to solve yet another puzzle at 185-pounds.
Can they? Yes. Will they? That remains to be seen.