UFC 278 Results: Paulo Costa wins grueling three-round war with Luke Rockhold
Paulo Costa vs. Luke Rockhold is tonight's UFC 278 co-main event in Salt Lake City, Utah.
The UFC 278 PPV will feature Kamaru Usman vs. Leon Edwards 2 as the main event. The full fight card will stream live only on ESPN+ in the United States. Order UFC 278 here to watch this fight and all others live or on replay.
We'll be bringing you live play-by-play updates for every main card fight, including Paulo Costa vs. Luke Rockhold right now and also Usman vs. Edwards later in the night.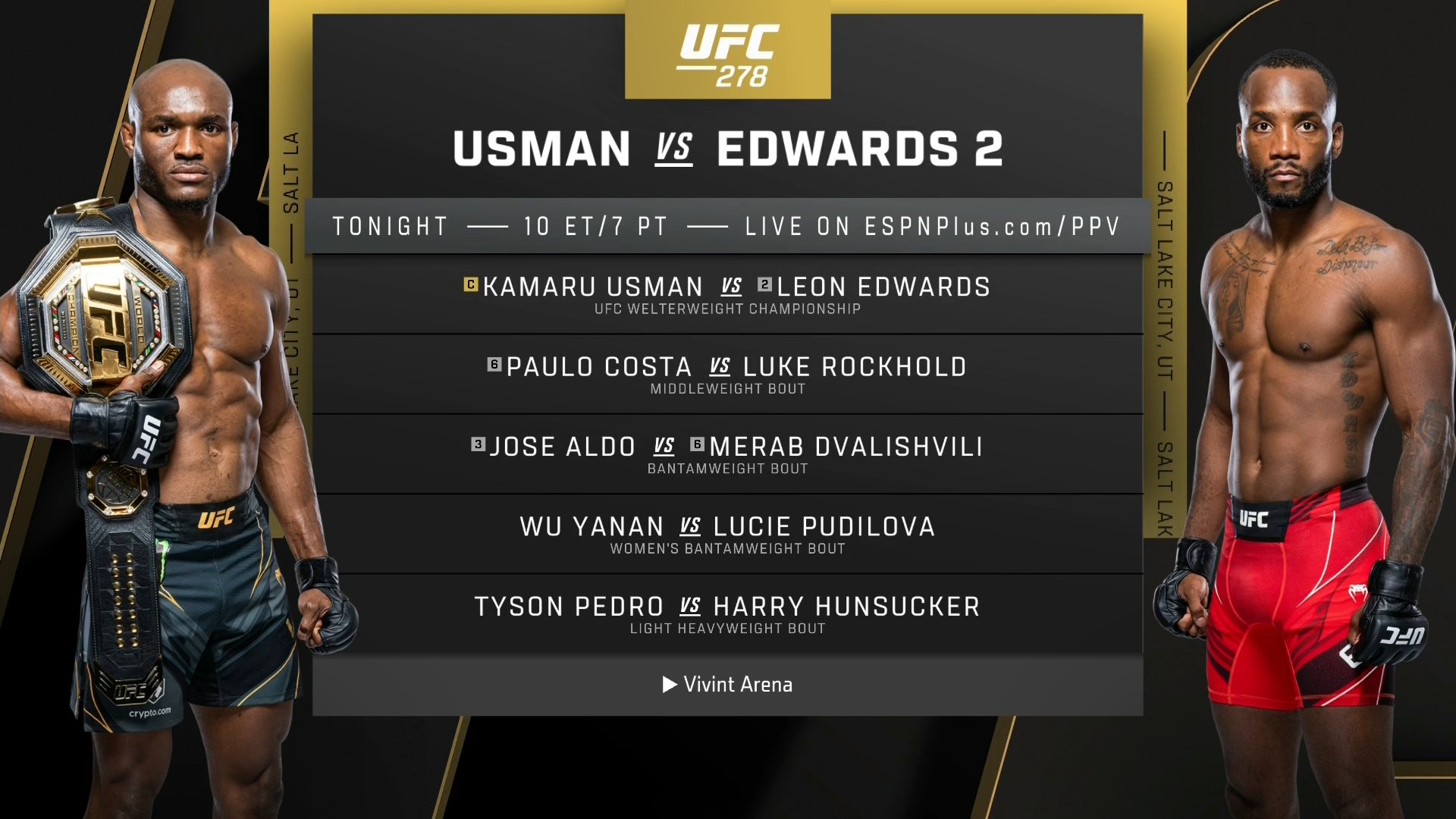 Costa vs. Rockhold full fight play-by-play
Watch the full fight live now on ESPN+ PPV or view the full fight replay on ESPN+.
Round one
Costa takes the center but it's Rockhold who lands first. A short right hook lands over the top and tags Costa. Now Costa's backing up. Rockhold comes forward and shoots, but Costa lands a punch, and Rockhold may have been hurt. He falls to his knee during the takedown attempt, and Costa continues to strike. Now they're back up. Rockhold attempting to recover, but Costa is all over him. Lands another strong punch, and now it's Costa who takes Rockhold down.
A surprising turn of events here as Costa was winning the fight on the feet before electing to take Rockhold to the mat. He's on top, and now Rockhold is working from the bottom. Costa posturing up and striking, but Rockhold has wrapped his arms around the upper back of Costa to break his posture. Costa in full mount, sits up, but Rockhold bucks him off and turns. Costa falls into Rockhold's half guard now. Costa working the body of Rockhold from top position. Now he's moved up to full mount again. Rockhold elevates his hips, bucks Costa off, turns, escapes, and now they're back up in the center.
With 90 seconds remaining, the strike count is 47 – 7 to Costa's advantage. A hard body kick from Rockhold. He goes again. Lands again. Once more, too. Hard body kicks are landing for Rockhold, but Costa smiles and shakes it off. Rockhold is bleeding. Costa pushing him back up against the cage now. They reset, and Rockhold is breathing with his mouth wide open. Rockhold lands a heavy right hand to end the round.
Round one: 10-9 for Costa
To the second round we go!

[ #UFC278 | Live on ESPN+ PPV: https://t.co/hD8HR6leJq ] pic.twitter.com/6AwxvpBq3b

— UFC (@ufc) August 21, 2022
Round two
Costa goes for a body kick but Rockhold counters with a straight punch that lands heavy. Rockhold coming out strong to start round two. Costa returns fire with a punch of his own. They're on the mat now, and Rockhold attempts to take the back of Costa, but he gets up, and now it's Costa controlling Rockhold. Rockhold pushes Costa off, and they're back into boxing range. Costa's stalking Rockhold now and unloads a huge left hook. But Rockhold returns again with a strong left hand.
Both fighters now exchanging the heaviest of punches, and they're swinging wildly. Rockhold is breathing heavy and looks badly fatigued. He lands a spinning back kick to the body of Costa. And another big body kick connects. Costa high kick lands. Rockhold with his own strong punch. Rockhold puts his hands on his knees and attempts to draw in a deep breath.
Costa pushing forward. Another strong body kick from Rockhold. This time he goes high, and it just misses. Rockhold looks exhausted, but his strikes are still fast and heavy. Costa now comes forward and lands a strong punch to Rockhold's groin. Rockhold drops. Now there's an official time-out as Rockhold gets a chance to recover. The altitude is having a huge impact here tonight, and both of these fighters are heavily fatigued.
Rockhold is built DIFFERENT 😳

STREAM #UFC278 NOW ▶️ https://t.co/9Eaf451BCo pic.twitter.com/SxMV4uhdnw

— SportsCenter (@SportsCenter) August 21, 2022
The timeout lasts for 90 seconds, and now they're back to fighting with 1:40 left in the round. Costa is moving forward and putting the pressure on Rockhold here after the break. Another spinning back kick from Rockhold. Heavy leg kick from Costa lands to the front of Rockhold's legs as he tries to circle. Rockhold's strikes are slower now, and he drops his hands to his knees at the end of the second round before being dragged back to his corner.
Round two: 10-9 for Costa
Somehow we will see a third round!

[ #UFC278 | Live on ESPN+ PPV: https://t.co/hD8HR6leJq ] pic.twitter.com/uMYo6Vj8p1

— UFC (@ufc) August 21, 2022
Round three
It's the same start to round three as Costa comes forward and pressures Rockhold. Costa slips, and Rockhold blitzes forward to rush into top position, but it's a sloppy attempt to secure top position, and Costa escapes. A stiff right hand from Costa lands to the nose of Rockhold. Rockhold was clearly hurt by that one but drops his hand and returns with another heavy strike.
Costa's still coming forward. Rockhold ducking and covering up and then seems to shout at Costa before landing a strong right hand down the middle. Rockhold's hands are closer to his knees than his chin right now, but he's just unloading with maximum power on every shot. Rockhold rushes forward with a takedown attempt, but Costa sprawls perfectly and then transitions to top control. He's in modified side control here as Rockhold grips his calf to block Costa from passing.
Costa's still on top here, and Rockhold is attempting to defend. He rolls, Costa takes the back, and now has two hooks in. He's punching from Rockhold's back. Rockhold grabs Costa's hands, and they continue hand-fighting. Costa looking for a body triangle. Rockhold attempts to stand, but Costa maintains control. Rockhold trying to spin and end up on top. Costa tries to defend, but Rockhold pushes through and is now in Costa's full guard. Rockhold is on top and is now just rubbing his bloody nose and chin all over Costa's face. What a fight. Absolutely crazy.
Round three: 10-9 for Costa
Official Result: Paulo Costa def. Luke Rockhold via unanimous decision (30-27, 30-27, 30-27)
ROCKHOLD RUBBED HIS BLOOD ON COSTA 😦 #UFC278 pic.twitter.com/I1CeGGkUWz

— ESPN MMA (@espnmma) August 21, 2022
We go the distance!!! #UFC278 pic.twitter.com/aNw5PCt2Hf

— UFC (@ufc) August 21, 2022
A big win for @BorrachinhaMMA – how did you score that one? #UFC278 pic.twitter.com/PRxM0hVTtD

— UFC (@ufc) August 21, 2022
The final ride for the former champ – congratulations @LukeRockhold on an incredible career 👏 #UFC278 pic.twitter.com/BlmuRmmlYf

— UFC (@ufc) August 21, 2022