Kamaru Usman on Colby Covington clash: "He's found a way to be hated by everybody, even the veterans"
At UFC 245, fans will be blessed with a spectacular array of fights, including three title fights, two excellent bantamweight clashes and some guaranteed violence on the prelims.
And while the undercard is phenomenal, the main event is perhaps where the most fascinating contest lies, as Kamaru Usman looks to defend his welterweight title for the first time against Colby Covington.
With back-and-forth tweets dating back to 2016, it's fair to say Usman and Covington share one of the sport's most bitter rivalries, which only adds to intrigue behind this contest. In a recent appearance on UFC Unfiltered with Jim Norton and Matt Serra, Usman discussed whether he felt any extra pressure fighting someone he has such clear disdain for, and explained that while there is definitely pressure, he is fully prepared for war, come UFC 245.
"I give him props because he's found a lane that no one else has been able to get into," Usman said.
"Colby's been able to find a way to make everyone hate him. He's found a way to be hated by everybody, even the veterans. He's hiding behind this fake patriotism and saying, 'I'm making America great again'. So many military veterans' message me daily. They say 'I can't wait for you to kill this guy. He doesn't represent us, we hate him!"
"I would be lying if I said there's no pressure, let's be honest. But at the same time, this is what we're made for, this is what champions are made of. It's how you're able to control that pressure. You can use it for your wellbeing and go out there and execute. That's what I do. There's pressure but I have to be able to block that out. I just step in there and take care of business."
"Chaos" Theory
Despite the constant antics outside the Octagon clearly drawing significant attention, underneath the pro-Trump, 'Nerdbash 2018' façade, Colby Covington isn't just a supremely talented fighter, but he is one of the most outstanding athletes in the UFC.
Against Demian Maia, Rafael dos Anjos, and Robbie Lawler, Covington has displayed legitimately absurd cardio, out-striking and smothering three of the division's premier veterans. Despite such performances, many still shun Covington as a hype-train waiting to be derailed by Usman. However, "The Nigerian Nightmare" is fully aware of the threat the self-proclaimed "Great American Winning Machine" possesses and knows that Covington is as tough as it gets at 170 pounds.
"We live in an age where your bark is supposed to be louder than your actual bite," Usman said. "People kind of negate the fact that, 'Yeah he will bite somebody's ass too'.
"All the noise and different things he's created outside the Octagon seem to be speaking a lot louder. Before people weren't necessarily caring about his fighting, but I'm not disrespecting that. I know he poses a threat, he's a talented guy and that's something I have to look out for and train for."
When asked if Usman could offer Covington one compliment, the former UNK wrestler offered an interesting analysis of his adversary, claiming that "Chaos'" skills aren't necessarily in his impressive cardio, but instead in his ability to distract his opponents.
"He's very good at that. He does that so much to where people now are like 'He's got cardio for days.' But that's because he's distracting you. There's really no power in them, but they're keeping your mind working the whole time. That's one thing I take away from his game and really dissect, he's pretty good at that. But how do you deal with it when somebody punches you in your mouth and does it harder. And then you throw another distraction shot, and they punch you harder. At some point, you're going to be like 'Oh sh*t, this is not going to work tonight."
"There's different levels of pressure than just throwing punches at somebody. That's what I think people don't understand. On December 14, they're going to understand the difference between the pressure he puts on and the pressure I put on."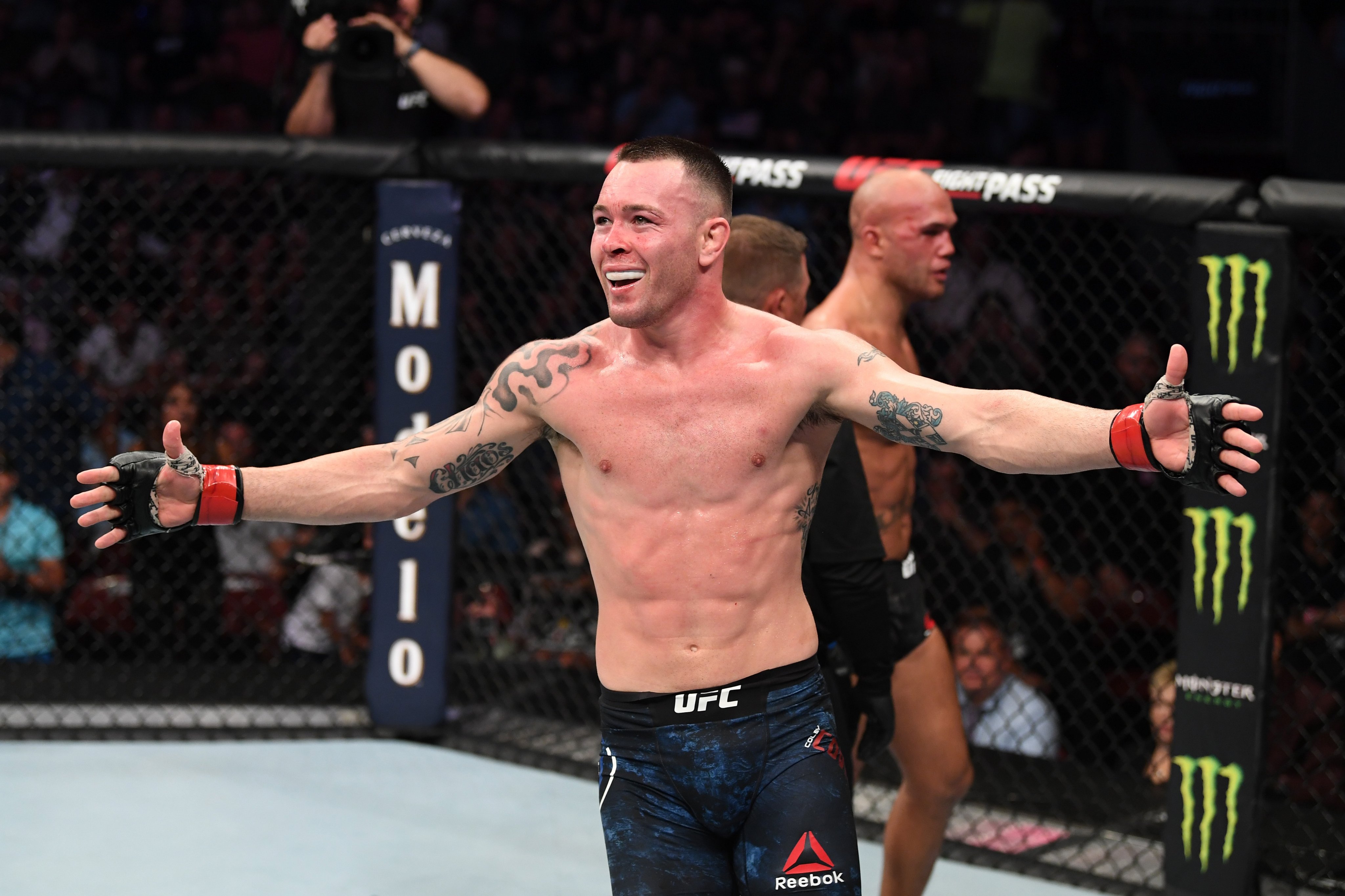 Division at American Top Team
One of the significant problems for so-called MMA 'super teams,' is that situations often arise where two teammates are both in line to compete for the championship. Such situations usually lead to nasty rivalries developing, and fight build-ups are largely characterized by gossip, name-calling and 'he-said, she-said' stories of past sparring sessions. Jon Jones and Rashad Evans, TJ Dillashaw and Cody Garbrandt and now Colby Covington and Jorge Masvidal are all clear examples of this.
What makes the Covington-Masvidal split even more fascinating is not only that they were supposedly incredibly close friends, but they also share a head coach in Mike Brown. This intimate history has led many to believe that the 'rivalry' is fake, and given that Usman will likely compete against both in his career, his opinion on the feud is particularly interesting.
"Yeah, it's real. This is how it's bound to happen when you have two characters like that," Usman said. "Masvidal is behind this whole 'I'm being true to myself, I'm a backyard brawler, I'm a real fighter', but he's also got a heart and an emotional side."
"I guess the story was that Colby wronged his coach and didn't pay him. Masvidal took that personally and that became a thing, and of course, when you've got two guys gunning for the same thing, we all know this is bound to happen. They were both rising to the top, and at some point, they're gonna have to fight each other. Those are two guys who I believe their egos are a little bigger than they put on, so of course, it's going to be a problem."
A Challenger's Mindset
As one of the six newly crowned UFC champions in 2019, Usman will undertake a whole new challenge as king, rather than contender on Saturday.
While for many, this would entail a change in mindset, Usman, in similar fashion to Israel Adesanya, has no plans to get complacent and told Serra and Norton that he's still a challenger in his own mind.
"People keep saying 'you're defending, you're defending.' I'm not defending anything; I'm going out there to win the title. Yes, I'm the #1 guy, but my mindset is not 'I'm defending', because when you get to that place, you become kind of what Tyron Woodley was on."
Indeed, Woodley's stint as champion, which was ended by Usman, was characterized by a relatively negative approach to defend the belt. Against Stephen Thompson and Demian Maia, Woodley received boos for an unwillingness to engage, and despite a second-round finish of Darren Till, Usman gives little credit to 'The Chosen One' for his stint as champion.
"He had so much pressure on himself, trying to defend the belt, and then you don't perform. You go out there and you put on performances like he did against Demian Maia, where you throw the least amount of strikes in a title fight, or your fights with Wonderboy, where you're really not as active as you should be. Let's be honest, those Tyron Woodley's that we saw was not the Tyron Woodley that we saw on his march to the title, knocking out all those guys out viciously and actually going out there for the kill. I'm going out there to try and become the UFC champion, again and again, every time."
Kamaru Usman fights Colby Covington in the main event at UFC 245 this Saturday at the T-Mobile Arena in Paradise, Nevada.
The blockbuster card boasts two other title fights, with featherweight king Max Holloway taking on Alexander Volkanovski and Amanda Nunes defending her bantamweight title against Germaine de Randamie.
Also on the card, Marlon Moraes will welcome Jose Aldo to the 135-pound division and Urijah Faber will look to continue his successful return from retirement against bantamweight bogeyman Petr Yan. Also on the card, Geoff Neal and Mike Perry will clash in a potential FOTN contender and Ian Heinisch will look to return to the win column against Omari Akhmedov, who is 2-0-1 since returning to middleweight.