UFC 278 Results: Merab Dvalishvili wrestles his way to decision win over Jose Aldo
Jose Aldo vs. Merab Dvalishvili is a featured bantamweight bout and the third fight on tonight's UFC 278 PPV main card in Salt Lake City, Utah.
The UFC 278 PPV will feature Kamaru Usman vs. Leon Edwards 2 as the main event. The full fight card will stream live only on ESPN+ in the United States. Order UFC 278 here to watch this fight and all others live or on replay.
We'll be bringing you live play-by-play updates for every main card fight, including Jose Aldo vs. Merab Dvalishvili right now and also Usman vs. Edwards later in the night.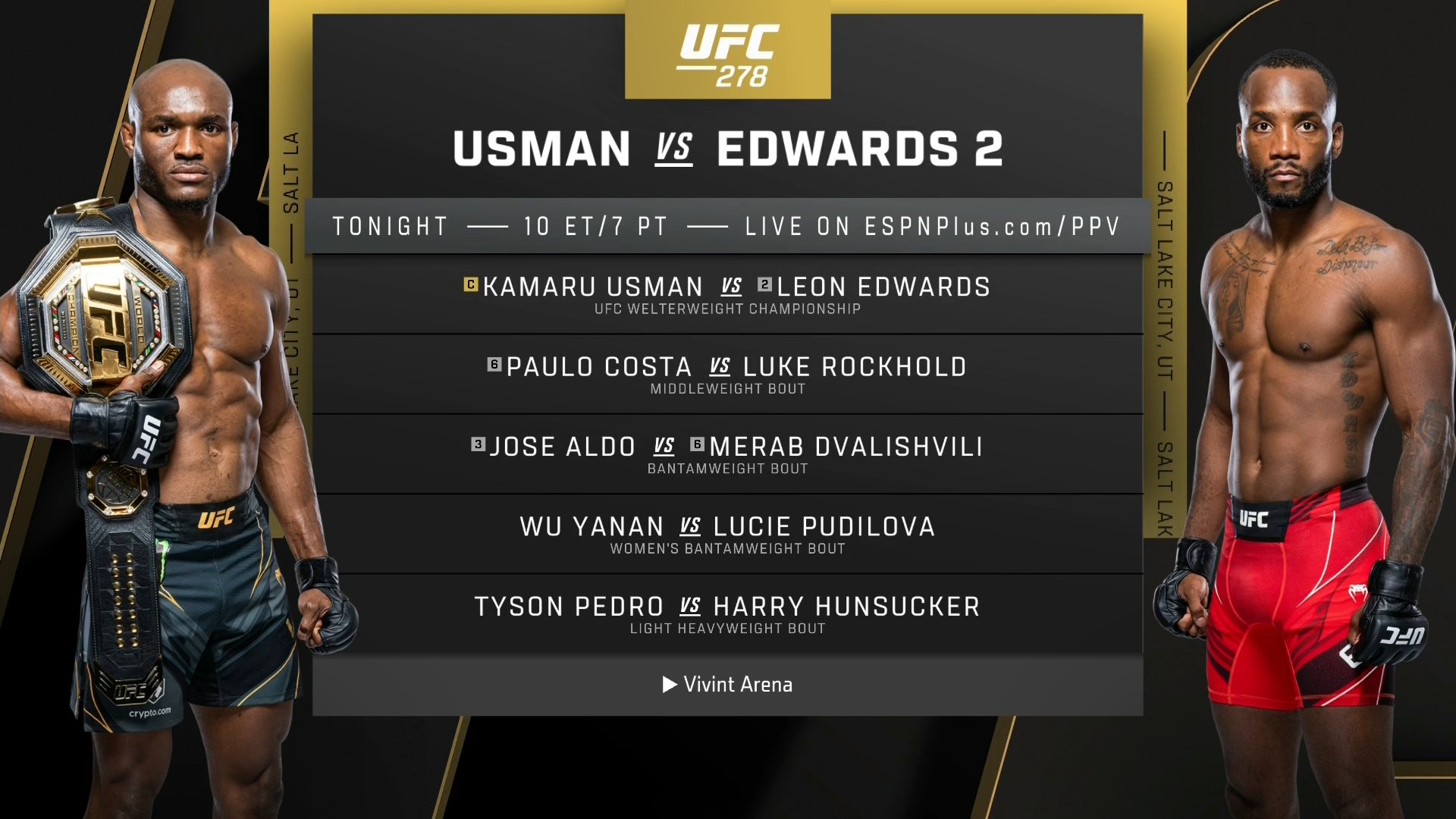 Aldo vs. Dvalishvili play-by-play
Watch the full fight live now on ESPN+ PPV or view the full fight replay on ESPN+.
Round one
Aldo comes out in a classic Muay Thai stance. He's lifting his lead leg and patiently waiting for his chance to open up. Dvalishvili starts the action, though, with a hard kick. Dvalishvili bouncing and feinting, trying to force a move from Aldo. Dvalishvili loads up a right hand, and Aldo evades. Aldo circling now. Dvalishvili takedown attempt — this will be an important moment. Also defends against the cage. They break. Great defense from Aldo, and he checks a leg kick now.
Aldo now advancing and lands a crushing leg kick. Dvalishvili trying to work the legs too. Dvalishvili falls short with a 1-2 combo. Halfway through the round now. Aldo taking a careful approach here, as he clearly respects Dvalishvili's takedown ability. Here comes another double-leg attempt. Aldo defends against the cage again and maintains his balance. Dvalishvili is digging his knees into the thigh of Aldo. Dvalishvili swings wildly as they break and then slips. Aldo moves forward and lands a good body shot. Checks another of Dvalishvili's leg kicks now. Dvalishvili misses with a spinning back kick. Dvalishvili is much more active in the first round, but Aldo looks very dangerous. They exchange wild strikes to end round one, but neither is able to land with significance.
A tough round to score. Although Dvalshvili was more active, Aldo landed the cleaner shots and looked in control of the round.
Round one: 10-9 for Aldo
How do you have it scored through the first 10 minutes? 🤔

[ #UFC278 | Live on ESPN+ PPV: https://t.co/1eqEqfIztO ] pic.twitter.com/v4sMl6JLvz

— UFC (@ufc) August 21, 2022
Round two
They touch gloves to start the round. Dvalishvili again starts by targeting the legs of Aldo. Aldo sticks a jab out and tags Dvalishvili on the chin. Dvalishvili now dives in for another takedown and rushes Aldo back to the cage. He's going back to the thighs of Aldo with his knees. They're adding up. Now a minute or so into the position and Aldo throws his hands up in the air, questioning the strategy of Dvalishvili and he's clearly unbothered.
They reset, and Aldo comes out swinging, but Dvalishvili again shoots and forces Aldo to defend. Dvalishvili elbow in the clinch. Aldo is busy defending with an overhook. Shoulder strikes from Dvalishvili. Aldo separates now and comes forward with punches only for a moment until Dvalishvili buries his head into Aldo's hips again and pushes him back.
Dvalishvili continues to push Aldo back to the cage. Aldo defending the position well but is certainly losing as Dvalishvili controls the position and lands some strikes. A big knee from Aldo now after they reset, but Dvalishvili is unaffected and again pushes Dvalishili back to the cage. Aldo seems to be growing frustrated with how the fight is playing out.
Dvalishvili likely won this round. As he was able to control Aldo against the cage, Aldo wasn't able to have the same impact here.
Round two: Dvalishvili 10-9
Aldo is not impressed by Merab's performance🥱 #UFC278 pic.twitter.com/89onWtPs7l

— UFC (@ufc) August 21, 2022
Round three
Dvalishvili lands a punch, and it looks like Aldo is becoming tired. It'd be unsurprising if Aldo was tired, considering he has been defending takedown attempts for the majority of the fight. He's circling and timing Dvalishvili's advances. Aldo lands a nice knee down the middle again.
Dvalishvili maintains the same pressure here in round three. Aldo is more flat-footed here and needs to create more space to start landing his strikes. He's been almost purely defending for the last half of this fight. Dvalishvili advancing. Dvalishvili lands a solid punch and keeps the pressure on Aldo. Dvalishvili is still coming forward, and Aldo hasn't had a chance to breathe. Two minutes remain.
Body punch from Aldo, but there's not enough action from him. Aldo displayed his impressive takedown defense in this fight, but we haven't been able to see his offensive output due to Dvalishvili's constant pressure. He's got Aldo up against the cage again now and crashing those heavy knees into this upper leg.
Dvalishvili landed a couple of solid strikes in this round and controlled the majority of it.
Round three: 10-9 for Dvalishvili
Official Result: Merab Dvalishvili def. Jose Aldo via unanimous decision (29-28, 29-28, 30-27)
To the judges we go – drop those scorecards 📝

[ #UFC278 | Live on ESPN+ PPV: https://t.co/hD8HR6leJq ] pic.twitter.com/Q7diOahvAu

— UFC (@ufc) August 21, 2022