Bellator's James Gallagher and IMMAF Junior World Champion Muhammad Mokaev trade shots on Twitter
Conor McGregor's rivalry with Khabib Nurmagomedov is perhaps the most famous in MMA history.
And while the rivalry between "The Notorious" and "The Eagle" has shown no signs of coming to a close, with UFC president Dana White adamant that it is the fight at 155-pounds to make, another remarkably similar rivalry between two of MMA's most exciting prospects is brewing.
The two fighters in question are Bellator featherweight and McGregor teammate James Gallagher and IMMAF Junior standout Muhammad Mokaev, and it was Mokaev who fired the first shot.
See you there @BellatorMMA I love to see these lil clown eye to eye @StrabanimalMMA

— Muhammad Mokaev (@muhammadmokaev) February 23, 2020
Gallagher responded belittling Mokaev's amateur achievements, tweeting "Another example of stupidity in MMA. Amateurs looking fights with professionals. Pretty sure first step to this would be actually turning professional and not tweeting."
The two continued to trade insults on Twitter. Mokaev threatened a repeat of Nurmagomedov's beatdown of Gallagher's SBG Ireland teammate McGregor, tweeting "Listen media boy, I'll smash your face when I see you remember this! Conor McGregor Ali Express version."
Gallagher fired back quickly, telling the Tiger Muay Thai fighter, "If you approach me on the street after these threats you make sure your mother doesn't want to see you again for a long time."
If you approach me on the street after these threats you make sure your mother doesn't want to see you again for a long time.

— james gallagher (@StrabanimalMMA) February 24, 2020
At the time of writing it is Mokaev who had the last word, with a similarly threatening message to Gallagher; "you f*cked lad, don't get involve into family life, I'll eat you alive lil rat."
Two for the future
It goes without saying that we are some way from ever seeing this bout. Currently, Gallagher is riding a three-fight win streak against largely inferior opponents in Bellator and while a step-up in competition will certainly come in the future for now "The Strabanimal" seems content on his current path, even if Mokaev were to sign with Bellator.
That is also some way off. Mokaev is currently a two-time IMMAF junior World champion and one-time European champion at bantamweight and it seems "The Punisher" is still some way from making the leap up to the professional ranks; even if he were to, the UFC is perhaps the more likely destination.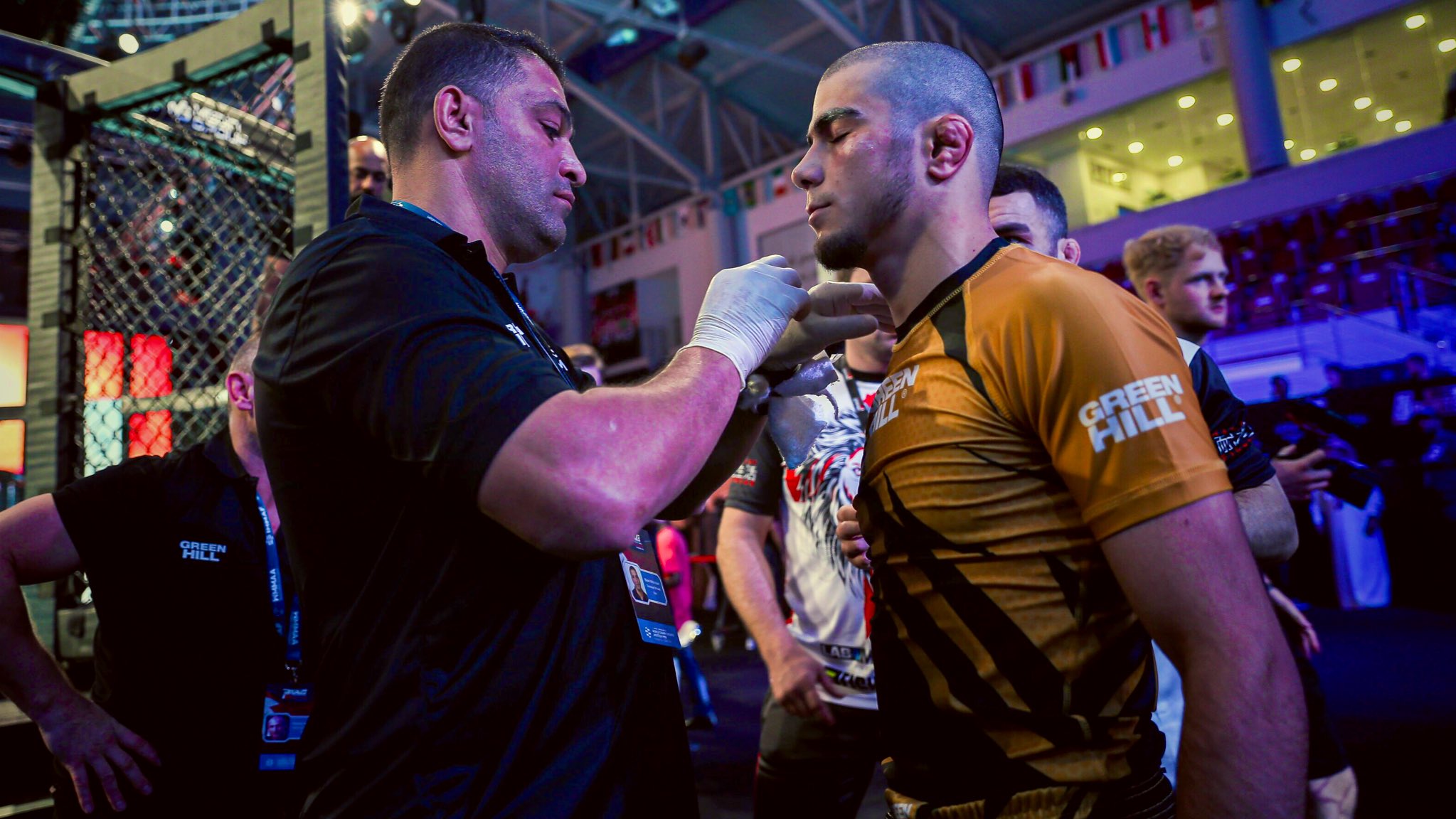 But if all goes well and an opportunity for this bout arises at some point (and that is a huge if), there is potential for it to be a lot of fun. Gallagher has shown glimpses of some excellent grappling chops, albeit against weak opposition, and Mokaev has displayed a similarly smothering ground-game to many of his Dagestani counterparts (Mokaev originally hails from Dagestan but is a British citizen and represents England at IMMAF tournaments).
Both are also very young and there is time for Mokaev to grow physically and hopefully reach featherweight, where Gallagher has been operating. This youth also gives time for both men to grow as fighters and while their respective ground-games are solid, improvement on the feet is likely and necessary.
McGregor vs. Nurmagomedov 2.0? Let's hope not. But an intriguing rivalry? Perhaps.