UFC 277 Main Card: Full fight play-by-play, live results
The Body Lock is here to bring you live results, full fight play-by-play updates, and video highlights of all the action taking place right now at UFC 277 in Dallas, Texas.
The UFC 277 PPV main card commences at 10:00 pm ET and will air exclusively on ESPN+ in the United States (watch live here).
The UFC 277 fight card features the Julianna Pena vs. Amanda Nunes rematch as the main event. The UFC Women's Bantamweight Championship will be on the line tonight in this highly anticipated rematch. In the co-main event, Brandon Moreno and Kai Kara-France will clash in a battle between two top flyweight contenders.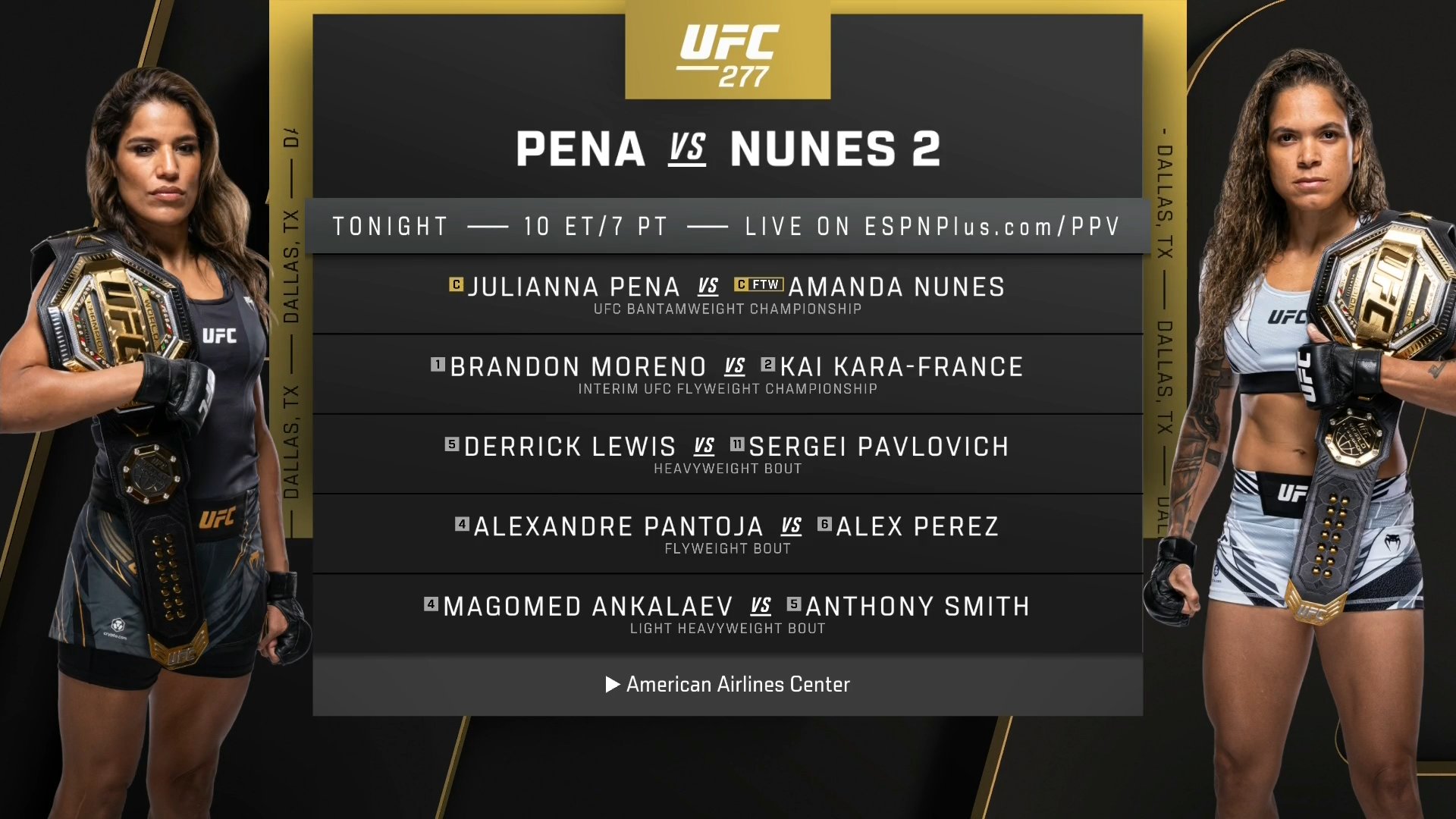 UFC 277 Results
Main Card – 10:00 pm ET / 7:00 pm PT only on ESPN+ PPV (order here)
Amanda Nunes def. Julianna Pena via unanimous decision (50-45, 50-44, 50-43)
Brandon Moreno def. Kai Kara-France via TKO (body kick) – R3, 4:34
Sergei Pavlovich def. Derrick Lewis via TKO (punches) – R1, 0:55
Alexandre Pantoja def. Alex Perez via submission (rear-naked choke) – R1, 1:31
Magomed Ankalaev def. Anthony Smith via TKO (punches) – R2, 3:09
Prelims – 8:00 pm ET / 5:00 pm PT on ESPN+
Alex Morono def. Matthew Semelsberger via unanimous decision (29-28, 29-28, 30-27)
Drew Dober def. Rafael Alves via KO (body punch) – R3, 1:30
Hamdy Abdelwahab def. Don'Tale Mayes via split decision (29-28, 28-29, 29-28)
Drakkar Klose def. Rafa Garcia via unanimous decision (29-28, 29-28, 29-28)
Early Prelims– 6:00 pm ET / 3:00 pm PT on ESPN+
Michael Morales def. Adam Fugitt via TKO (punches) – R3, 1:09
Joselyne Edwards def. Ji Yeon Kim via split decision (28-29, 29-28, 30-27)
Nicolae Negumereanu def. Ihor Potieria via TKO (strikes) – R2, 3:33
Orion Cosce def. Blood Diamond via unanimous decision (29-28, 29-28, 29-28)
UFC 277 play-by-play
Read on for all of our play-by-play updates, live results, and highlights from every UFC 277 main card fight.
Magomed Ankalaev vs. Anthony Smith play-by-play
Watch the full fight video live or the replay only on ESPN+ PPV.
Round one
Anthony Smith takes control of the center. Ankalaev standing southpaw. Patient start. Ankaleav chopping at Smith's legs. Smith returning leg kicks. Smith looks fast tonight — just misses with a right hand. The first two minutes have basically just been the two fighters exchanging leg kicks. The same goes for the next minute, as well. Neither fighter has felt comfortable at boxing range just yet.
Tough, technical fight so far. Ankalaev's high kick is blocked. Ankalaev nice right hand and switches to a right leg kick as Smith tries to move back out of range. Smith loses balance and falls to his back. Ankalaev stands above him and kicks his legs. Nothing particularly significant in round one but Ankalaev did a bit more than Smith.
Score: 10-9 for Magomed Ankalaev
Round two
Looks like Anthony Smith is carrying some sort of ankle injury into round two. He briefly mentioned it to his corner. He comes back out to start the second round with the same kind of pressure on Ankalaev, moving him backward with forward pressure. Smith looks sore, though, and falls into a takedown attempt.
He's clinching with Ankalaev against the cage now. His posture is broken, and has his head into the hips of Ankalaev, who is striking the head of Smith. Smith's stuck now, and it looks like Ankalaev could move into top position if he wanted to, as Smith is basically encouraging him to fall on top. Ankalaev doesn't want to go down with him, though, and remains postured up. Heavy strikes from Ankalaev now. He's postured over Smith, who is on his back. Smith sits up and ties his hands around Ankalaev's waist. Big strikes from Ankalaev force Smith to cover up. Smith is in turtle position now, and Ankalaev is just overwhelming him from strikes from behind. The referee steps in to stop the fight. Smith's in serious trouble and is clearly in pain from his leg/ankle injury.
Official Result: Magomed Ankalaev def. Anthony Smith via TKO (punches) – R2, 3:09
Make that 9️⃣ straight for @AnkalaevM 💪 #UFC277 pic.twitter.com/rLqnb79BDI

— UFC (@ufc) July 31, 2022
Alexandre Pantoja vs. Alex Perez play-by-play
Watch the full fight video live or the replay only on ESPN+ PPV.
Round one
Touch of gloves, and it's a fiery start. Pantoja storms forward, and they both start trading punches. More punches were thrown in the first 20 seconds of this fight than were probably thrown in the entire first round of the last fight. They're throwing bombs. Neither fighter takes control, but Perez slips, and that's allowed Pantoja to take his back. Perez stands, but Pantoja's still on his back with a body triangle.
Pantoja is slicing across the face/neck of Perez with his left arm and hunting for a rear-naked choke finish. He locks up the submission, and it may be more of a neck crank than a rear-naked choke in the end, but he forces Perez to tap. That's a very impressive performance from Pantoja and a very quick finish.
The replay shows that Pantoja locked that one up across the jaw of Perez and was just cranking his head and neck.
Official Result: Alexandre Pantoja def. Alex Perez via submission (neck crank) – R1, 1:31
No time wasted, @PantojaMMA came to make a 𝐒𝐓𝐀𝐓𝐄𝐌𝐄𝐍𝐓 😤 #UFC277 pic.twitter.com/0ksPKouPSJ

— UFC (@ufc) July 31, 2022
Derrick Lewis vs. Sergei Pavlovich play-by-play
Watch the full fight video live or the replay only on ESPN+ PPV.
Round one
A touch of gloves and this bout between two huge heavyweights is underway. Lewis opens with his low leg kick. Pavlovich advancing. Lewis sitting back and waiting for his shot. They're throwing now. Both guys trading with huge power. But it's Pavlovich all over Lewis at this point. He lands a big right hand, and Lewis loses his balance and falls face first. As he starts to get back to his feet, referee Dan Miragliotta stops the fight. Lewis was on his way back to his feet.
Lewis was definitely hurt, but the stoppage seemed a little too early. An unfortunate ending to the fight but an impressive effort by Pavlovich nonetheless.
Official Result: Sergei Pavlovich def. Derrick Lewis via TKO (punches) – R1, 0:55
THE BIGGEST WIN OF SERGEI PAVLOVICH'S CAREER 🤯 #UFC277 pic.twitter.com/rEwrTzfPTl

— UFC (@ufc) July 31, 2022
Brandon Moreno vs. Kai Kara-France play-by-play
Watch the full fight video live or the replay only on ESPN+ PPV.
Round one
Kara-France rushes to the middle. Moreno circling and testing Kara-France's guard. Kara-France winds up with a big leg kick but misses. Lots of feints from both fighters so far as they test each other's defenses. A low blow from Kara-France causes a pause in the action. Moreno takes a break.
They're back at it now. More patience from each fighter, but now it's Moreno controlling the center as he makes Kara-France circle. Kara-France comes forward with his renowned overhand right, and it connects but we end up in a position where Moreno is clinching and could potentially take him down. Kara-France escapes, circles out, and we're back at kickboxing range. Moreno countering Kara-France's low kicks with a left hand over the top. Another right hand from Kara-France. Moreno stalking Kara-France now. A high kick from him is blocked. A body kick lands for Moreno, and that's the end of round one.
Score: 10-9 for Brandon Moreno
Round two
First five-round fight for Kara-France, and that may be a reason why we're seeing a relatively slow start in this one as each fighter paces themselves for the full distance. Moreno rushes in and clinches with Kara-France after Kara-France misses with a head kick. They're against the cage now. Kara-France escapes from the position and resets. Moreno is a little more active so far in this round as he tests Kara-France's guard with a 1-1-2.
Kara-France tries to set up his right hand, but Moreno beats him to it and lands a right hand over the top of Kara-France's jab. Moreno has done well so far to evade the biggest of Kara-France's power shots. A leg kick from Moreno causes Kara-France to stumble for a moment. Kara-France isn't comfortable at boxing range in this fight so far. Moreno's high kicks are keeping Kara-France's right hand busy guarding his head rather than leaving it to attack. Moreno pressuring now. He's stepping it up in round two just like he did in the first fight.
Score: 10-9 for Brandon Moreno
Round three
Moreno attempts a leg kick, but Kara-France catches it, and now Moreno is on his back. Kara-France is postured over him and striking. Moreno has full guard. Kara-France falls into the guard now and goes down to his knees. Moreno's cut now and there's blood leaking from around his right eye. Kara-France landing some big shots now as Moreno tries to stand back up. A good start to this round for Kara-France after two close rounds to open the bout.
Replay shows that an elbow opened up the cut on Moreno. Kara-France steps in with a jab and uppercut. Kara-France landing clean now. He's looking more confident. A heavy leg kick now too. Moreno is being overwhelmed in round three. Kara-France is settling into the fight — he's tagging Moreno and moving back out of range before the counters arrive.
Moreno jabbing now. He's regaining his composure. Moreno misses with a high kick. Under a minute to go in the round now. Kara-France shoots, Moreno stuffs, and moves out. Moreno body kick to the liver, and Kara-France goes down. Moreno swarms him and rains down punches from above to cause referee Herb Dean to step in and stop the fight. That's it. Moreno wins by a body kick in round three.
Official Result: Brandon Moreno def. Kai Kara-France via TKO (body kick) – R3, 4:34
Julianna Pena vs. Amanda Nunes play-by-play
Watch the full fight video live or the replay only on ESPN+ PPV.
Round one
Here we go. They touch gloves to start round one. Pena orthodox and Nunes in southpaw. Nunes switching stances now. Slower start to this fight. Nunes patient. She's giving Pena different looks. A minute in, and nothing of significance has landed. Pena comes forward and tags Nunes with a right hand. Pena misses with a high kick. Pena looks comfortable, but Nunes goes to her legs with a heavy kick. Nunes patient and circling. Neither fighter has been accurate with their strikes, as both are defensively sound so far.
Nunes's right hand clips Pena, and she loses her balance and falls forward. Again. The same punch. Every time Pena comes forward with a blitz she gets dropped by Nunes' sharp right hook. It's a real tight hook and it doesn't loop the same way that Nunes typically does with her strikes. She's sharpened up for this fight and it's apparent. But a lazy body kick from Nunes leads Pena to come over the top right a nice right hand. Pena is adjusting now. Pena's jab makes an appearance. That was key in the first fight. Nunes shoots for a single-leg and nearly runs into a knee from Pena. Pena tags her now. They're starting to trade heavy shots, and it's Nunes who gains the upper hand as she connects with a stiff right hand that sends Pena back to the cage.
Nunes has made some nice adjustments here and has some good tools ready to stop Pena's aggression. Shaping up to be a great fight.
Score: 10-9 for Amanda Nunes
Round two
Nunes still switching stances. Pena's corner calls for her to be a little bit more aggressive with grappling while Nunes is southpaw. Pena comes forward, and Nunes clips her again. The lead right hook does it again and sends Pena to the mat. Pena really needs to be careful of that lead right hook. Pena rushes forward with a wild series of punches, but this time Nunes steps out and drops her with a perfect counter. Nunes is being patient and making Pena look sloppy.
Pena lands now and moves Nunes back. Pena has a great chin — most others would have already been done at this point, but she's still in it. If she can tire Nunes in the same way she did at UFC 269, then the odds will surely move in her favor. But until this point, it's been Nunes controlling the fight with great evasive movement and counter punches. Nunes stuns Pena with another punch. Pena's taking a ton of damage. She gets dropped again. This time she's wobbly when she returns. Nunes hasn't followed her to the mat at any time. She keeps letting her stand back up to retain the advantage in striking that is apparent through the first two rounds.
Pena is struggling with Nunes' stance switching and the lead right hand. Nunes in control of this one so far.
Score: 10-8 for Amanda Nunes
Round three
Jon Anik reveals that Nunes has broken a record for three knockdowns in a single fight. She's looked impressive tonight, and Pena doesn't have the answers at this point. A spinning back fist lands for Nunes to start round three. Pena's corner is asking for the clinch. She rushes forward and gets underhooks, but Nunes turns her and puts her back to the cage. Nunes escapes the clinch and now resets to the center. Pena is advancing and running right into Nunes' power strikes. Pena moves forward into the clinch. Nunes takedown. She's on top and moving into half guard.
Nunes falls into full guard now. She's on top of Pena, but her posture is being controlled. Nunes needs to be careful of submission attempts here as Pena is throwing up triangle choke attempts and is hunting for an armbar too. Nunes elbowing from top position now. The last of three split Pena open, and now there's blood running from Pena's forehead. Pena grabs Nunes' arm now, and there's a possibility for a submission, but Nunes turns, escapes, and then ends up on top in half guard.
Score: 10-9 for Amanda Nunes
Round four
Nunes starts the round with a takedown following the success in round three on the mat. She's landing heavy shots on Pena. But Pena is still going for submission attempts. That's two times now she's grabbed an arm and attempted an omoplata but Nunes has escaped with ease. More ground and pound from Nunes, and then Pena grabs the arm again, and this time goes for an armbar. It looks tight. This is a chance for Pena, but the position isn't ideal. She's cranking on Nunes' arm, but Nunes survives, escapes, and gets back up into Pena's full guard.
Pena shows that she's still dangerous on her back, and Nunes clearly has to respect her submission abilities. More ground and pound from Nunes and then another armbar attempt. They're back up. Pena is bloodied up badly now. Her face is basically all red. Nunes dives in for a takedown and finishes it. On top in full guard again. Constant submission attempts from Pena but Nunes is still happy to get on top and try to control her. They stand back up now after a reset, and Pena's moving forward. Pena looks to land a good shot, but then Nunes takes her down again. Pena still bleeding badly.
Score: 10-9 for Amanda Nunes
CHAOS. #UFC277 pic.twitter.com/hPdROvwd7P

— UFC Europe (@UFCEurope) July 31, 2022
Round five
Pretty much the same story to start round five. Another takedown, and it's Pena hunting for submissions. This time it's a triangle choke attempt from the champion. Nunes escapes and then looks for a choke. They get back up, and it doesn't take long for Nunes to throw Pena to the mat once again. She's on top in side control this time, which should be a more comfortable position for her.
Nunes has Pena's back now. Can't do much with it before Pena turns and ends up on her back again. Nunes half guard and now rains down some elbows. Butterfly guard for Pena. Now full guard. Pace has slowed with 90 seconds to go in the fight. More elbows from the top. Pena flat on her back and Nunes stands above her. She comes down with a huge right hand that lands. Nunes transitions to side control and tries to move into the crucifix position but Pena defends. Nunes has the back now. Hooks are in, and she has a neck crank locked in. Pena survives and rolls to her back. Ten seconds to go. Nunes stands and does a little dance, knowing that she's now just seconds away from reclaiming her title.
Amazing performance from Nunes. A shutout, countless knockdowns, and a badly bloodied opponent.
Score: 10-9 for Amanda Nunes
Official Result: Amanda Nunes def. Julianna Pena via unanimous decision (50-45, 50-44, 50-43)
Warriors 🫡 #UFC277 pic.twitter.com/qVeuq3aWq5

— UFC (@ufc) July 31, 2022
Looks like Amanda decide to fully copy my stand up game 🤔
Great fight both ladies! 💪🏻 #UFC277

— Valentina Shevchenko (@BulletValentina) July 31, 2022
Holy Moly what an amazing fight! #UFC277

— Tatiana Suarez (@tatianaufc) July 31, 2022
What a war! Both these ladies delivered, respect 👏 @VenezuelanVixen @Amanda_Leoa #UFC277

— Henry Cejudo (@HenryCejudo) July 31, 2022
Wow 🤩 @Amanda_Leoa is the woman Goat #ufc277

— GILBERT BURNS DURINHO (@GilbertDurinho) July 31, 2022
How good is Amanda Nunes…. She's a beast!!! #UFC277

— Renato Moicano UFC (@moicanoufc) July 31, 2022
Julianna Peña is tough as nails! #ufc277

— Francis Ngannou (@francis_ngannou) July 31, 2022
Julianna Pena is tough as shit, wow! #UFC277

— Henry Cejudo (@HenryCejudo) July 31, 2022
Pena is showing heart of a champion let's gooo one round to finish

— Belal Muhammad (@bullyb170) July 31, 2022