UFC 277 Early Prelims: Full fight play-by-play, live results
The UFC 277 early prelims are now underway, and that means fight fans can now watch all of the action live on ESPN+.
Follow along for our live UFC 277 results, play-by-play live blog, and video highlights for each of the early preliminary bouts listed below.
The early prelims commence at 6:00 pm ET, the prelims will begin at 8:00 pm tonight and then the PPV main card will commence at 10:00 pm ET.
Early Prelims– 6:00 pm ET / 3:00 pm PT on ESPN+
Adam Fugitt vs. Michael Morales
Ji Yeon Kim vs. Joselyne Edwards
Nicolae Negumereanu vs. Ihor Potieria
Orion Cosce vs. Blood Diamond
The UFC PPV main card will commence shortly after at 10:00 pm ET exclusively on ESPN+ (watch here).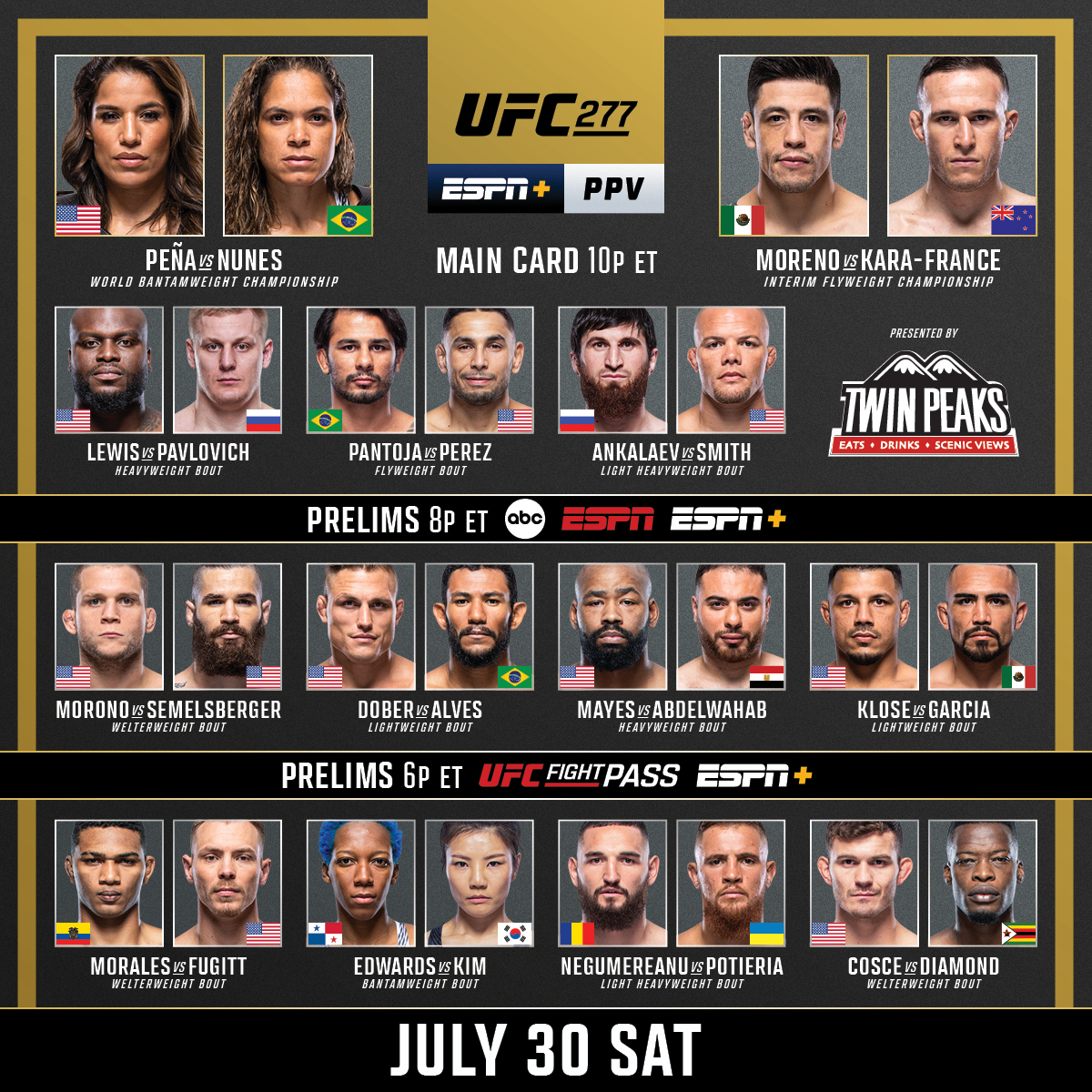 Watch UFC 277 Fight Card
Date: Saturday, July 30
Time: PPV Main Card starts at 10 pm ET, Prelims start at 6 pm ET
Watch: ESPN+ PPV (order here)
UFC 277 is a PPV event, meaning fans must order UFC 277 on the ESPN+ website to watch every main card fight live, including the Pena vs. Nunes rematch. After ordering, fans can stream every UFC 277 fight to a preferred device, including TVs, mobiles, computers, laptops, tablets, and more.

UFC 277 early prelims play-by-play
Find all of our UFC early prelims live results and play-by-play coverage for UFC 277 below.
Orion Cosce vs. Blood Diamond
Orion Cosce vs. "Blood Diamond" is the first fight on tonight's UFC 277 fight card.
Round one
A high kick from Cosce starts the fight. Blood Diamond is using his length to tag Cosce with long strikes. Joe Rogan compares Blood Diamond's style to that of fellow City Kickboxing teammate Israel Adesanya, and there's a fair resemblance. Cosce closes the distance now and enters the clinch, pushing Blood Diamond against the cage. Diamond's keeping an overhook on his left side, and it's stopping Cosce from pursuing a takedown attempt. Diamond lands some strong knees to the stomach of Cosce. Cosce pivots and attempts a hip throw, but Diamond defends. They're back up to the clinch position against the cage.
This time the throw is successful, and Diamond ends up on his back. Cosce on top in side control. Cosce has head and arm control. He's just been controlling the position on top and hasn't attempted any strikes. Diamond returns to his feet — wasn't much there for Cosce. Another takedown from Cosce. They're back up almost immediately, and Diamond misses with a high kick. This time a left high kick lands.
Score: 10-9 for Orion Cosce
Round two
They're trading to start round two. A wild head kick from Diamond and Cosce ducks underneath before entering the clinch. We're back to where we spent most of round one. Diamond turns Cosce around in the clinch. Then Cosce turns. Not much progress from either fighter. They break just past the halfway point of the second round. The clinching could start to see both fighters start to fatigue — will be a true test. Diamond's high kicks are landing, he comes through with another one that connects. A high kick lands. Cosce hasn't had much success on the feet. Diamond tags him with a hard strike now, and Cosce is stunned. Cosce had attempted a back fist, but Diamond did the same and landed with the harder strike.
The crowd lifts, but Diamond just rushes in, and they're back in the clinch again. A heavy knee to the body has hurt Cosce again. Big round from Diamond. Coach Eugene Bareman is shouting at Diamond now and seems furious by Diamond's lack of care when closing the distance. Every time there's a chance to finish the fight, he ends up just clinching.
Score: 10-9 for Blood Diamond
The rare double backfist 🤯

[ #UFC277 Early Prelims LIVE NOW on @ESPNPlus ]
pic.twitter.com/Zzyede7wlA

— UFC (@ufc) July 30, 2022
Round three
Diamond's starting to look tired. Cosce's trying to step up the pace, but he hasn't landed with any significance. They're clinching against the cage again, and now a Lateral drop from Cosce, and now he's back on top in side control. Diamond stands up. They're back against the cage. Cosce takes him down now, and he's on Diamond's back. Diamond's clearly fatigued, and Cosce has a body triangle locked in now. He transitions to top control, and now he has a head and arm choke opportunity. Cosce transitions to side control. A few strikes, and now he's transitioned to the back again. Easy round of control from Cosce. He's controlling Diamond with ease and schooling him on the ground.
Score: 10-9 for Orion Cosce
Official Result: Orion Cosce def. Blood Diamond via unanimous decision (29-28, 29-28, 29-28)
#DWCS alumni @GalaxyCosce takes the decision in tonight's opening fight 💪 #UFC277 pic.twitter.com/5BrEPWE1rO

— UFC (@ufc) July 30, 2022

Nicolae Negumereanu vs. Ihor Potieria play-by-play
Nicolae Negumereanu vs. Ihor Potieria is the second fight on tonight's UFC 277 early prelims.
Round one
Potieria rushes out to the center. Low kicks from him to start the fight. Negumereanu weaving and feinting. He advances now and pushes Potieria back to the cage. They're clinching now and Potieria is clearly looking for an early takedown. Negumereanu landing knees in the clinch. He's got an underhook now and is working on Potieria's right leg to off-balance him. A couple of strikes from Negumereanu. Potieira loses his balance, and Negumereanu works to land on top of him. He's in Potieria's half guard now and has landed a couple of heavy shots in the process. Potieria has an aggressive guard and attempted to push Negumereanu's hips back with his feet. Neumereanu stacks his guard now, but Potieria works back to his feet. Negumereanu gets another takedown and has been dominating the grappling aspect of this fight so far.
Score: 10-9 for Nicolae Negumereanu
Round two
Negumereanu is the one pushing the pace early in round two now. Potieria's got his chance to open up and land strikes while they're standing. He's landed several punches now in the first minute. A nice right hand lands for him this time. Negumereanu's not afraid to trade on the feet, though, and he's landing just as many hard shots. Negumereanu with more big shots and a huge elbow as they're clinching against the cage. They're standing back in the center now. Negumereanu lands a strong right hand on the chin of Potieria. Potieria's clearly fatigued. Negumereanu is outworking him. He feints a takedown attempt and then comes through with a hard knee to the body. He's absolutely destroying him with heavy punches. A strong uppercut connects. One huge right hook sends Potieria's mouthguard flying. Potieria is covering up and trying to respond but hasn't got the energy to do so with any significance. Now Negumereanu goes for the clinch and rams a series of devastating knees to the head of Potieria. The referee steps in to stop the fight during what was turning into a brutal beatdown.
Official Result: Nicolae Negumereanu def. Ihor Potieria via TKO (strikes) – R2, 3:33
Statement = made 💥

[ #UFC277 Early Prelims LIVE NOW on @ESPNPlus ] pic.twitter.com/E3jnjSGcfX

— UFC (@ufc) July 30, 2022
What a PHENOMENAL performance by Nicolae Negumereanu 👏 #UFC277 pic.twitter.com/iJO7ljX4Lz

— UFC (@ufc) July 30, 2022
Ji Yeon Kim vs. Joselyne Edwards play-by-play
The third fight on the UFC 277 early prelims is a scheduled women's bantamweight bout.
Round one
A fast exchange to open up the first round. Joselyne Edwards testing the range with kicks. Kim throwing punches, but they're falling short. She connects with a nice left hand now, though. Edwards looks fast and dangerous but hasn't quite connected with her power shots yet. Front kicks from Edwards fall short. A hard punch from Kim connects now. Now a nice 1-2 from Kim. Edwards advancing and trying to trade strikes with Kim, but Kim has been moving well around the outside of the cage. Kim's doing well to evade Edwards' biggest strikes during the first round, but she's still being overwhelmed as many of the her low-impact strikes are still connecting. Now they're trading with 30 seconds left in the round. Edwards landed more during these exchanges. Tough later half of the round for Kim, who looks to be satisfied with circling and evading the dangerous areas of this fight.
Score: 10-9 for Joselyne Edwards

Round two
Kim really needs to mix something up here in round two. It doesn't take long for them both to stand and trade punches again. Kim lands some shots here, but Edwards lands just as many in return. A nice 1-2 from Kim now. Kim attempts a spinning back kick but misses. Edwards has been leading the action during this fight but it has felt like the vast majority of her strikes aren't landing. But still, the sheer volume is helping her take control of the rounds. Kim lands a heavy leg kick. Edwards body kick lands now. Heavy right hand from Kim and that was easily the biggest strike of the fight so far. She enters and goes for it again, but Edwards deflects. Edwards digging kicks into Kim's body now. A better round for Kim. She landed the harder strikes there and had much more impact.
Score: 10-9 for Ji Yeon Kim
Round three
Kim starts round three well, landing hard punches to the head of Edwards and then going to the body. Edwards is stepping up the pace here though and lands some strikes of her own. A real sense of urgency here for the first time during the fight. Kim connects, and now Edwards seems to be hurt. It's potentially an issue with her foot? Unsure. Edwards takedown attempt and pushes Kim back to the cage. She's mixing it up. A huge takedown, and now she's on top in side control. Transitions to mount. Snags an arm and rolls for an armbar. Kim escapes and pushes Edwards to the cage once they stand up. Edwards turns and breaks just before landing a big combination. Heavy leg kick from Edwards. She's looked better this round. Kim is far too relaxed, considering she is likely behind on the full scorecard at this point with less than a minute to go. Edwards advances and connects with some strong hooks. Big right hand from Edwards to finish the fight.
Score: 10-9 for Joselyne Edwards
Official Result: Joselyne Edwards def. Ji Yeon Kim via split decision
Your winner by split decision: @JoselyneMMA29 💪 #UFC277 pic.twitter.com/d2PIccoPXK

— UFC (@ufc) July 30, 2022
Adam Fugitt vs. Michael Morales play-by-play
The final fight on tonight's early preliminary card is a welterweight clash between Adam Fugitt and Michael Morales.
Round one
Fugitt opens with a body kick. Morales stretching his left arm out and looking for his opportunity to open up. Fugitt another kick to the body now. Fugitt leg kick and Morales catches it. Morales moves in behind a double jab but can't land a strong follow-up. Fugitt much more active so far. Morales just waiting and picking his shots. Morales' jab looks great so far. Fugitt takedown now after Morales advanced with strikes. Fugitt on top in full guard. Now trying to work to half guard. Falls back into full guard after Morales attempts a hip escape. Fugitt tries to step into half guard again, but Morales defends. Morales back to his feet now. A strong jab from Morales. Morales looked extra comfortable on the mat despite being in some disadvantaged positions. Fugitt's started this fight well. He comes forward, but Morales clips him. Great fight so far, and that first round was relatively close.
Score: 10-9 for Michael Morales

Round two
A slower start to round two. Morales ducks and comes back up with a right hand. Morales' jab is fast. Fugitt struggling to find his way in the second round so far. Morales is circling and tagging him with the jab on occasion. Nice right hand from Fugitt connects now. Morales certainly isn't running away with this fight — it's been tight. A strong knee from Morales lands to the body. Morales sneaks a 1-2 through Fugitt's guard. Morales' boxing is great — he's sticking Fugitt with strong straight punches. Fugitt comes in for a double-leg takedown, but Morales stuffs. Fugitt is still here. It's a close fight, but there's a feeling that as soon as Morales steps it up, he'll take control. He's been patient so far, but once he opens up, he's landing. Morales ends the round with a right hand down the middle.
Score: 10-9 for Michael Morales
Round three
Fugitt's corner calls for him to be more active in his takedown attempts. He starts the round by doing so and then connects with a nice right hand. Fugitt's on him again now and is clinching, looking for a takedown. Morales catches Fugitt with a right hand in close, and Fugitt folds over. Morales pursues him and keeps the pressure on. Constant series of punches and Fugitt is done. Referee Herb Dean steps in and puts an end to it.
Official Result: Michael Morales def. Adam Fugitt via TKO (punches) – R3, 1:09