UFC 277: Alexandre Pantoja vs. Alex Perez results
Alexandre Pantoja vs. Alex Perez is a featured bout on tonight's UFC 277 fight card in Dallas, Texas.
The UFC 277 PPV main card consists of five bouts, including two title fights, and is only available to watch on ESPN+ in the United States. Order UFC 277 here to watch this fight and all others live or on replay.
Pantoja, currently ranked #4 in the flyweight division, will essentially be defending his spot in the rankings against the #6 ranked Perez tonight. Pantoja is on a two-fight win streak with victories against Manel Kape and Brandon Royval in 2021. Alex Perez returns after being defeated by current champion Deiveson Figueiredo in 2020.
Read on for our full fight play-by-play updates, live blog, results, and video highlights during the Alexandre Pantoja vs. Alex Perez fight on the UFC 277 PPV main card.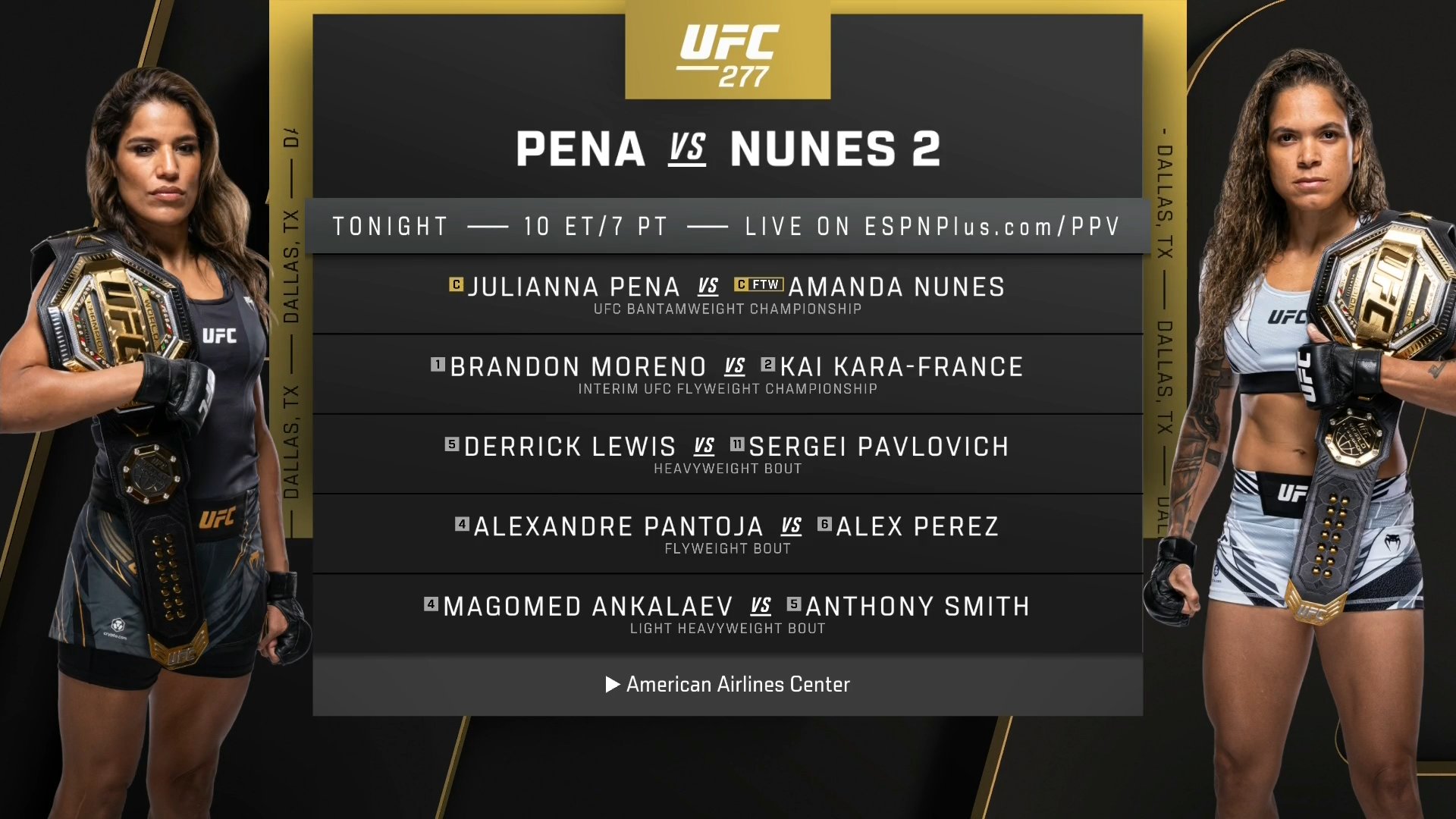 Alexandre Pantoja vs. Alex Perez full fight play-by-play
Watch the fight live now or catch the full replay only on ESPN+ PPV.
Round one
Touch of gloves, and it's a fiery start. Pantoja storms forward, and they both start trading punches. More punches were thrown in the first 20 seconds of this fight than were probably thrown in the entire first round of the last fight. They're throwing bombs. Neither fighter takes control, but Perez slips, and that's allowed Pantoja to take his back. Perez stands, but Pantoja's still on his back with a body triangle.
Pantoja is slicing across the face/neck of Perez with his left arm and hunting for a rear-naked choke finish. He locks up the submission, and it may be more of a neck crank than a rear-naked choke in the end, but he forces Perez to tap. That's a very impressive performance from Pantoja and a very quick finish.
The replay shows that Pantoja locked that one up across the jaw of Perez and was just cranking his head and neck.
Official Result: Alexandre Pantoja def. Alex Perez via submission (neck crank) – R1, 1:31
No time wasted, @PantojaMMA came to make a 𝐒𝐓𝐀𝐓𝐄𝐌𝐄𝐍𝐓 😤 #UFC277 pic.twitter.com/0ksPKouPSJ

— UFC (@ufc) July 31, 2022
UFC fighters react to Alexandre Pantoja's submission win
Wow Pantoja made a statement of all statements

— Belal Muhammad (@bullyb170) July 31, 2022
Absolutely perfect performance!!! Let's go pantoja you're the next champion #UFC277

— Renato Moicano UFC (@moicanoufc) July 31, 2022
Pantoja is legit, yeesh #UFC277

— Henry Cejudo (@HenryCejudo) July 31, 2022
World class Jiujitsu flawless victory @ufc #UFC277

— Charles Rosa (@CharlesRosaMMA) July 31, 2022
Title shot for my guy @Pantojamma come on #UFC277

— GILBERT BURNS DURINHO (@GilbertDurinho) July 31, 2022
Goddamn flyweights are fuckin dope #UFC277

— Angela Hill (@AngieOverkill) July 31, 2022
Isn't it so crazy the flyweight division was on the brink of extinction in the @ufc and is now one of the most exciting divisions! #UFC277

— Ian Heinisch (@ianheinischmma) July 31, 2022