UFC 277: Anthony Smith vs. Magomed Ankalaev results
Anthony Smith and Magomed Ankalaev are set to open up tonight's UFC 277 main card in Dallas, Texas.
Smith vs. Ankalaev is part of a five-fight main card that features two title fights and is available to watch only on ESPN+ in the United States. Order UFC 277 here to watch this fight and all others live or on replay.
Ankalaev is a fast-rising light heavyweight contender who has managed an impressive streak of victories in the UFC since joining in 2018. He's now on an eight-fight win streak with recent wins against Thiago Santos, Volkan Oezdemir, Nikita Krylov, and Ion Cutelaba.
Smith has returned to form following consecutive defeats to Aleksander Rakic and Glover Teixeira in 2020. He's since defeated Ryan Spann, Jimmy Crute, and Devin Clark, all by way of stoppage.
Read on for our full fight play-by-play updates, live blog, results, and video highlights during the Anthony Smith vs. Magomed Ankalaev fight on the UFC 277 PPV main card.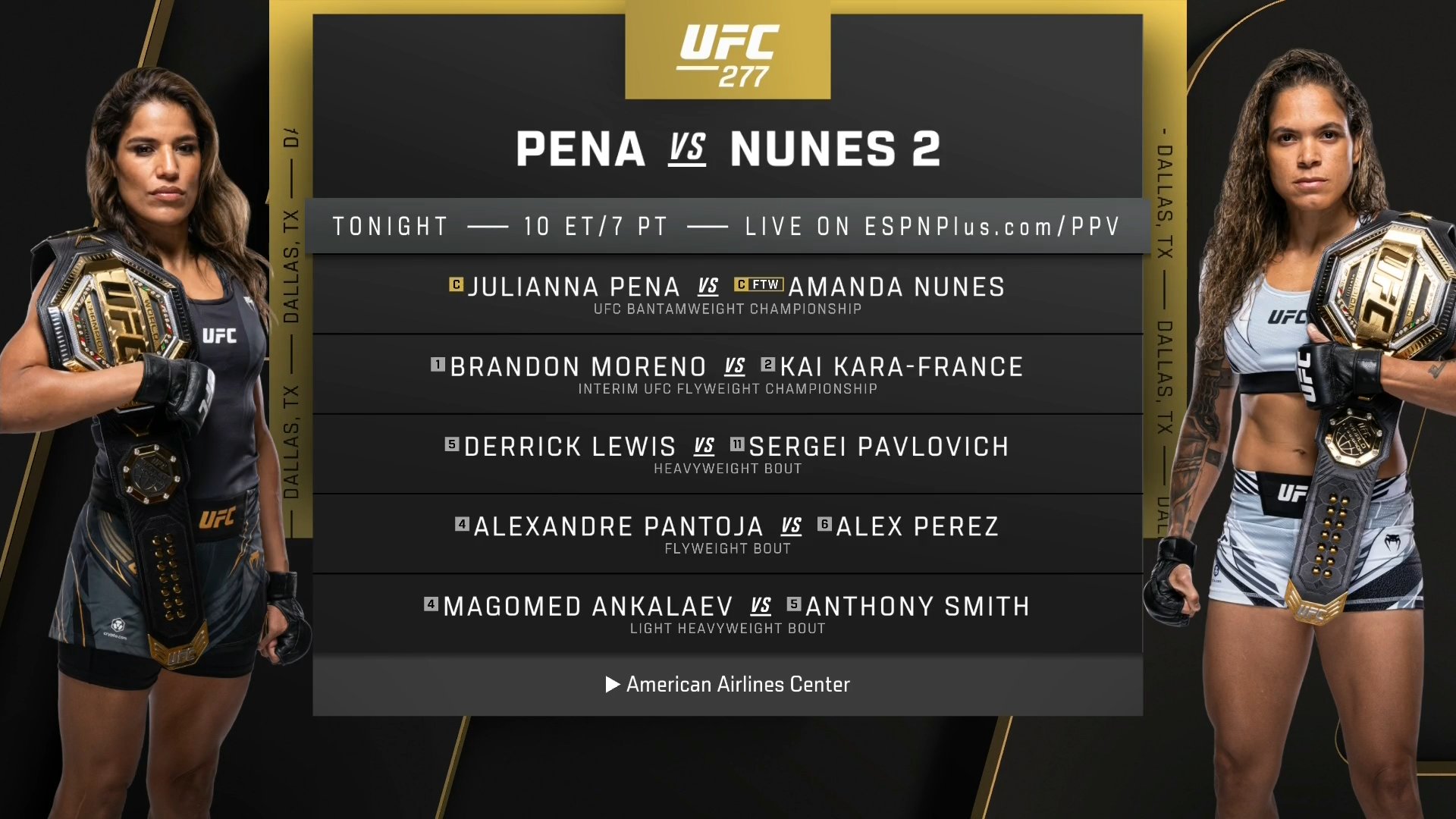 Anthony Smith vs. Magomed Ankalaev full fight play-by-play
Watch the fight live now or catch the full replay only on ESPN+ PPV.
Round one
Anthony Smith takes control of the center. Ankalaev standing southpaw. Patient start. Ankaleav chopping at Smith's legs. Smith returning leg kicks. Smith looks fast tonight — just misses with a right hand. The first two minutes have basically just been the two fighters exchanging leg kicks. The same goes for the next minute, as well. Neither fighter has felt comfortable at boxing range just yet.
Tough, technical fight so far. Ankalaev's high kick is blocked. Ankalaev nice right hand and switches to a right leg kick as Smith tries to move back out of range. Smith loses balance and falls to his back. Ankalaev stands above him and kicks his legs. Nothing particularly significant in round one but Ankalaev did a bit more than Smith.
Score: 10-9 for Magomed Ankalaev
Round two
Looks like Anthony Smith is carrying some sort of ankle injury into round two. He briefly mentioned it to his corner. He comes back out to start the second round with the same kind of pressure on Ankalaev, moving him backward with forward pressure. Smith looks sore, though, and falls into a takedown attempt.
He's clinching with Ankalaev against the cage now. His posture is broken, and has his head into the hips of Ankalaev, who is striking the head of Smith. Smith's stuck now, and it looks like Ankalaev could move into top position if he wanted to, as Smith is basically encouraging him to fall on top. Ankalaev doesn't want to go down with him, though, and remains postured up. Heavy strikes from Ankalaev now. He's postured over Smith, who is on his back. Smith sits up and ties his hands around Ankalaev's waist. Big strikes from Ankalaev force Smith to cover up. Smith is in turtle position now, and Ankalaev is just overwhelming him from strikes from behind. The referee steps in to stop the fight. Smith's in serious trouble and is clearly in pain from his leg/ankle injury.
Official Result: Magomed Ankalaev def. Anthony Smith via TKO (punches) – R2, 3:09
A NEW LHW CONTENDER HAS EMERGED!

[ @AnkalaevM | #UFC277 ] pic.twitter.com/qXwhZ7lbfM

— UFC (@ufc) July 31, 2022
Make that 9️⃣ straight for @AnkalaevM 💪 #UFC277 pic.twitter.com/rLqnb79BDI

— UFC (@ufc) July 31, 2022
UFC fighters react to Magomed Ankalaev's win
Why he pulled guard ?! #UFC277

— Renato Moicano UFC (@moicanoufc) July 31, 2022
The ankle injury could have came at the end of round 1 when Anthony was blocking the kicks off his back. #UFC277

— Alan Jouban (@AlanJouban) July 31, 2022
The only doctor I'm taking advice from. If Dr. Rogan says the leg is broke . The leg is broke 😂😂😂 #UFC277 pic.twitter.com/diTzIvbXVe

— Derek Brunson (@DerekBrunson) July 31, 2022